The Christmas holidays are right around the corner, and we all love to celebrate this special occasion by gathering with those we love and showing them how much they mean to us with special, personal gifts. But choosing the perfect personalized Christmas gifts for family, friends and cherished pets can be a challenge so we created a list of brilliant gift ideas to make your holiday season stress-free this year. Our Christmas gift guide can help you choose a thoughtful, personalized present for everyone on your list so that you can have a worry-free, wonderful holiday season.
Ideas For Family Christmas Gifts
Finding Christmas gifts for the whole family doesn't have to be hard. We have rounded up some Christmas gifts for the family that you will love to give. And a bonus is that you can also choose personalized gifts for Christmas to make the gift-giving extra special this year.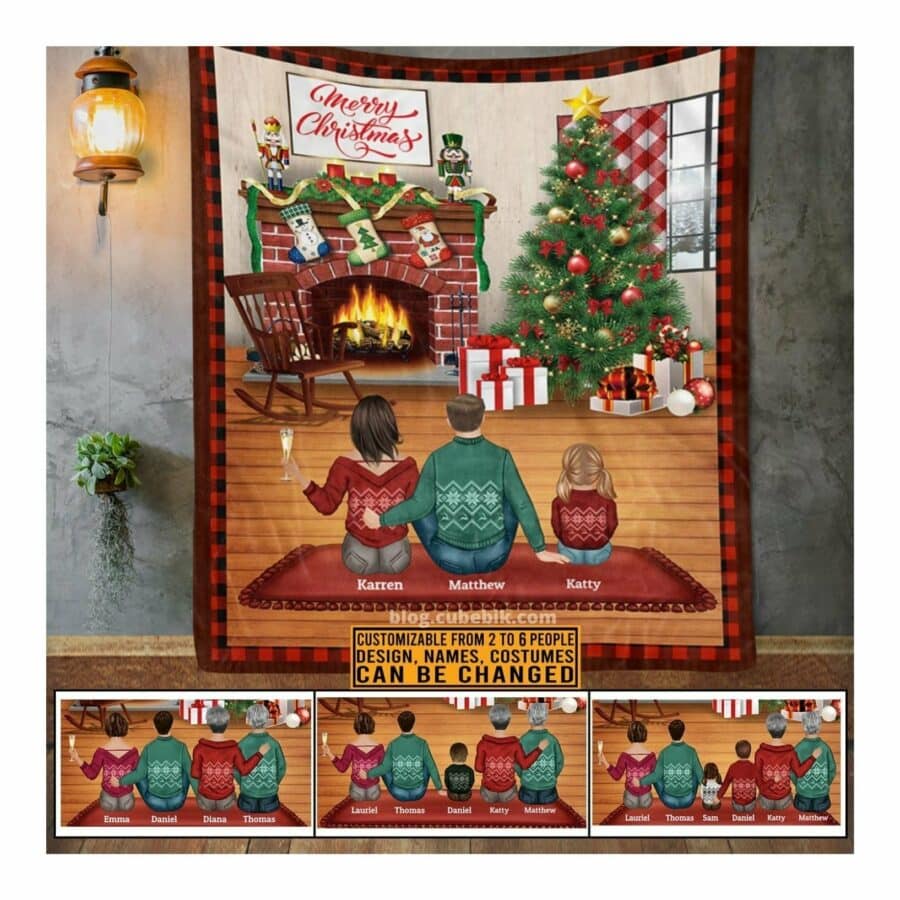 Customized Sherpa Blanket Made Just For The Family
One way to show your family how much they mean to you is by creating a Personalized Sherpa Family Christmas Blanket. One of our favorite personalized Christmas gifts for family can be customized to reflect every family member's look with amazing detail including skin tone, hair color, clothing choices and more. This cozy Sherpa blanket will be one of the treasured Christmas gifts for the whole family that will be enjoyed for years to come.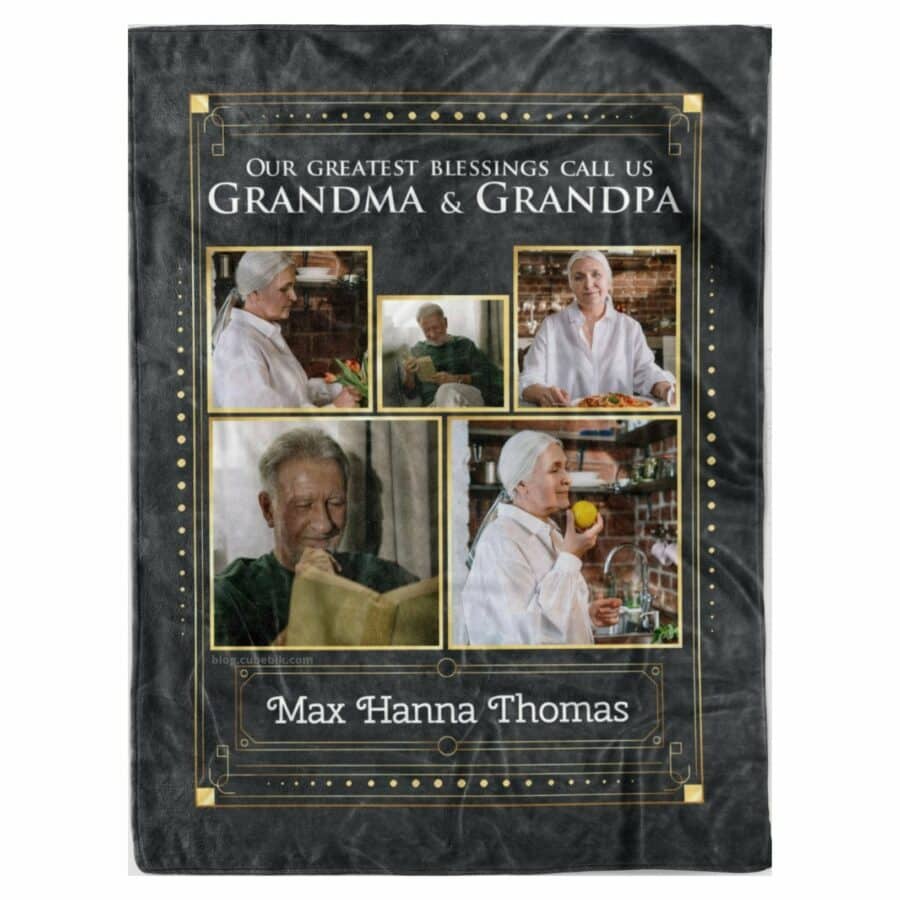 Beautiful Full-Color Photo Blanket
Selecting personalized Christmas gifts for grandparents can be a challenge, but our choice for cozy comfort is this beautiful blanket they will cherish forever. This soft Sherpa photo blanket for grandparents is customizable with names and pictures making it the perfect memorable present to show grandparents your love this Christmas.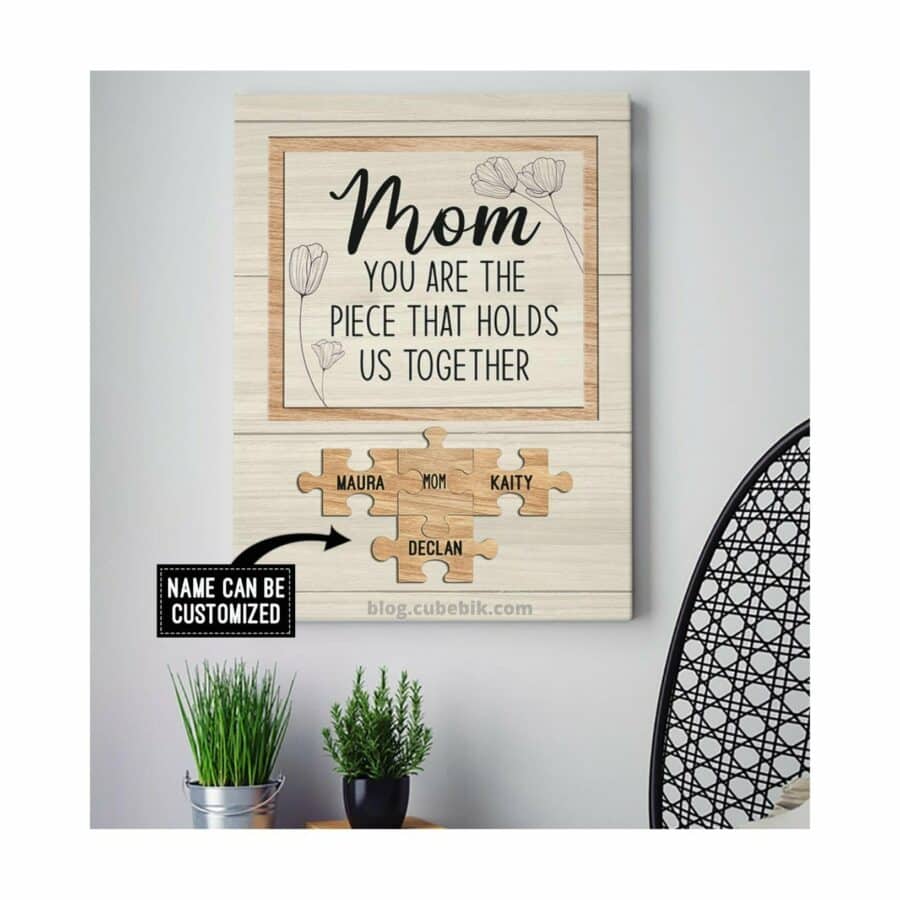 Clever Canvas Mom Will Treasure
Perfect personalized Christmas gifts for mom are ones that show her how much she means to you and the family. This inspired personalized christmas decoration lets her know that she is the piece that holds the puzzle pieces of your family together. Personalize the canvas with family member names to surprise and delight mom with a present to commemorate your love for her this Christmas season. This ready to hang canvas comes in multiple sizes and is fully wrapped so no frame is needed to display this charming addition to mom's home.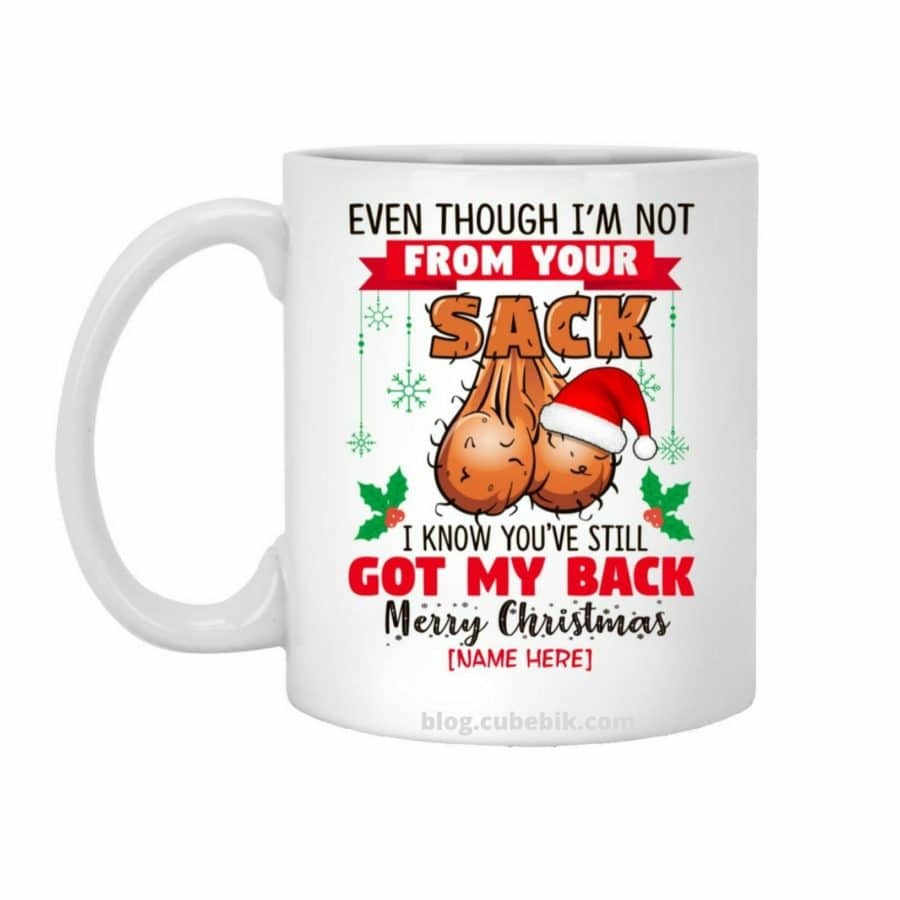 Hilarious Personalized Holiday Mug For Dad
Shopping for personalized Christmas gifts for dad or step-father just became a little easier with this funny Christmas mug. Add in your dad's name to customize it for an amusing Christmas gift he will never forget. Every holiday as he sips some holiday cheer from this creative gift he will always remember how much he means to you.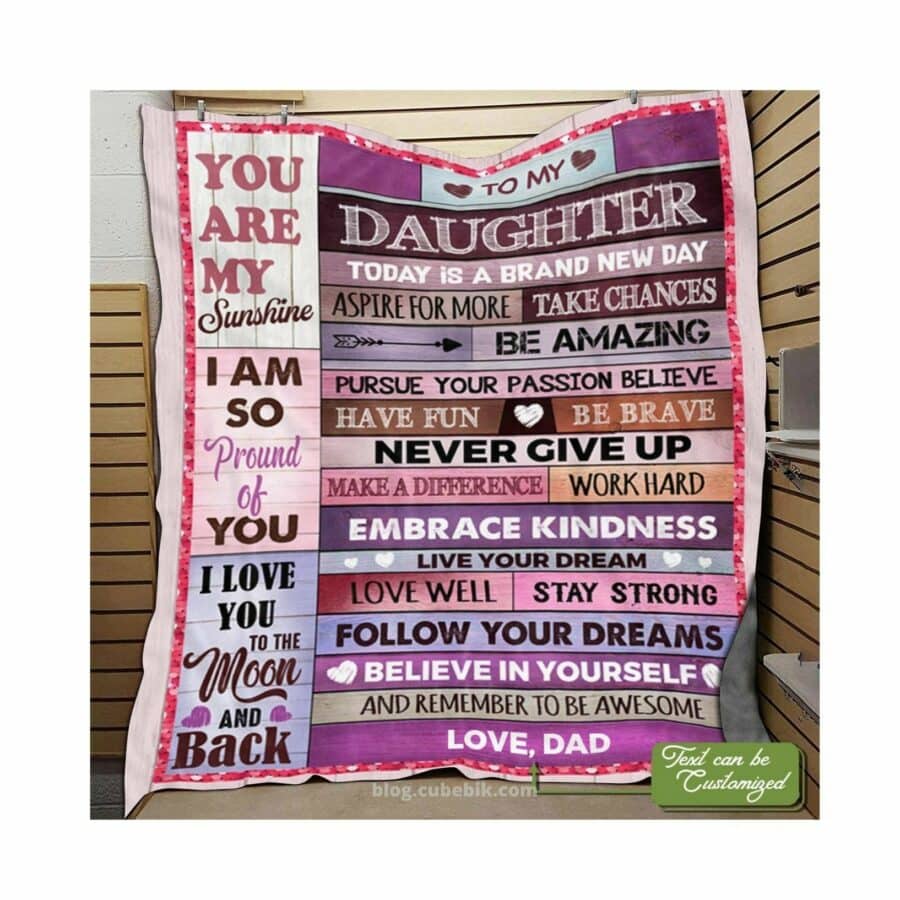 Snuggly Blanket That Daughter Will Cherish
Custom Christmas gifts make the ideal present for daughters who can be hard to buy for as their tastes and sizes change. But our personalized blanket for daughter is an ideal choice because it displays meaningful, timeless sentiments from mom or dad, and can be customized to reflect an additional phrase, making it the perfect Christmas gift. As one of the personalized Christmas gifts for daughter that she will cherish for years to come, this blanket incorporates all of the things you want to say to her this holiday season.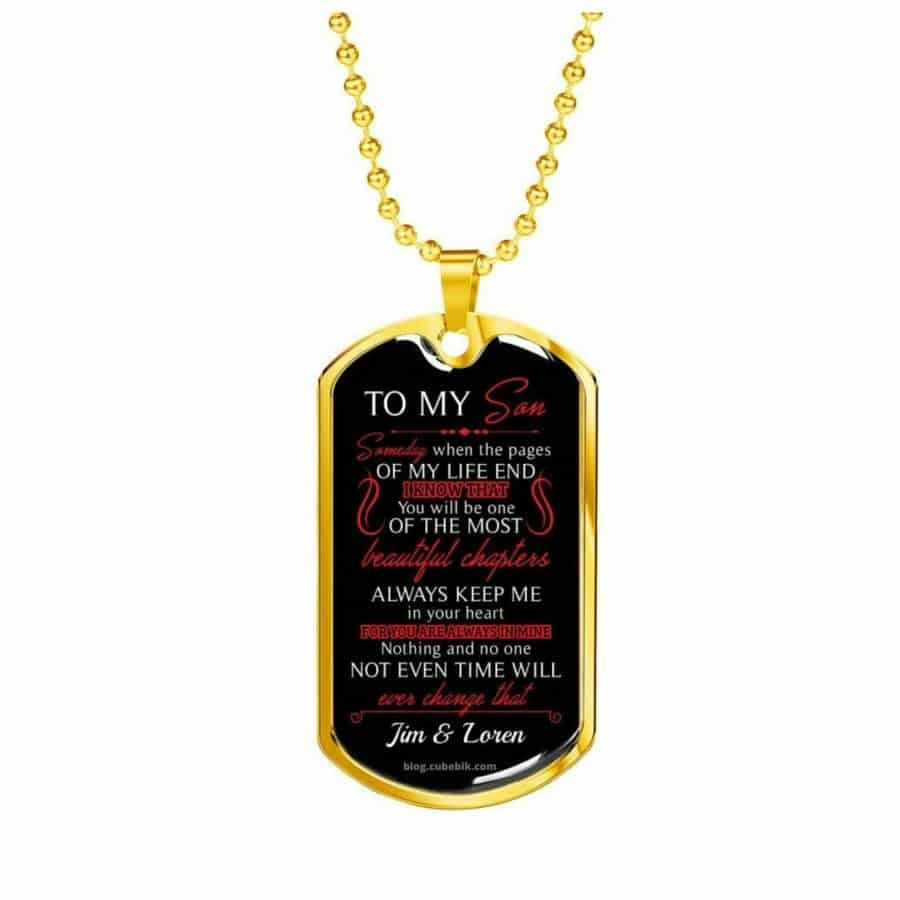 Keep Your Sentiments Close To The Heart
Custom Christmas gifts for sons can be very meaningful no matter their age. Our To My Son Dog Tag are fun personalized Christmas gifts for son that yours will love. This unique necklace is a gift guys love and is personalized with a signature line perfect for parent names. Hung on a silver or gold chain, the dog tag comes lined in either silver or gold trim for a sharp look. The To My Son dog tag makes choosing personalized gifts for Christmas simple for the sons you adore this holiday season.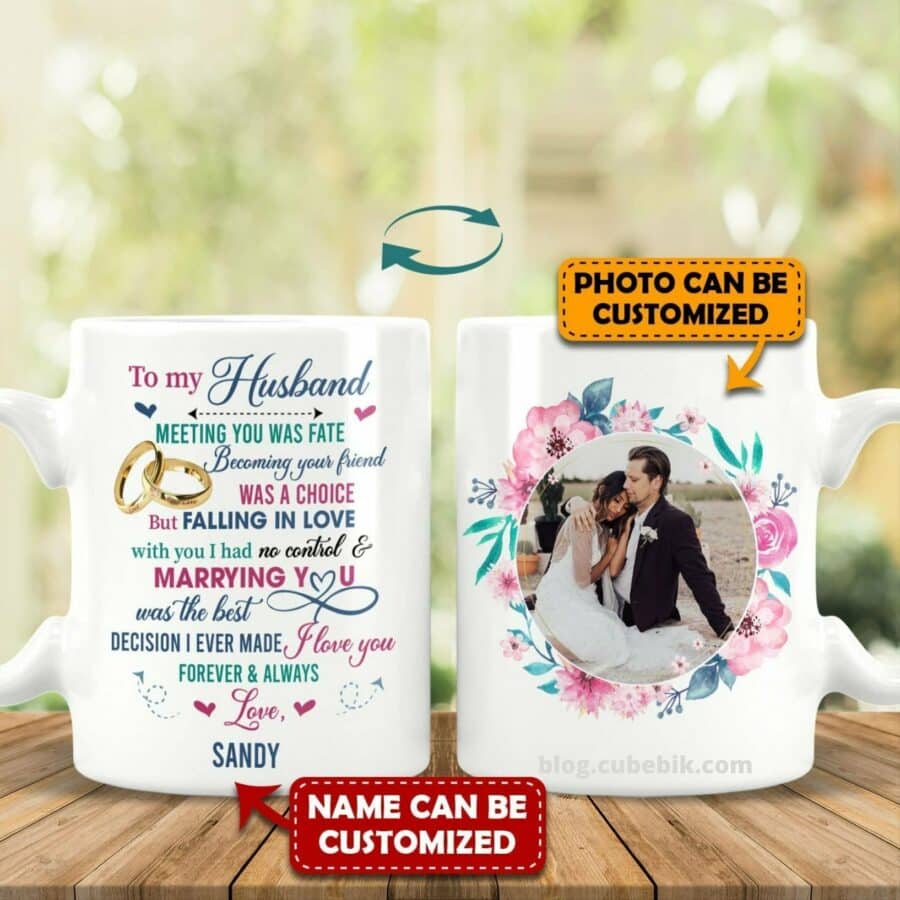 Holiday Mug For Hubby
Choosing unique personalized gifts for husband that he can use every day isn't easy, but this coffee mug with a quote made for your husband is one he will love and cherish. Personalized gifts for Christmas like this mug will remind him of the days you met and became his wife. Wives can personalize it with a wedding or favorite photo to make this one of the custom Christmas gifts they will appreciate for years to come.
>>>>>> Some Ideas To Write For Your Other Half This Christmas <<<<<<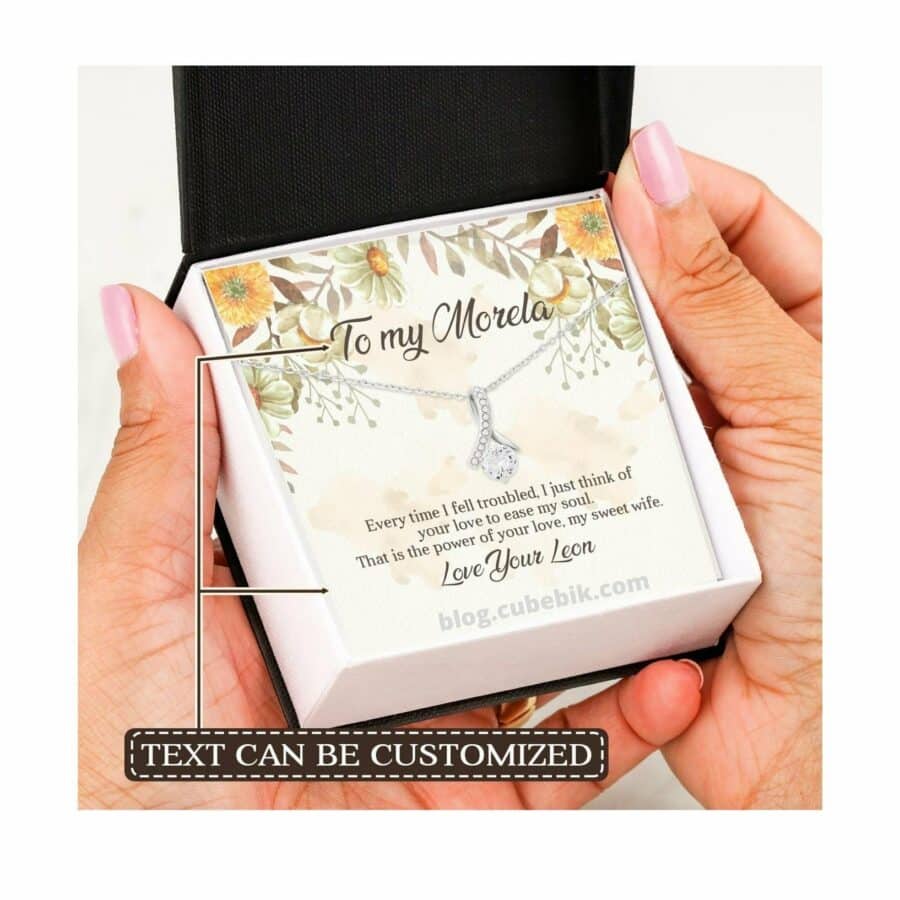 Show Your Wife How Much You Love Her
When looking for romantic personalized Christmas gifts, this stunning 14K white gold necklace for your wife fits the bill. The adjustable chain holds a beautiful CZ drop surrounded by dainty crystals, creating a beautiful piece of jewelry she will love. To surprise her, gift-givers personalize this gift by adding in a custom greeting and signature on the inside display of the box. This dazzling necklace will delight her and remind her how much you love her this Christmas season.
Christmas Gift Ideas For Friends
When looking for personalized gifts for Christmas, shopping for friends can be almost as challenging as looking for the perfect gift for a family member. We have rounded up a few great options that you will love gifting to the best friends in your life this Christmas.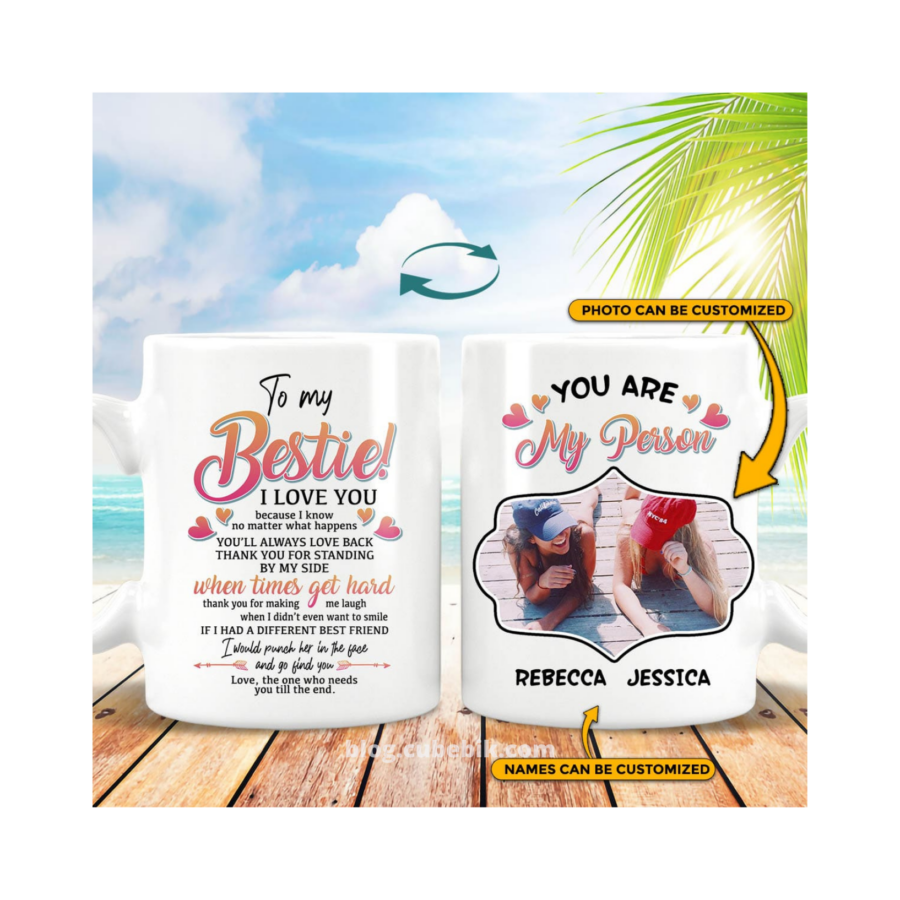 Photo Mug For Your Bestie
Christmas gift ideas for friends are fun to choose from since it's an opportunity to express how much friendships mean to you. Personalized Christmas gifts like this bestie mug are a fun way to tell someone they are Your Person in life. Create personalized gifts for best friends that include pictures and names like this bestie mug made for friends who want to give a gift that memorializes their relationship in a fun, useful way.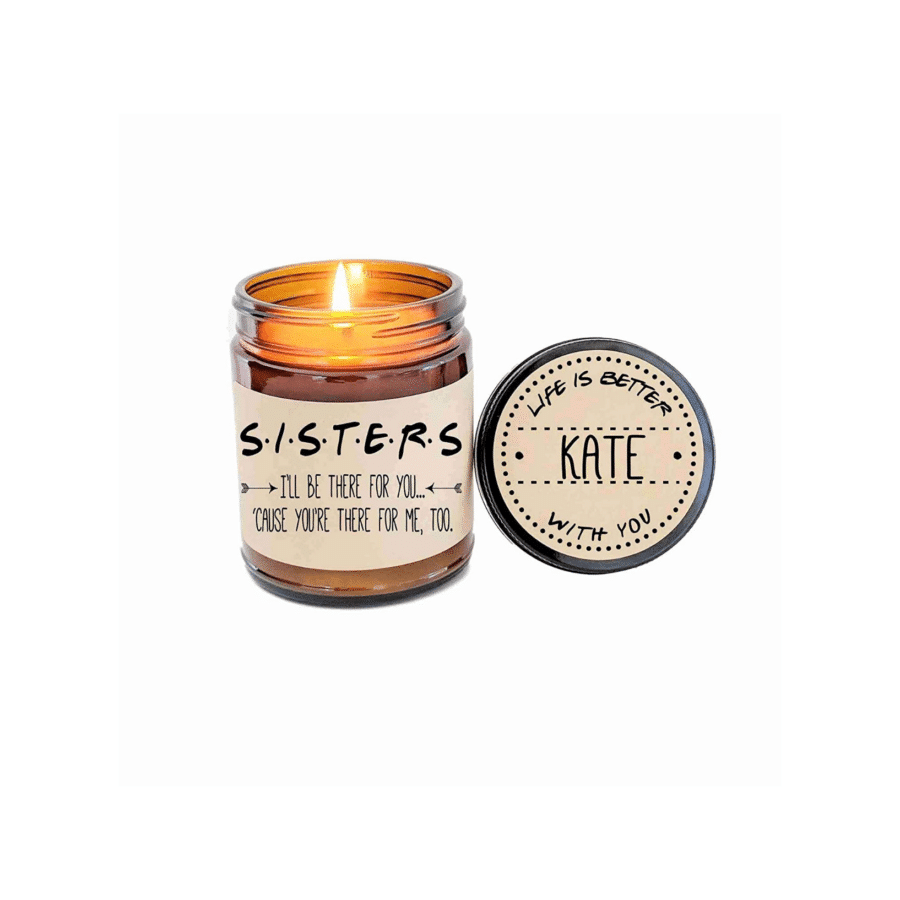 For Friends As Close As Sisters
When your friendship is more like being sisters, this best friends candle gift should be on your present wish list this year. Selecting Christmas presents for best friends that are more like family shows her that if you could choose her as family, you would. These custom Christmas gifts can be personalized with her name or nickname on the candle lid, and the candle can be selected as a single gift or combined with a Gift Box set.
The "Friends" themed gift set includes a "Love" match set, a red lollipop, an "Awesome Sister" ceramic mug, and a darling set of "smencils," scented pencils bearing Friends-worthy names like "Smelly Cat" and "Pivot!" For best friends that rival Rachel and Monica and Phoebe's relationship, these are Christmas gift ideas for friends that will always be there for each other, even if they are on a break.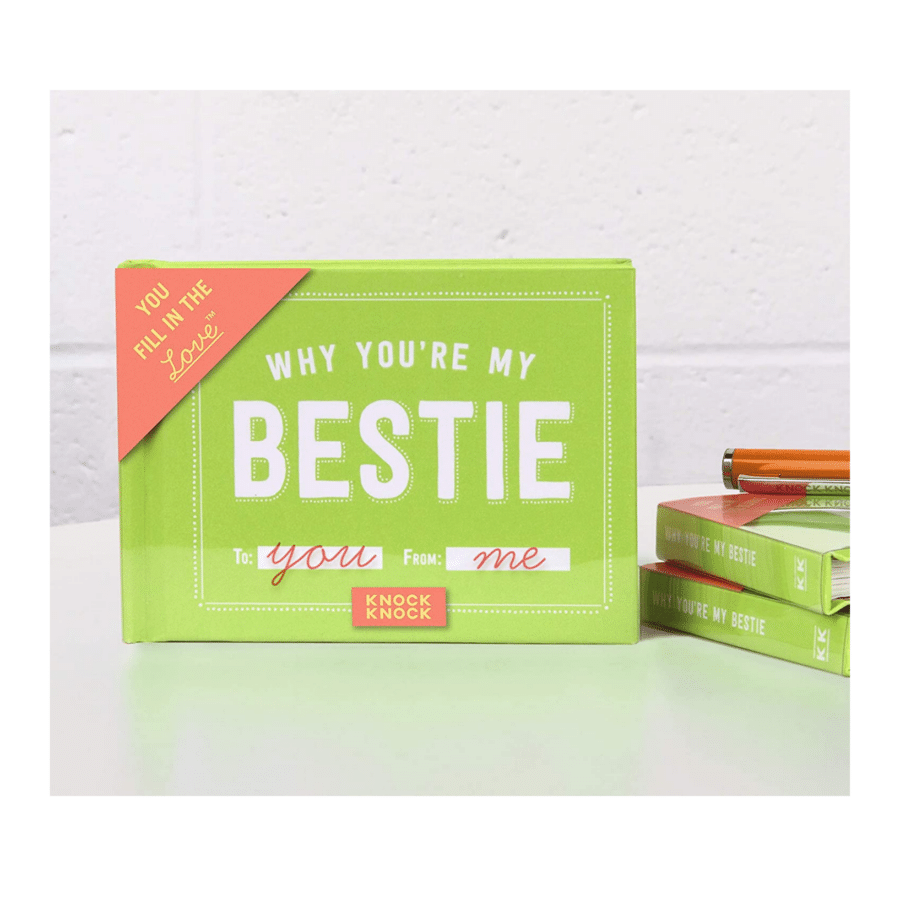 Write It Down: A Journal For Your Best Friend
Selecting Christmas gifts for family is always a priority, but choosing Christmas presents for best friends means selecting something for the people in your life by choice that you can't do without. One of the perfect Christmas gifts for friends you are closest to is this best friends journal. These adorable Christmas presents for best friends give you a way to express how much your friendship means. Gifting your bestie personalized gifts for Christmas is easy with this fill-in-the-blank book that you will enjoy filling in as much as your bestie will treasure reading it this holiday season.
Custom Pet Gifts
No list of family Christmas gift ideas would be complete without special custom pet gifts. Whether Rover or Fluffy is part of the family, we have some amazing ideas to help you find personalized Christmas gifts to put under the tree for the pets in your life.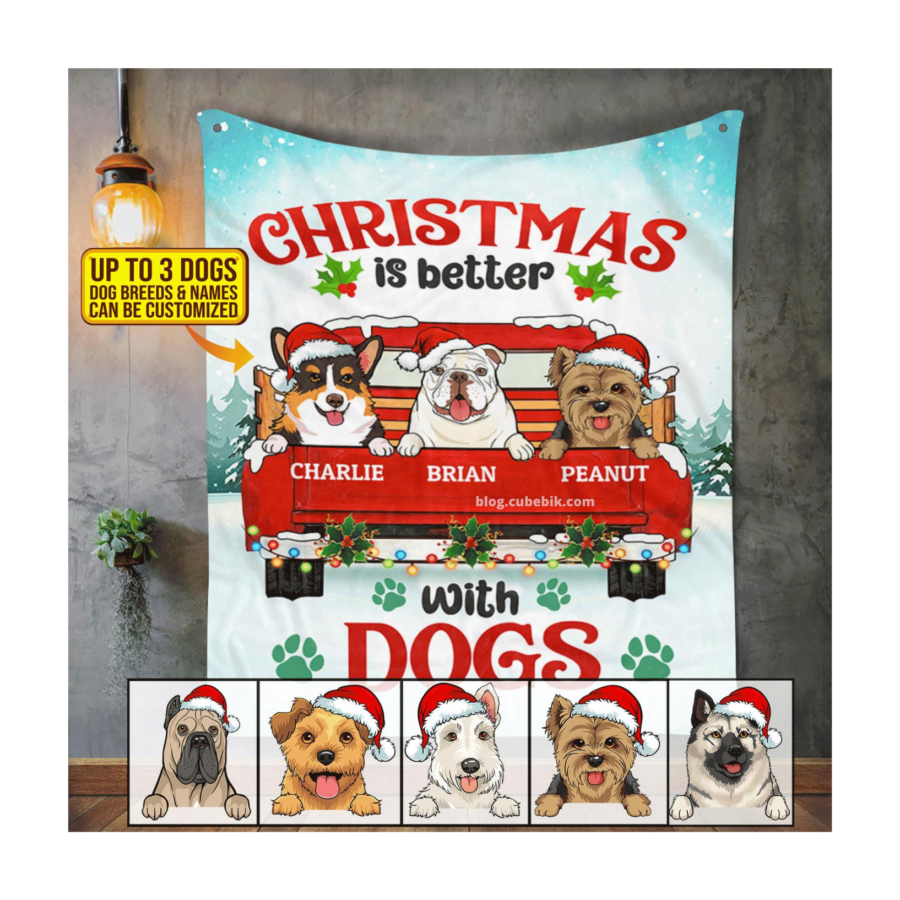 Personalized Christmas Gifts For Pets To Use Or Gift
There is no better way to keep your four-legged friend in your thoughts every year than with personalized dog blankets. This adorable custom pet blanket can be customized by choosing up to three different pooches to sit in the charming red pickup truck. Select the breed and color variation that matches your pet and then add their names to personalize delightful Christmas gifts for the whole family to enjoy. Choose groupings as custom Christmas gifts for friends or family or make a personalized one to present to the pup in your life.
Other lovely family Christmas gift ideas for giving these endearing pet blankets could also include gifting them to those with pets that have crossed the rainbow bridge. A customized blanket is also a delightful gift for pets to "gift" to their loved ones as well.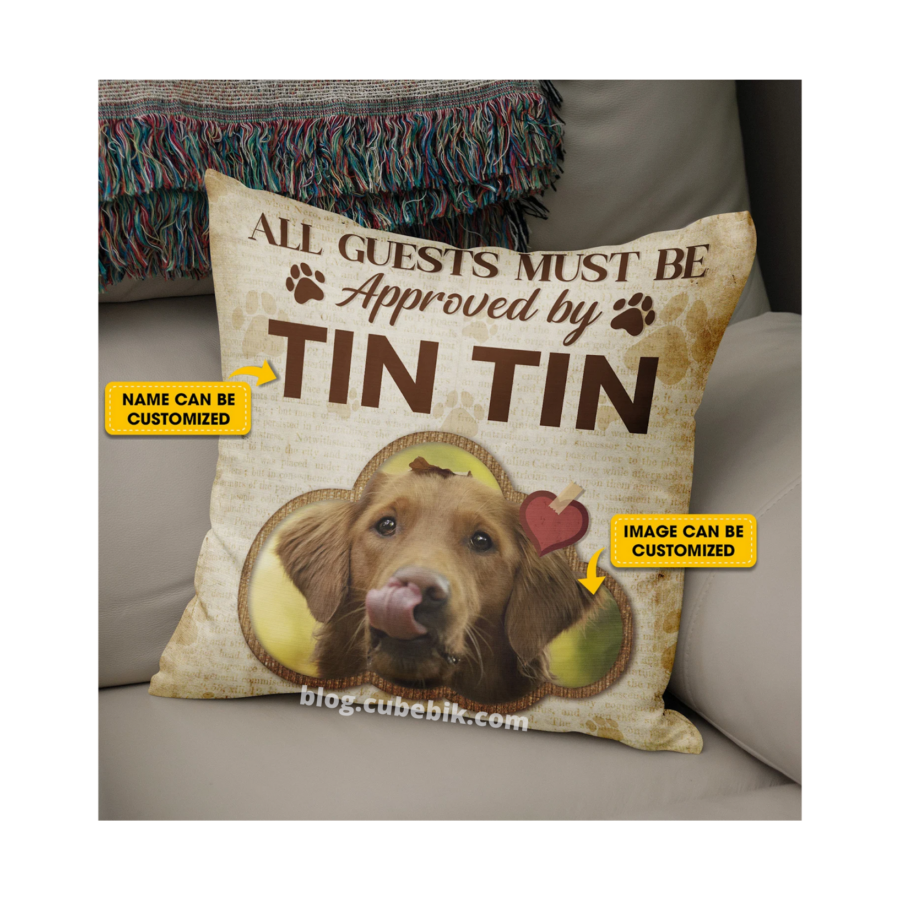 Decorate Your Home With Fido's Photo Pillow
Christmas gifts for family pets are always appreciated, but personalized gifts for Christmas are even better. Show the pet-lovers in your life how much their pooch means to you with this dog pillow custom photo gift. Put Fido's picture on this custom pet pillow for an adorable way to memorialize the status Fido holds in his home. Create custom pet gifts like this photo pillow by simply uploading your favorite photo of your dog and add Fido's name to make him the star of the show. Selecting Christmas gift ideas for friends with four legs is easy with custom pet gifts that use hilarious pictures to show off how much you love Fido.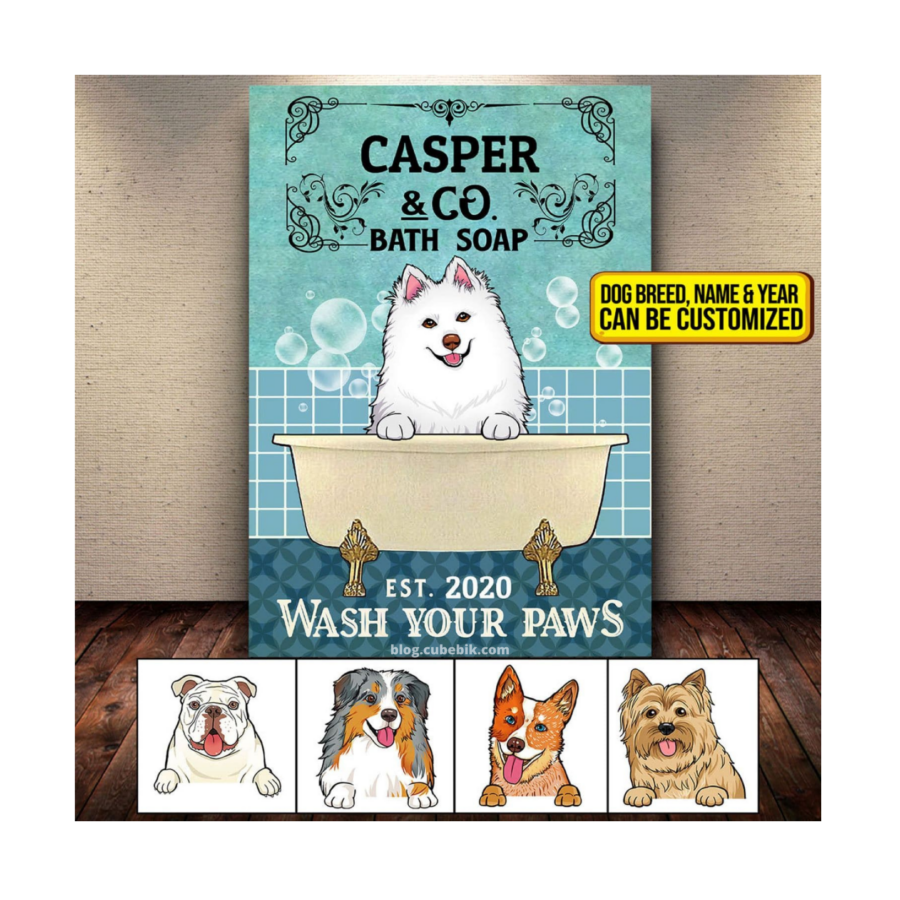 Canvas Wall Decor Starring Your Pup
Bring your love of your pup into the bathroom with this adorable custom dog canvas. Choose your pup's breed to gift dog owners their very own custom pet portraits to display as a reminder for humans to remember to "wash their paws" too. Family Christmas gift ideas can include personalized customized gifts for the dog lovers in your life. This canvas comes in a variety of sizes and can be customized to match most breed and colors as well as has a place to customize the piece with Fido's name.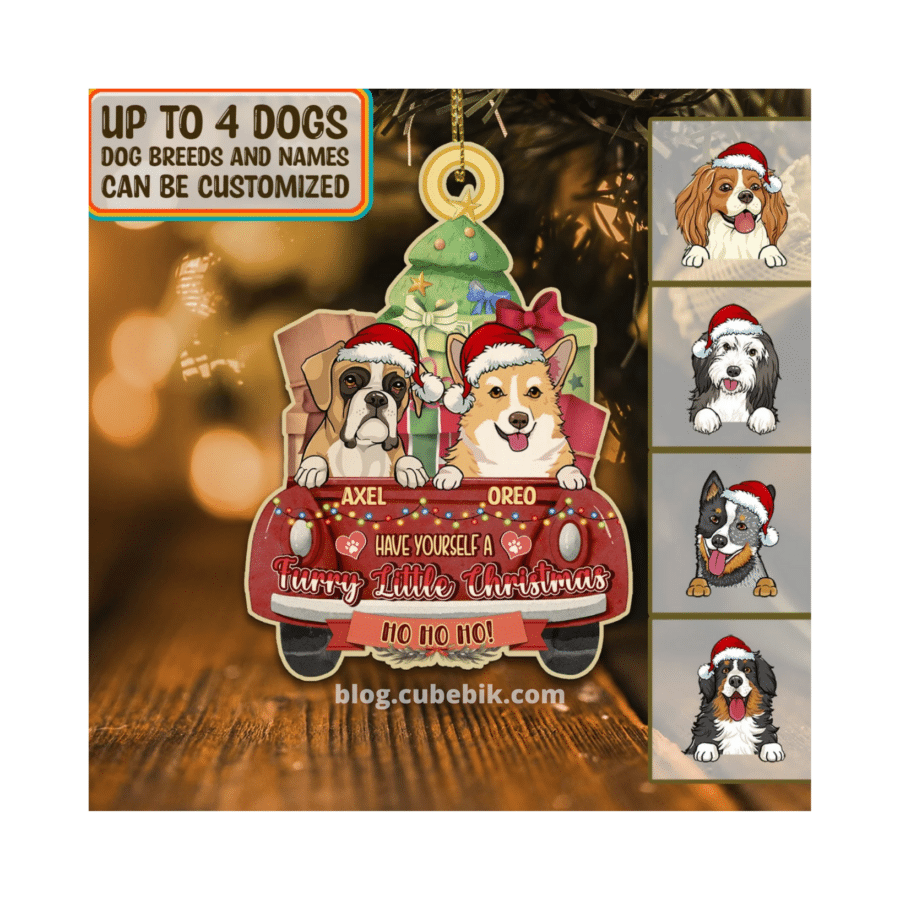 Celebrate Your Furry Friends
Add darling custom pet ornaments to your tree this year with this customizable puppy ornament featuring cute pups peering out of a festive holiday-themed truck. Choose the breed, color, and name of your pack of pooches to display in this festive ornament to celebrate their "Furry Little Christmas" season. If you are struggling to find family gift ideas for pet lovers, this pet ornament is perfect to recognize all pets in a family as well as a thoughtful way to memorialize past pups as well.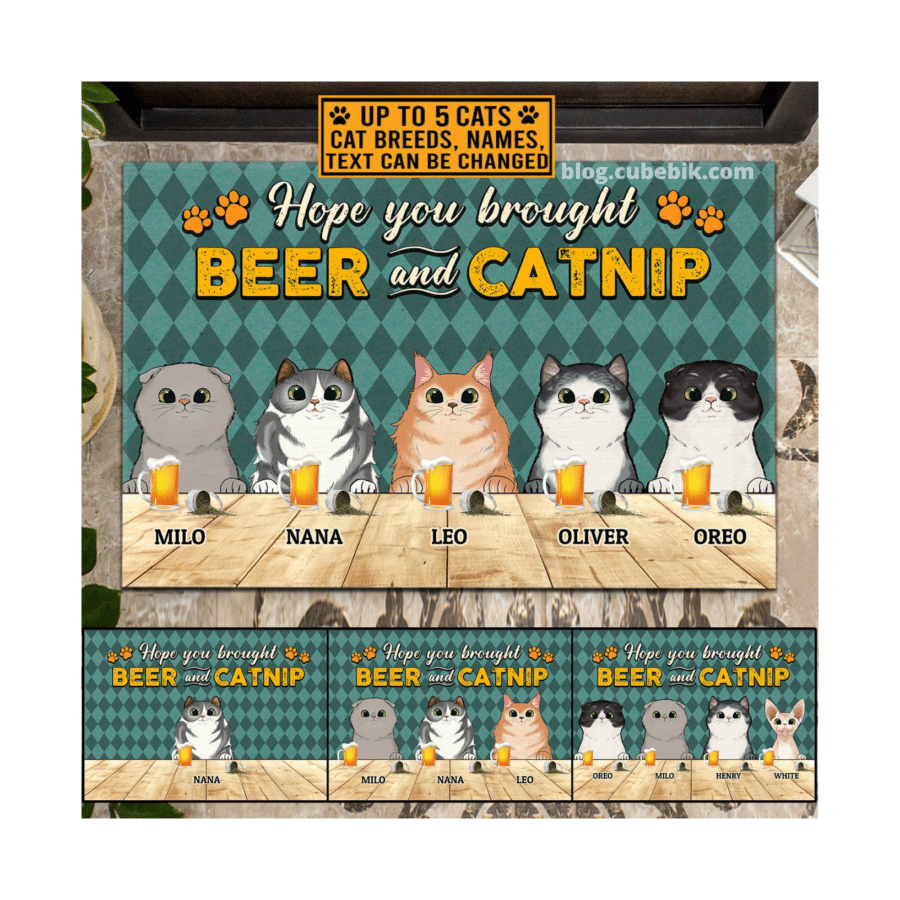 Cute Kitty Cat Mat
We didn't forget Fluffy in our family Christmas gift ideas list. This hilarious custom cat doormat pays homage to kitty's love of catnip and her human's love of beer to this quirky mat that can be used indoors or out. This personalized cat gift allows you to select up to three breeds and their colors as well as add in their names to create a fun gift that can be enjoyed year-round commemorating the favorite cats in your life.
Shopping For Personalized Christmas Gifts
Whether you are searching for the perfect Christmas gifts for family members or just need some custom Christmas gifts for the friends and pets in your life, our list of must-haves needs to be under your tree this season. Choosing personalized gifts for your friends, family and pets is a great way to show them you love them.
We hope that our Christmas gift guide starts off your holiday season with some time-saving ideas to help make your Christmas wonderful this year.
We also have more articles to help you find more gifts for your loved ones. Check out these lovely ideas below:
15 Unique Anniversary Gifts That Could Delight Your Loved Ones
New Anniversary Gifts By Year: Traditional And Modern Ideas Commemorate
>>>>>>>> Follow our CubeBik Blog for more interesting tips <<<<<<<<
The editorial team at Cubebik Blog is a group of dedicated individuals with a passion for words and a commitment to quality. They work tirelessly to ensure that every article is well-researched, informative, and error-free.