October is just around the corner, and for all the lovers of everything kooky and spooky, it's time to start planning your outdoor Halloween decorations.
You must create the perfect Halloween scene if you want to hear the thunderous roar of "Trick or Treat" as the children swing past your door.
This article will recommend some of the best outdoor Halloween decorations for your home this October 31st. Whether you prefer horror or a cute theme, like chibi or animation, our list has you covered.
Keep It Cute And Spooky With Halloween Ghost Decorations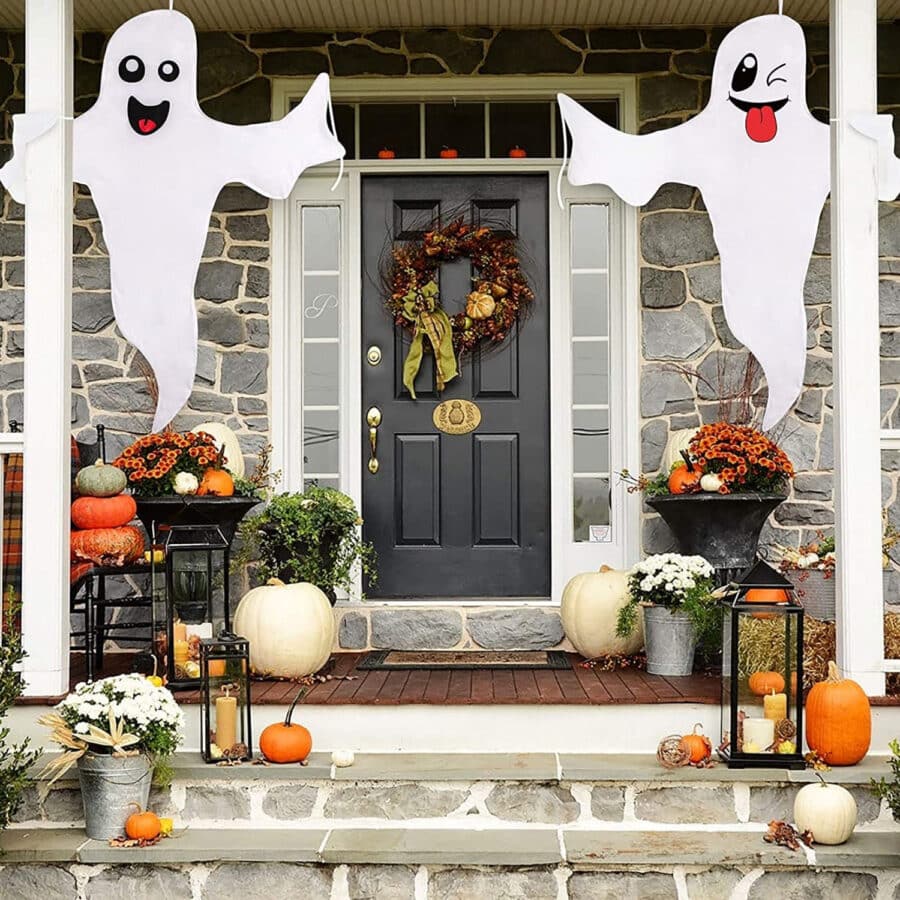 These Ghost Hanging Decoration Outdoor Decor by Hallowmas will add a cute flair to your Halloween door decorations. They are handmade from fabric and sold as a pair.
The attached string makes it easy to hang this versatile Halloween decor anywhere you like. You can also bend the wires to make it look like the ghost is hanging from a tree. The best part is these outdoor Halloween decorations are reusable.
Shed Some Light On The Horror With These Halloween Pumpkin Decorations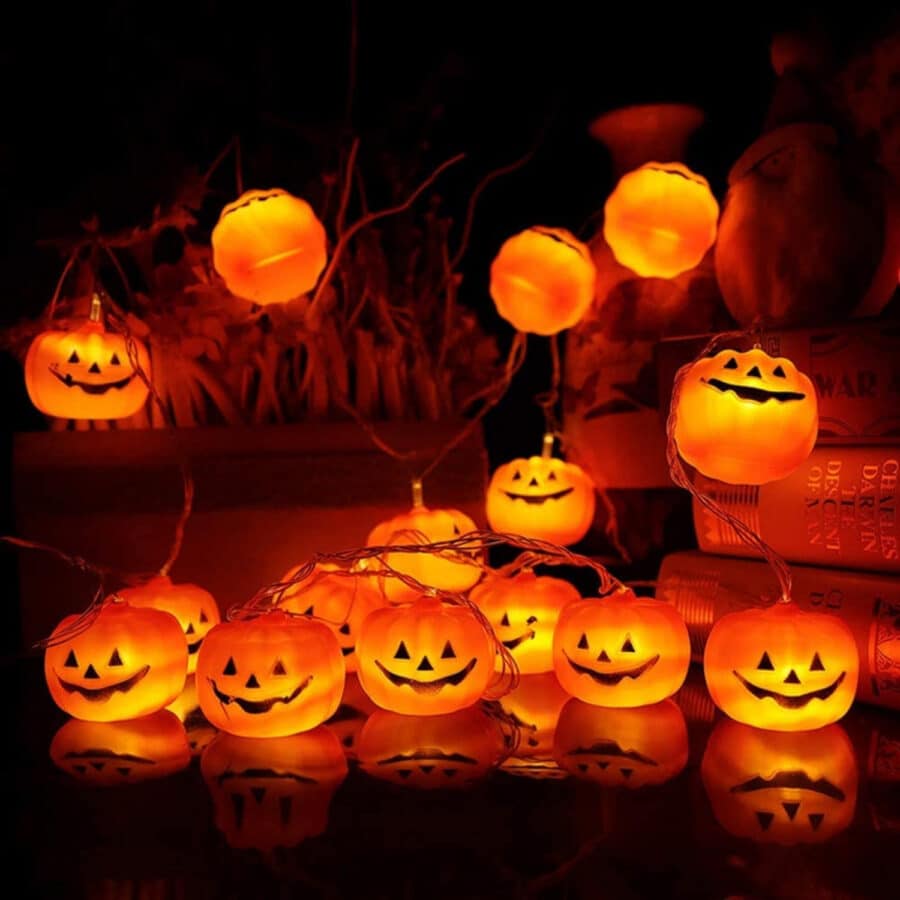 Light the path for your trick or treaters, or create a romantic Halloween mood with these Halloween Pumpkin Lights. You can choose from two varieties – ghosts or pumpkins. Both come with 20-lights, two settings, and a whole lot of flashy fun.
They require 3 AA batteries, so you don't have to plug them in anywhere. Add these cute lights to your list of outdoor Halloween decoration ideas.
Try A Little Hocus Pocus Halloween Decor With The Sanderson Sisters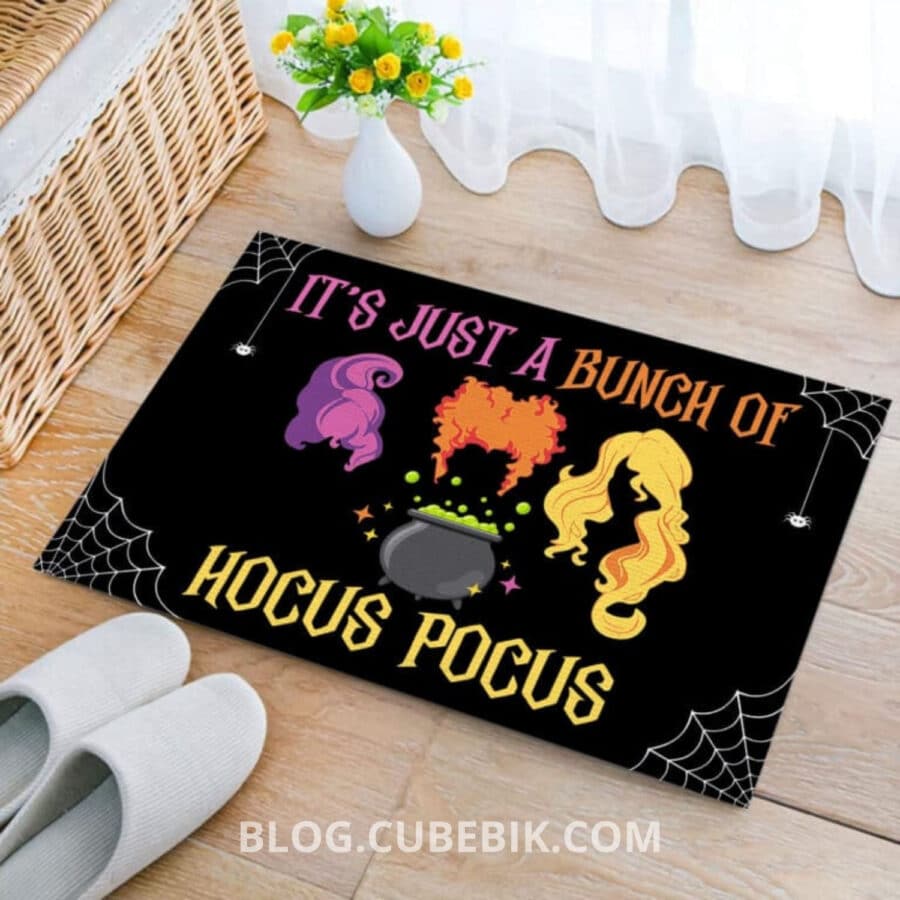 To complete your Halloween door decorations, add this Halloween Sanderson Sisters Decorative Doormat to the list. It's made from polyester and has a rubber backing to prevent slippage. You can choose from three different sizes.
If you're a huge Hocus Pocus fan and want to show the world this Halloween, then purchase this doormat for your home. It will make people laugh with joy as they ring your bell.
Make People ROFL With Funny Halloween Decorations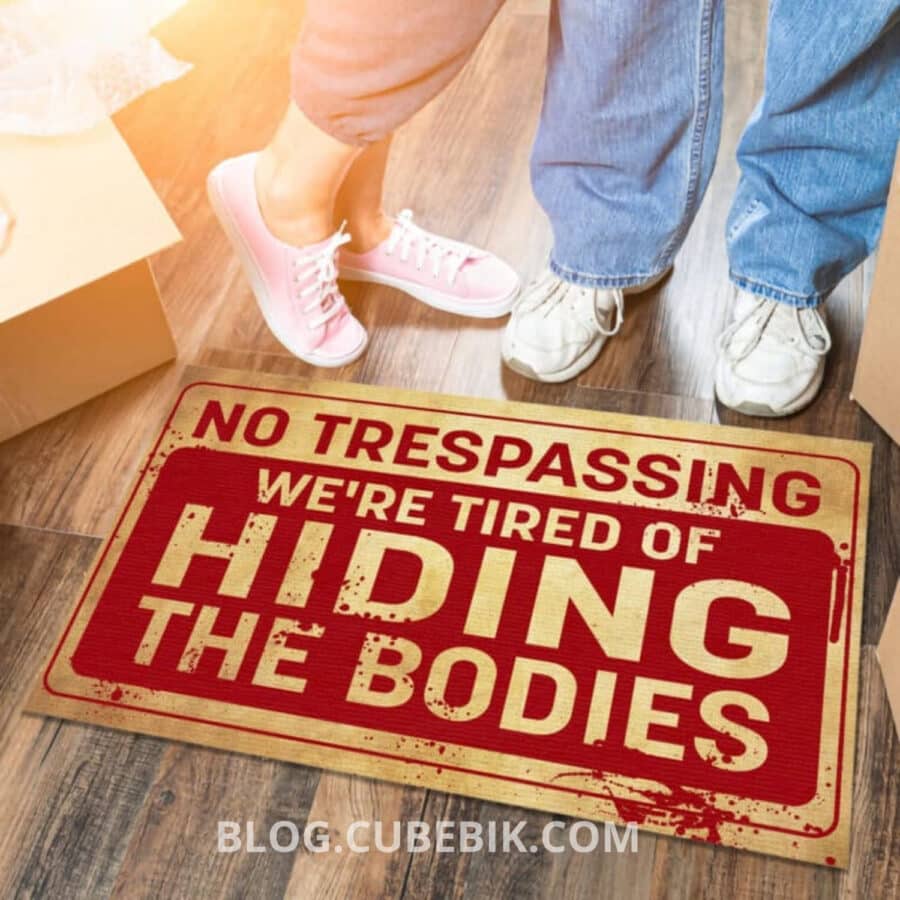 Outdoor Halloween decorations aren't only about the scare factor. Make your trick or treaters ROFL with this Funny No Trespassing Halloween Doormat. It's available in three sizes, has a non-slip rubber backing, and requires iron steam after opening. Complete your zombie or serial killer Halloween decoration theme with this hilarious doormat.
Get Traditional With Halloween Witch Decor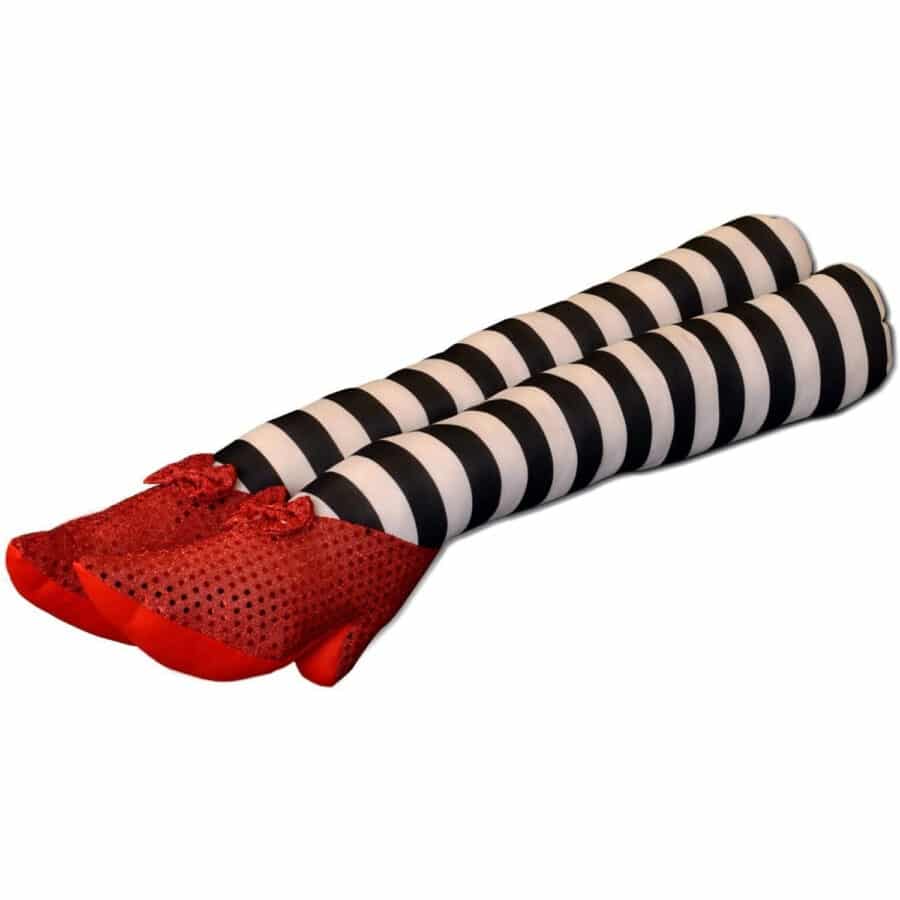 Witches aren't always scary, especially when they are crushed under your house like the Wicked Witch of the West. Buy these Witch Legs outdoor Halloween decorations to entertain little kids and adults alike.
Create a unique design that easily incorporates with your other Halloween yard decorations, or add it to a movie-themed design. The witch legs are one of the best outdoor Halloween decorations.
Swoop In With Halloween Bat Decor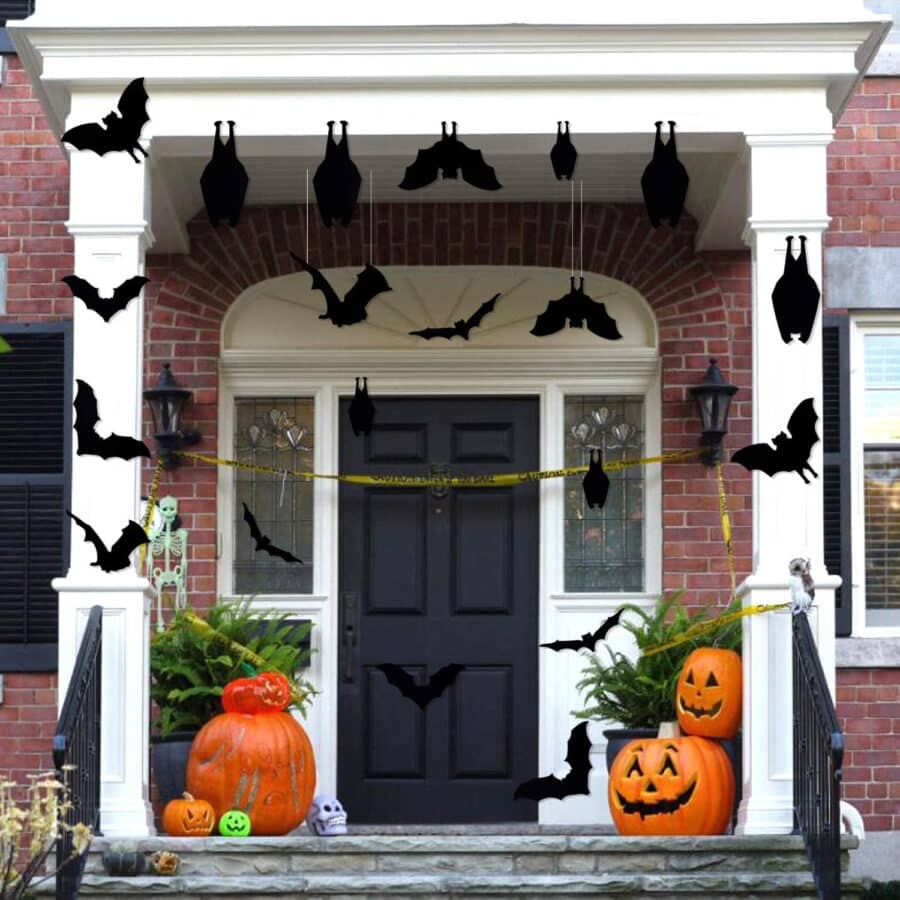 Add the finishing touches to your haunted house theme with these Halloween Bat Outdoor Decorations. Use string to hang them around your porch. They'll swing in the wind, giving an extra touch of spookiness to your Halloween door decorations.
You can easily use them more than once because they are made from durable, waterproof PVC. The whole package includes 24 bats, 88 pieces of double-sided adhesive, and a 26-yard elastic cord, so you can get creative with your outdoor Halloween decoration ideas.
Make Them Say, "Arrr" With Pirate Halloween Decorations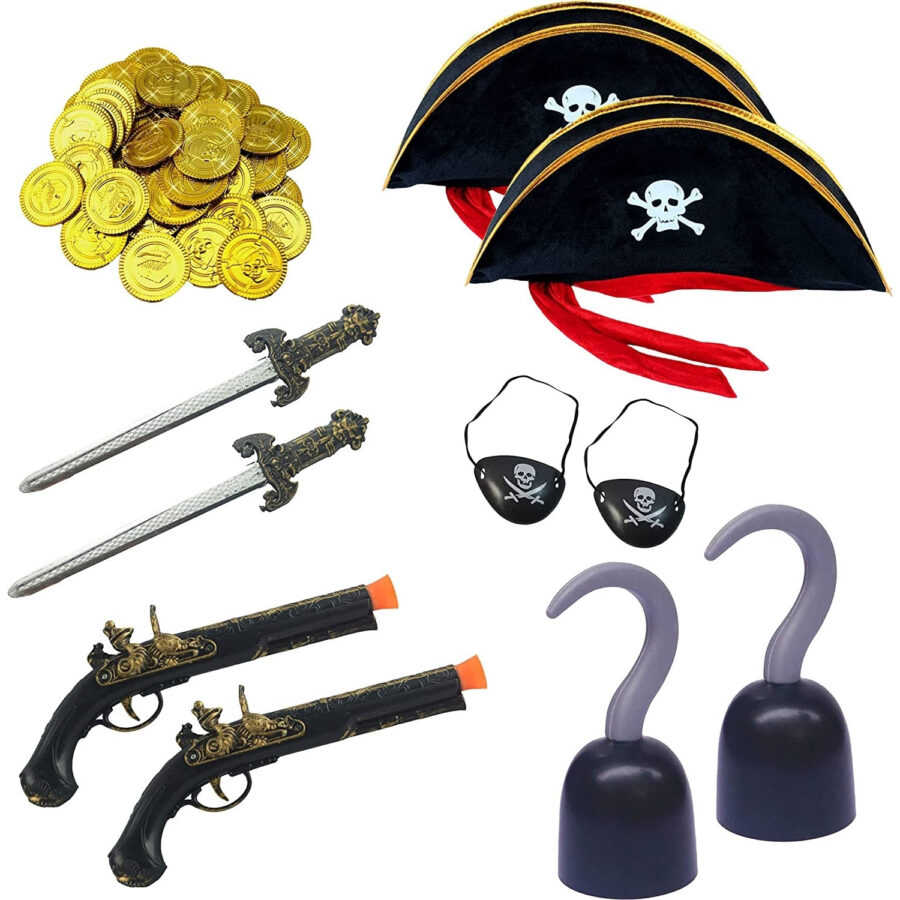 Get these Pirate Accessories so that you can become part of your pirate-themed outside Halloween decorations. Don a pirate hat, eye patch, and toy guns to entertain the children who come by to trick or treat.
The set comes with enough gold coins to create your own treasure chest. Create the perfect nautical vibe with these outside Halloween decorations.
Outdoor Spider Halloween Decorations – Trap Trick Or Treaters In Your Web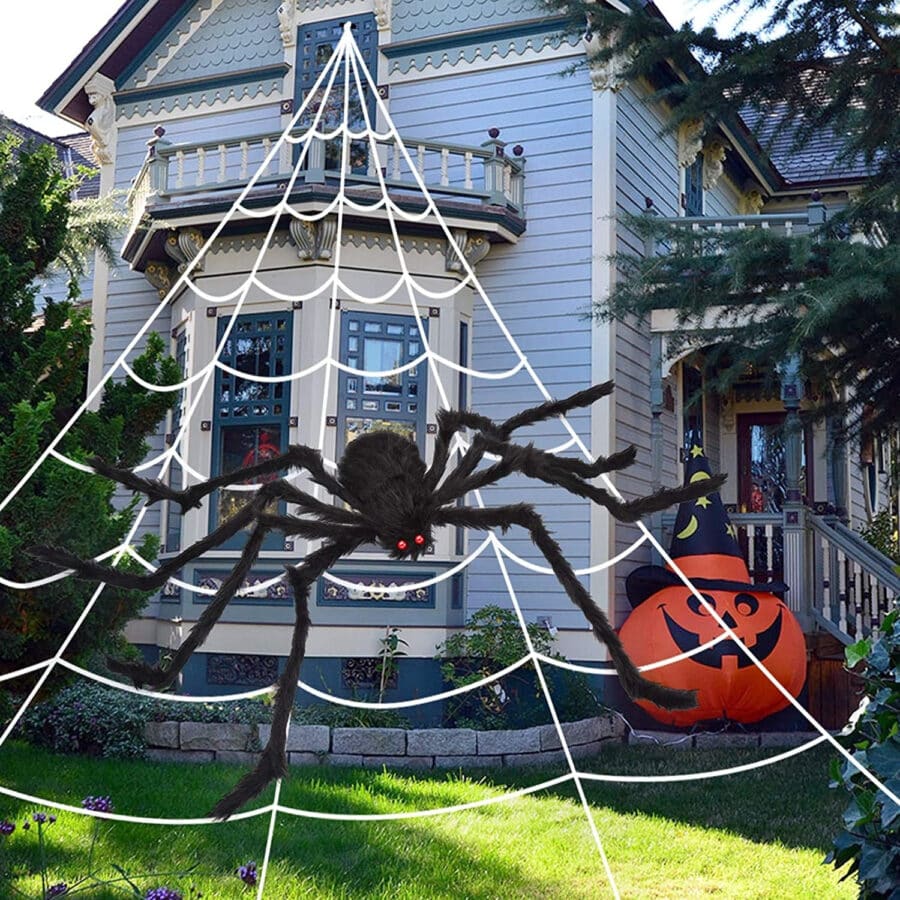 Bring out the inner arachnophobe in everyone with this Halloween Spider Web With Giant Spider. The web is a whopping 200" triangle shape, so you could hang it from the second story and let it flow down into your other Halloween yard decorations.
It comes with a humongous 59" tarantula that will make trick or treaters scream. It's the perfect addition to creepy outdoor Halloween decorations. Get it today.
Get Weird With Beetlejuice Outdoor Halloween Decorations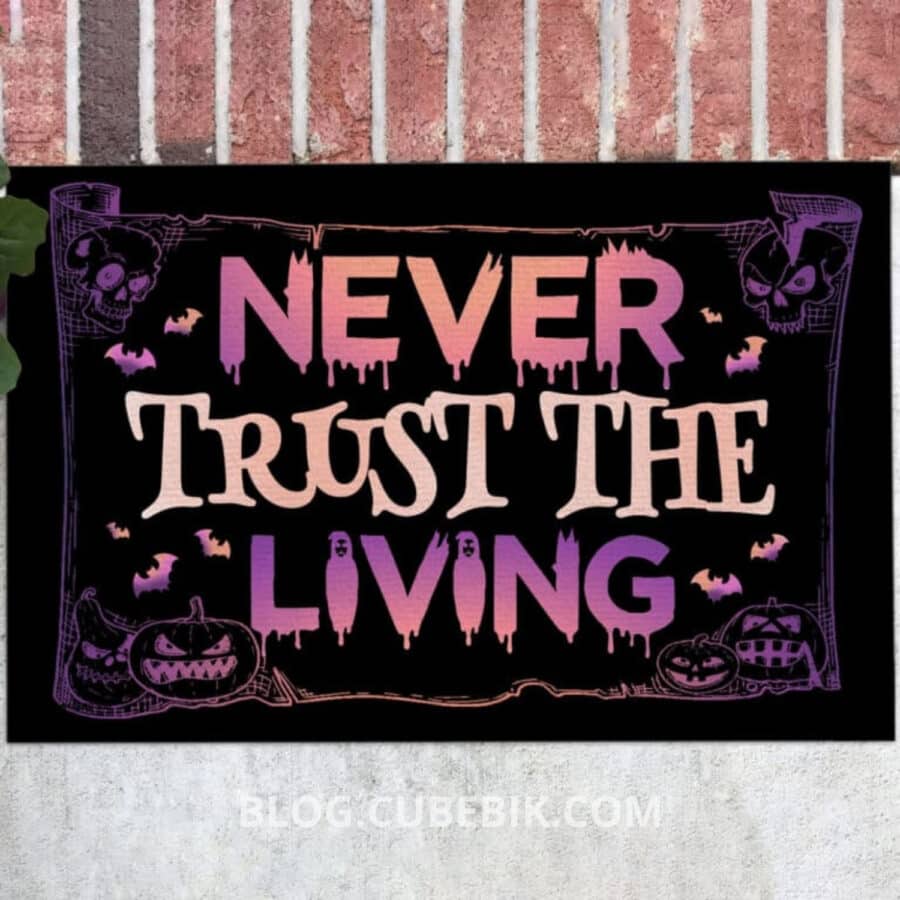 If you're a fan of Beetlejuice, then this Never Trust The Living Doormat is a must-have for Halloween. It's made from 100% polyester and has a non-woven point plastic bottom.
Include it in your ghost-themed outside Halloween decorations or as part of an entire Beetlejuice design. It'll add that extra touch of detail.
Welcome Trick Or Treaters With A Personalized Halloween Welcome Doormat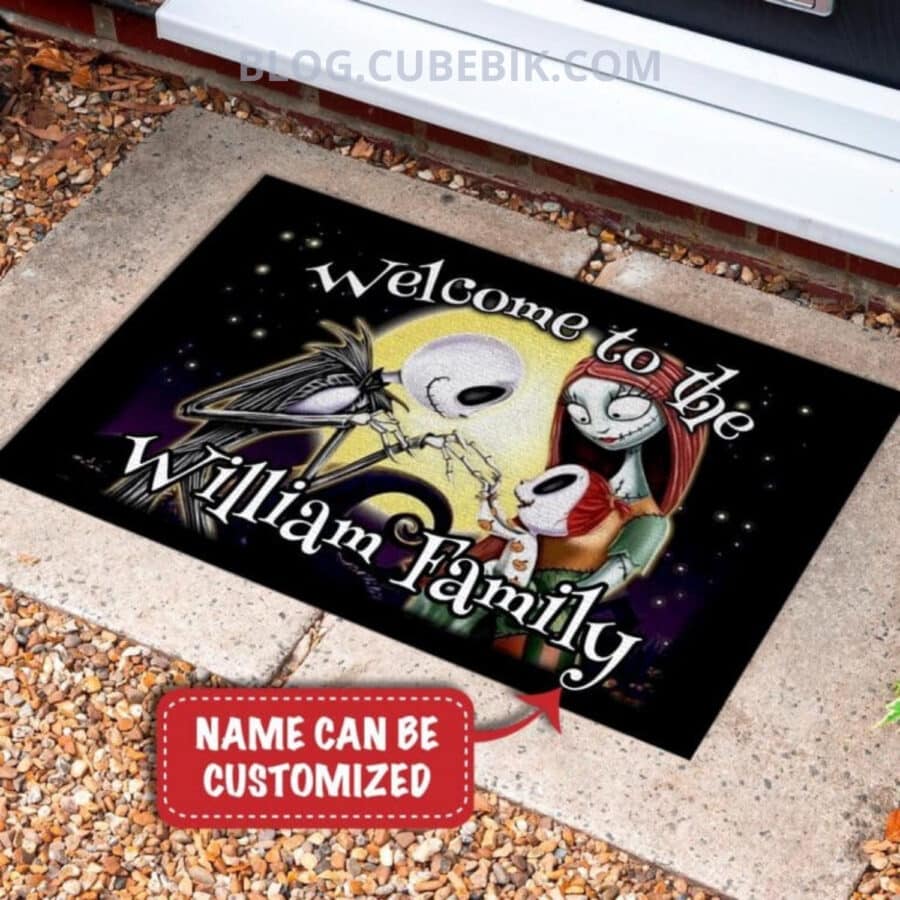 Add an exclusive element to your outdoor Halloween decorations with this Personalized Halloween Doormat with Family Name. Proudly announce your house with this humorous Halloween welcome mat that'll make trick or treaters laugh.
It comes in three different sizes and has a no-slippage backing. The Nightmare Before Christmas Doormat will complete your Halloween decor as there is nothing better than a doormat with your family name and cute Halloween characters printed on it.
11. Turn Your House Into a Nightmare with Horror Movie Home Decor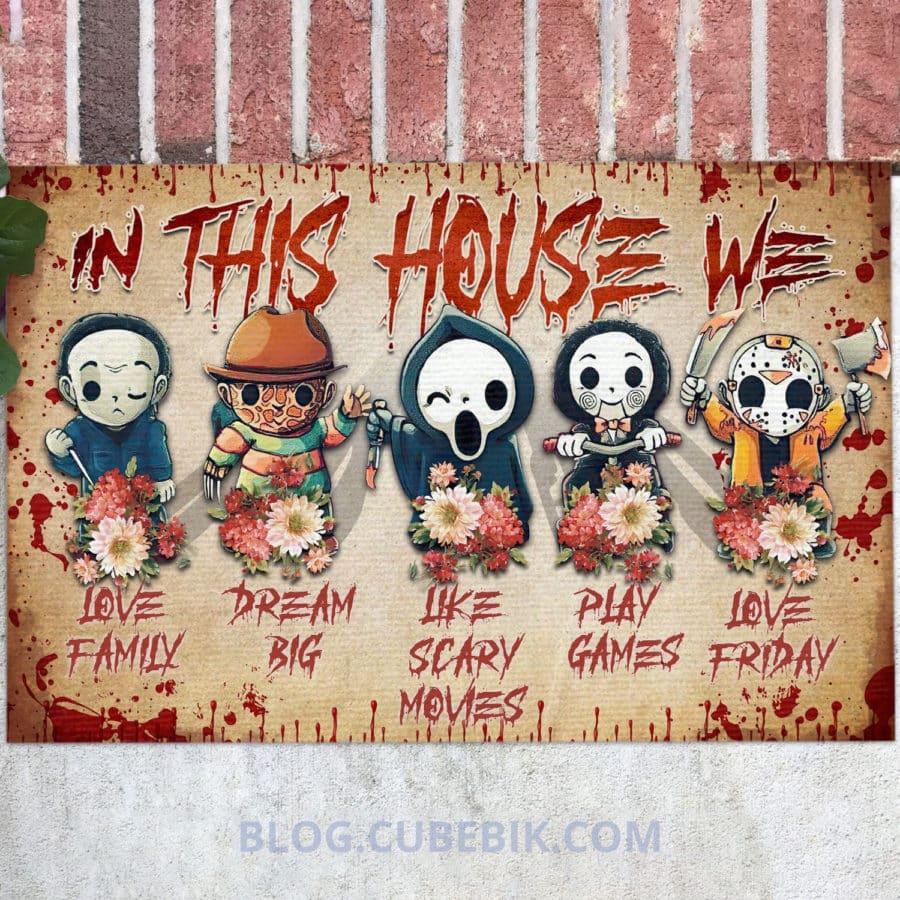 The In This House We Love Family Horror Doormat is for all the horror-loving families out there. Make fellow fans of all that's creepy and macabre smile when they step up to your door to trick or treat.
Choose from one of three sizes and add it to your creepy outdoor Halloween decorations. Celebrate this Halloween with Jason, Jigsaw, and Freddy.
12. Use Halloween Haunted House Decorations to Make Everyone Scream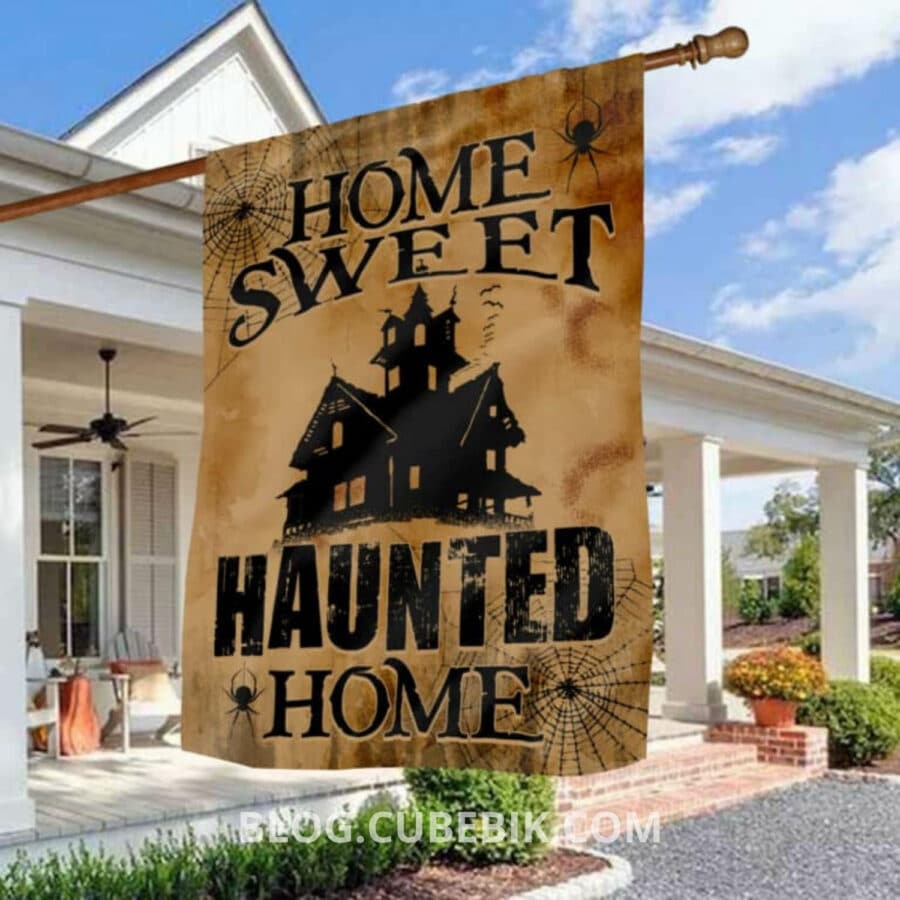 Thinking of doing a haunted house this year? Fly your Home Sweet Haunted Home Flag high this Halloween. You can choose from 30″ x 40″ or 36″ x 60″. It's made from machine washable polyester, meaning you can use it for many years to come.
It's the perfect Halloween garden flag to let everyone know you're proud of your beautiful, oh, so haunted home.
13. Fly Your Halloween Cat Garden Flag High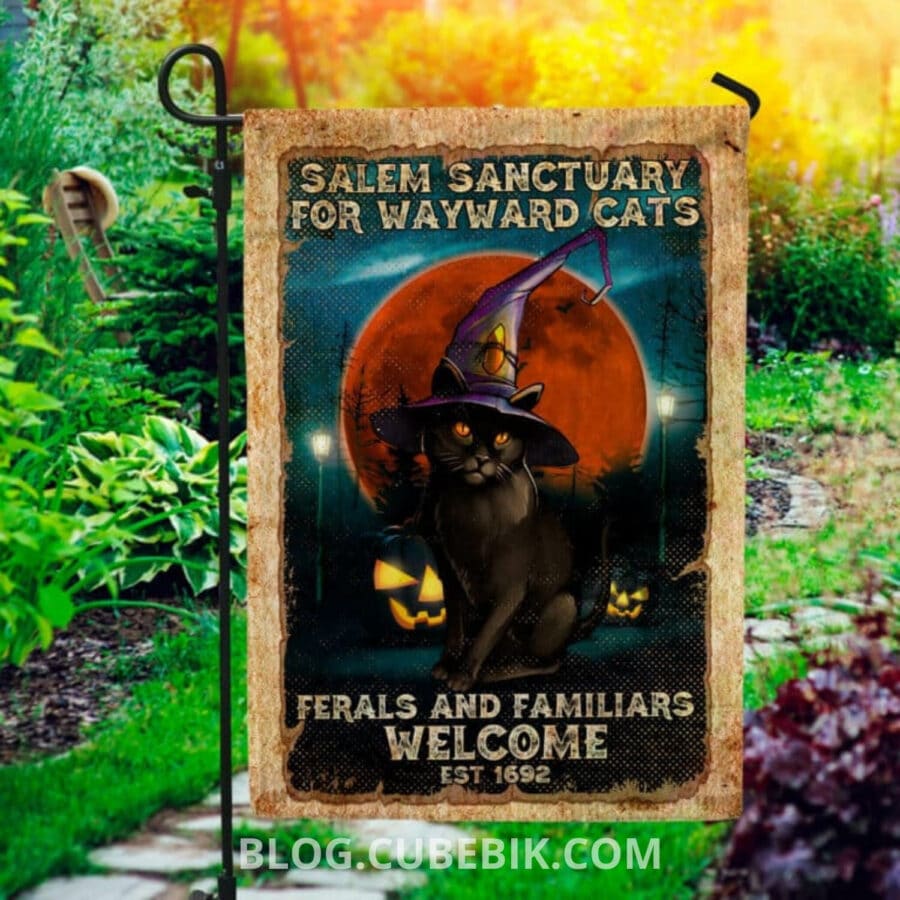 The Salem Sanctuary For Wayward Cat Flag is guaranteed to bring joy to all cat and witch lovers. You can choose from three sizes, meaning you can use it as a Halloween door decoration or as a focal point at the entrance to your yard.
Halloween house flags add character to your decor and can bring an entire layout together. Add one to your outside Halloween decorations list.
14. Michael Myers Halloween Decorations Are Sure To Make Trick Or Treaters Squirm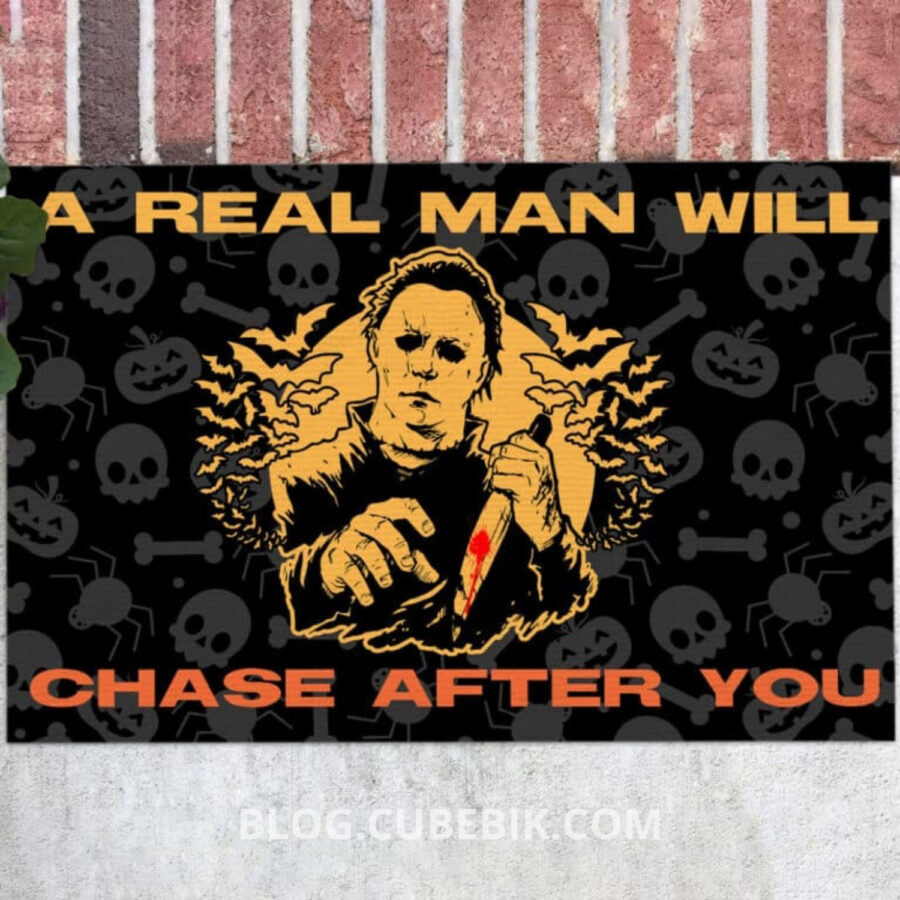 If creepy themes are your thing, then this Michael Myers Doormat will make a killer addition to your outdoor Halloween decorations. Make kids scream and parents laugh when they come trick or treating at your door.
The best part is that you can use this decoration long after Halloween is over. Add it to your other Halloween door decorations to complete your serial killer look.
15. Make Them Squeal With Fear With These Jason Voorhees Halloween Decorations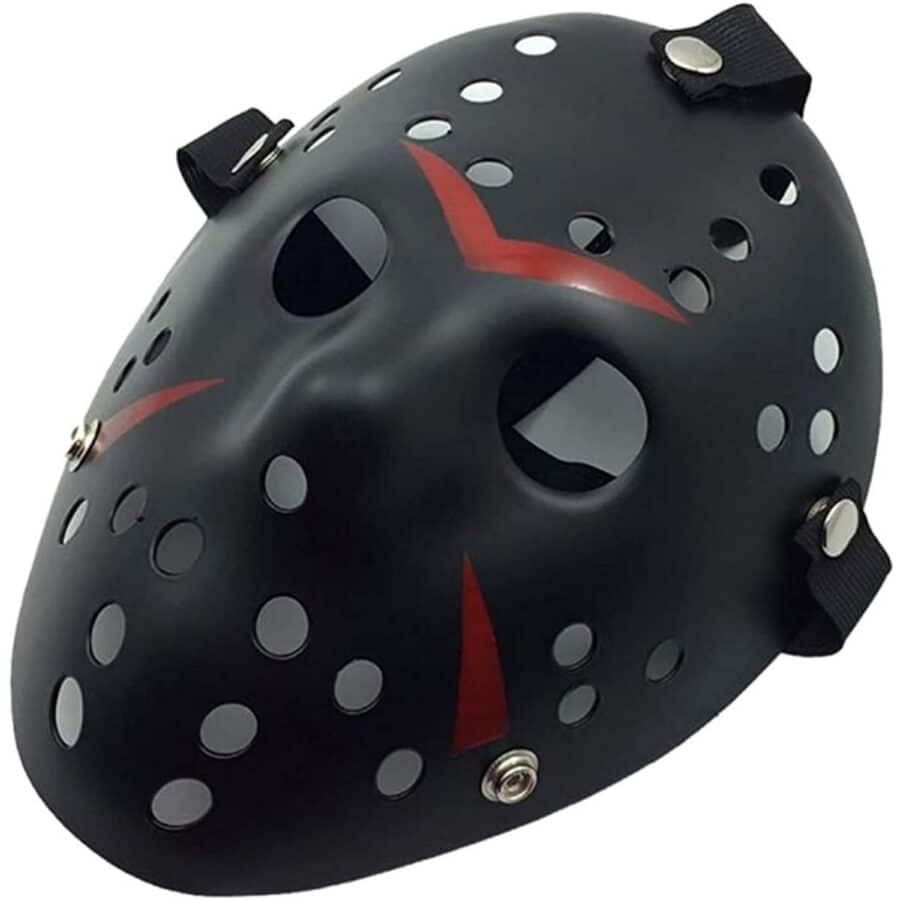 Now you might be thinking this Jason Mask Halloween Horror Mask is only for wearing. You can try a few scary outdoor Halloween decoration ideas. Hang it from a tree, make a scarecrow with the mask on it, or put it in the window.
You can even buy two and wear one to scare the trick or treaters when they come knocking. It's a versatile outdoor Halloween decoration.
Wrap Up
Start planning your outdoor Halloween decorations early. Create your ideal scary theme and help your neighborhood celebrate Halloween together.
We're glad you like this post and hope it gives you lots of ideas to decorate your house this Halloween. If you still haven't picked the best items for your home, please click here to find more new ones.
Also, you shouldn't miss "25 Best Classic Halloween Movies For A Scary Night", this post is great for you if you are looking for some classic Halloween movies to enjoy your Halloween.
>>>>>>>> Follow our CubeBik Blog for more interesting tips <<<<<<<<