We will explore a variety of groomsmen suit ideas that will elevate your wedding style to new heights. Whether you prefer traditional elegance or modern trends, we have got you covered.
Introduction
Are you planning your dream wedding? If so, you know how essential it is to pay attention to every detail, including the very wedding attire, of your groomsmen. Groomsmen suits play a significant role in enhancing the overall aesthetic and creating a cohesive look for the wedding party.
In this article, we will explore a variety of groomsmen suit ideas that will elevate your wedding style to new heights. Whether you prefer traditional elegance or modern trends, we have got you covered.
What Should Groomsmen Attire?
Tell me about the style a groom has? The dress for the bridal party could be as formal as required. This is certainly not a formal dress day as most brides know it from weddings of years gone on. From formal tuxes to casual dresses, groom's styles are varied. Often accessories such as leather suspenders, boutonnieres, or bow tie can help to create an outfit. Some weddings will have everyone wearing matching outfits and the groom will be wearing a different color colors or styles as his groom.
How To Choose Groomsmen Attire
When it comes to planning a wedding, deciding on groomsmen outfit ideas can sometimes be a daunting task.
However, by considering certain external factors, you can simplify the process and choose the perfect wedding attire for your groomsmen. Here are some key elements to examine when determining the groomsmen attire based on the wedding style:
Wedding Size
The size of your wedding can impact the choice of groomsmen attire. If you have a small, intimate wedding, you might prefer a more casual or personalized approach, allowing the groomsmen to showcase their individual styles within a coordinated color scheme.
For larger weddings, a more uniform look with matching ties and suits bow ties navy suits or tuxedos can create a cohesive and elegant visual impact.
Budget
Consider the budget of both the couple and the groomsmen when deciding on the attire. If the groomsmen will be responsible for purchasing their own outfits, it's essential to choose options that fit within a reasonable price range.
If the budget is more flexible, you can explore a wider range of choices, including custom-made suits or designer labels.
Season
The season in which your wedding takes place plays a significant role in selecting the groomsmen outfits. For a summer wedding, you might opt for lightweight fabrics lighter colors like linen or seersucker to keep the groomsmen cool and comfortable. In contrast, a winter wedding calls for warmer fabrics such as tweed or wool to ensure the outfits for groomsmen stay cozy despite the chilly weather.
Setting and Venue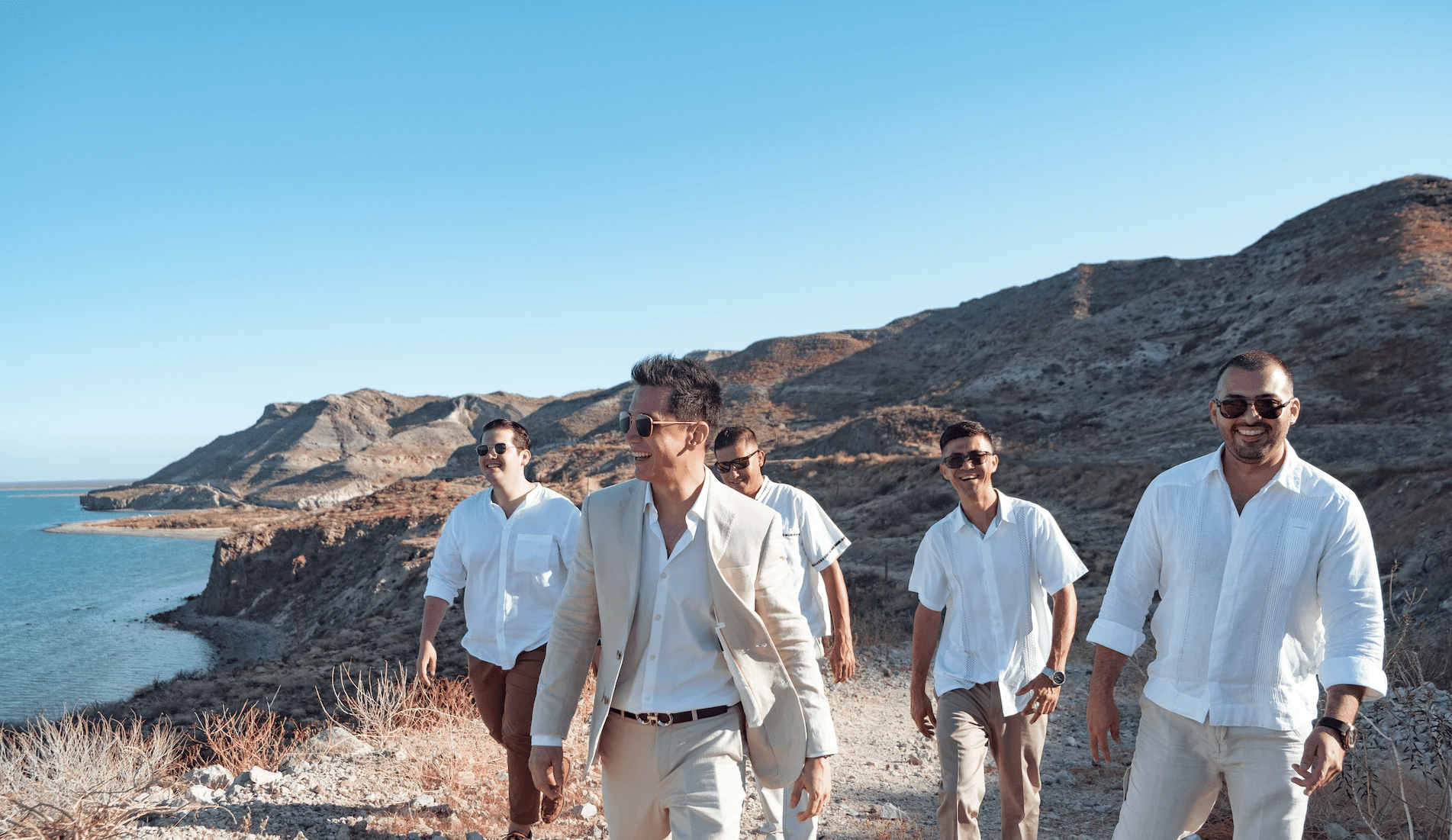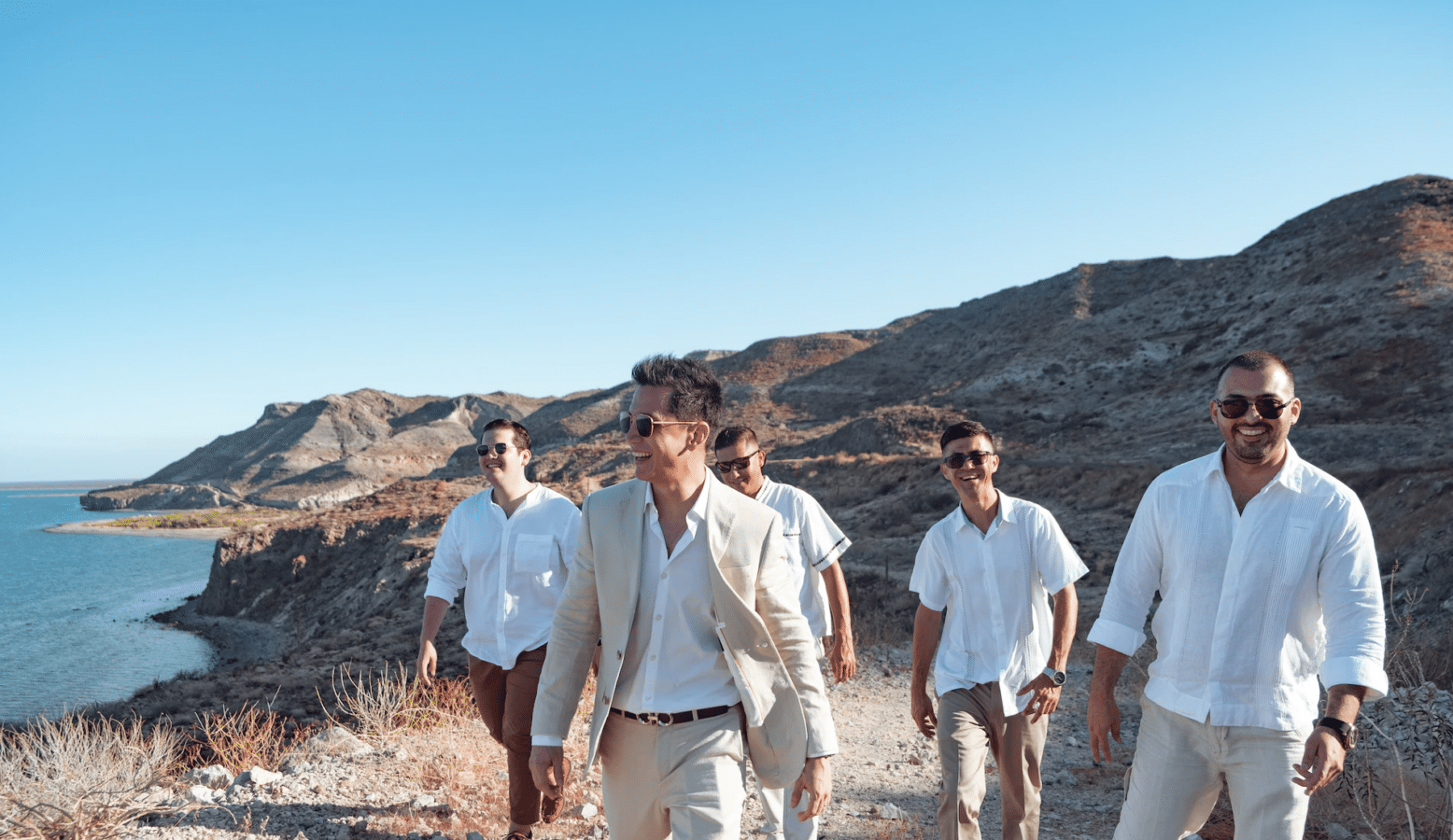 The setting and venue of your wedding also influence the choice of groomsmen attire. If you're having an outdoor wedding in a picturesque garden or on the beach, consider more relaxed and casual options like khaki pants paired with dress shirts or even linen suits.
For a formal indoor wedding in a grand ballroom, traditional tuxedos or tailored suits in classic colors like black, navy, light grey or charcoal gray would be more appropriate.
Formality
The level of formality you desire for your wedding sets the tone for the groomsmen attire. For an ultra-formal black-tie affair, classic black tuxedos with bowties and cummerbunds are a timeless choice. If you prefer a more semi-formal or cocktail-style wedding, you can consider elegant three-piece suits or stylish blazers paired with dress pants.
This will help you create a cohesive and stylish look for your groomsmen, ensuring that they not only complement your wedding theme but also feel comfortable and confident on your special day.
Ideas for Groomsmen Outfits
Traditional Groomsmen Suits
When it comes to classic sophistication, traditional groomsmen suits never go out of style. Here are a few timeless options to consider:
Classic Black Tuxedos: Picture the groomsmen adorned in meticulously crafted traditional suits, with black tuxedos that exude an aura of refined allure. The sleekness of black exudes a sense of formality and sophistication, making it a go-to choice for couples seeking an elevated and stylish ambiance for their big day.
Elegant three-piece suits:
Elegant three-piece suits have long been synonymous with refined style and sophistication. These impeccably tailored ensembles consist of a jacket, trousers, and a waistcoat, creating a cohesive and polished look that never fails to impress.
The jacket, meticulously crafted to perfection, exudes timeless elegance with its tailored fit and attention to detail. The trousers, made from premium fabrics, drape gracefully and complete the sleek silhouette.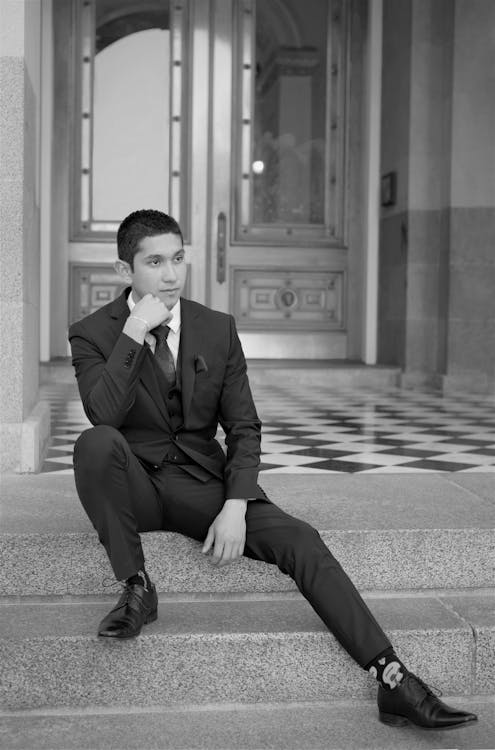 However, it is the addition of the waistcoat that truly elevates the ensemble. The waistcoat adds an extra layer of sophistication, enhancing the overall aesthetic with its structured design and complementing the jacket and trousers seamlessly.
Groomsmen adorned in elegant three-piece suits exude confidence and class, making a memorable impression. Whether in traditional black or a sophisticated color palette, these suits are a timeless choice for any formal occasion, showcasing impeccable style and impeccable taste.
Timeless morning suits: Ideal for daytime weddings, morning suits feature a tailcoat, striped trousers, and a waistcoat, creating a distinguished and traditional look.
The key components of a morning suit include a tailcoat, striped trousers, and a waistcoat. The tailcoat, with its distinctive cut and elongated back, adds a touch of regality and formality to the overall look. The striped trousers, traditionally in a contrasting color, provide a subtle yet striking visual element. The waistcoat, completing the ensemble, adds a layer of refinement and showcases the attention to detail.
The key components of a morning suit include a tailcoat, striped trousers, and a waistcoat. The tailcoat, with its distinctive cut and elongated back, adds a touch of regality and formality to the overall look. The striped trousers, traditionally in a contrasting color, provide a subtle yet striking visual element. The waistcoat, completing the ensemble, adds a layer of refinement and showcases the attention to detail.
Modern Groomsmen Suit Trends
If you're looking to infuse a contemporary flair into your own wedding day?, consider these modern wedding day groomsmen suit trends:
Slim-fit suits: Sleek and stylish, slim-fit suits provide a more streamlined silhouette that flatters a variety of body types.
Colored suits: Adding a pop of color can make a bold statement. Opt for shades that complement your wedding theme or reflect your personal style.
Patterned suits: Embrace patterns like plaids, checks, or subtle textures to add visual interest and individuality to your groomsmen's ensembles.
Formal groomsmen attire is all about sophistication and style. With well-tailored tuxedos or suits, complemented by matching accessories, the various groomsmen outfits exude elegance and class. From classic black tuxedos to tailored navy suits, every detail is carefully considered to create a cohesive and polished look. Quality tailoring and attention to accessories are key, ensuring that the groomsmen are dressed to impress for the formal occasion.
Casual Groomsmen Attire
Casual groomsmen attire is perfect for a casual wedding, creating a relaxed and laid-back look. Embrace mix-and-match styles, combining different colors, patterns, and textures to achieve a unique ensemble that suits the casual theme. Option for lightweight fabrics like linen or cotton to ensure comfort, especially for outdoor or summer weddings.
Consider casual blazers or sports coats instead of traditional suits for a more informal aesthetic. Complete the look with well-fitted trousers or chinos and complementing accessories, adding a touch of personal style to create a fashionable yet relaxed appearance for the casual beach wedding celebration.
Choosing the Right Groomsmen Suits
Now that we've explored different suit options, let's delve into some crucial factors to consider when choosing the right groomsmen suits.
Consider the Wedding Theme
Formal and traditional weddings: For classic and formal affairs, stick to traditional groomsmen suits like black tuxedos or morning suits.
Outdoor or beach weddings: Outdoor weddings offer a variety of opportunities to wear casual or glamorous clothes as your heart desires. Opt for lighter fabrics and colors to ensure comfort in warmer weather. Linen suits or lighter shades like beige or light gray are excellent choices.
Destination weddings: Consider the destination's climate and ambiance when selecting groomsmen suits. Linen or lightweight suits in vibrant colors can be a great fit for tropical destinations.
Complementing the Bride's Dress
To create a harmonious visual impact, it's crucial to ensure that the groomsmen's suits complement the bride's dress.
Matching colors and styles: Coordinate the color palette of the groomsmen's suits with the hues present in the bride's dress or the overall wedding theme.
Coordinating accessories: Pay attention to details like matching boutonnieres, pocket squares, and ties or bowties that complement the bride's bouquet or dress accents.
Tailoring and Fit
Well-fitted suits are essential for a polished and sophisticated look. Here are some considerations regarding the suit jacket tailoring and fit:
Importance of well-fitted suits: Properly tailored suits enhance the overall appearance of the groomsmen and ensure they look their best on your special day.
The role of professional tailoring: Seek the assistance of professional tailors to ensure that each suit is tailored to fit the individual groomsmen's body types.
Options for rental or purchase: Discuss with your groomsmen whether they prefer to rent or purchase their suits, keeping budget and personal preferences in mind.
Mix and Match Styles
Different suits within a color scheme: Allow your groomsmen to choose different suits within a specific color palette, creating a cohesive yet diverse look.
Combining patterns and textures: Experiment with combining different patterns or textures like pinstripes, checks, or tweeds to create a visually dynamic ensemble.
Statement Accessories
It can elevate the overall look of groomsmen suits. Consider these statement accessories:
Unique bowties or neckties: Opt for unconventional colors or patterns to add a distinctive touch and showcase individual personalities.
Pocket squares and boutonnieres: Coordinate pocket squares and boutonnieres with the wedding colors or themes to create a cohesive and stylish look.
Personalized Touches
Adding personalized touches to the groomsmen's suits can make them feel truly special. Consider the following options:
Customized cufflinks: Engraved cufflinks with the groomsmen's initials or wedding-related motifs add a personalized touch to their suits.
Monogrammed details: Incorporate monogrammed embroidery on the cuffs, collars, or inside linings of the suits for a sophisticated and personalized touch.
Tips for Choosing Groomsmen Suit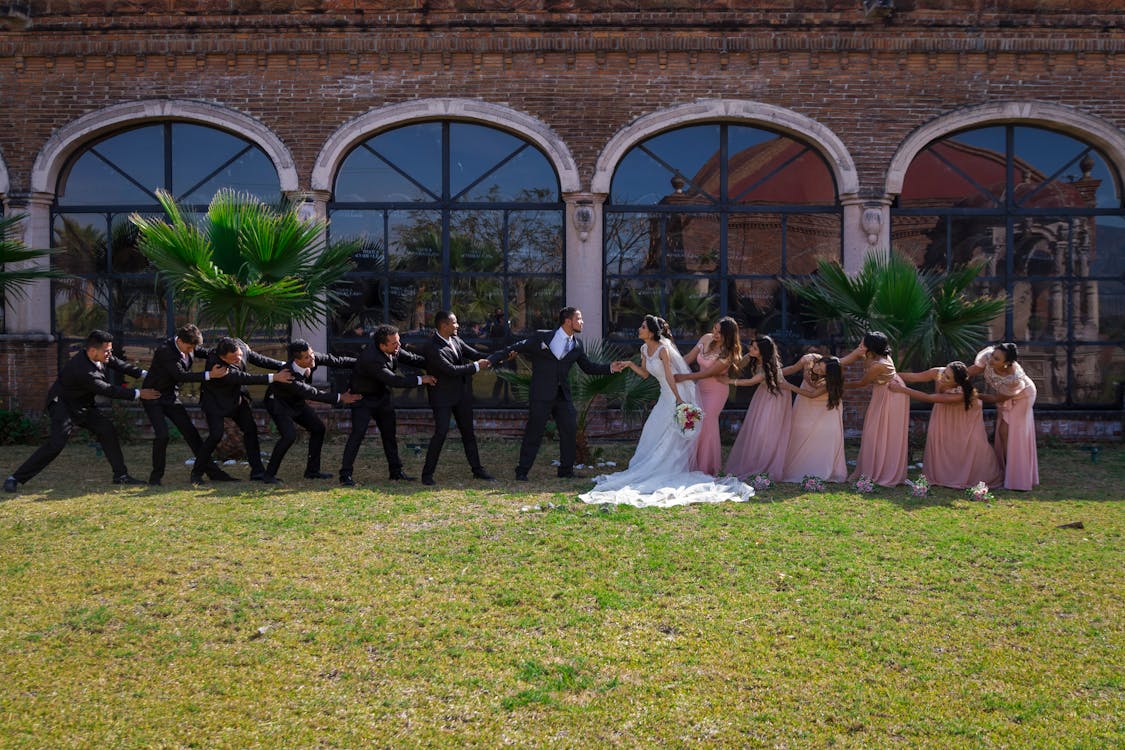 To ensure a smooth and enjoyable suit shopping experience, keep these tips in mind:
Start Early and Communicate: Begin the suit shopping process well in advance to allow ample time for fittings, alterations, or exchanges. Communicate your expectations clearly to the groomsmen.
Consider Budget and Rental Options: Discuss the budget with your groomsmen and explore rental options if purchasing suits is not feasible for everyone.
Coordinate with Groomsmen: Involve your groomsmen in the decision-making process. Consider their preferences while keeping the bride and overall wedding aesthetic in mind.
Don't Forget About Comfort: Prioritize comfort alongside style. Ensure the groomsmen's suits are made from breathable fabrics and offer a comfortable fit.
Allow for Individual Expression: Encourage your groomsmen to express their personal style within the parameters of your overall vision. This adds uniqueness and a personal touch to the wedding party casual groomsmen's attire.
Conclusion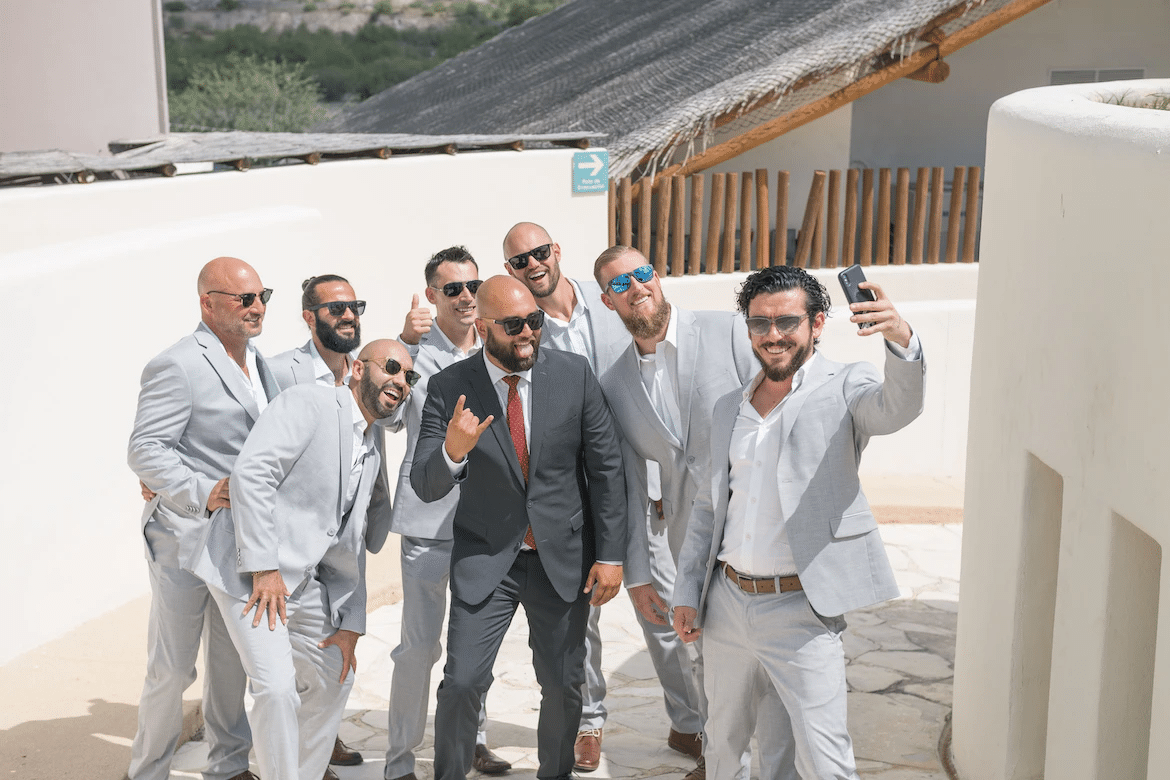 Groomsmen suits play a crucial role in enhancing the overall style and visual appeal of a wedding. From traditional elegance to modern trends, there are numerous options to choose from.
By considering factors such as the wedding theme, complementing the bride's dress, and incorporating creative ideas, you can create a memorable and stylish ensemble for your groomsmen.
Remember to start early, communicate effectively, and prioritize both comfort and style. With well-chosen suits and formal accessories, your wedding party will exude charm and sophistication, creating beautiful memories that will last a lifetime.
---
FAQs
Can groomsmen wear suits of different colors?
Yes, groomsmen can wear suits of different colors. Mixing and matching suits within a color scheme can create a visually interesting and coordinated look.
How do I choose the right suit size for groomsmen?
It's essential to measure each groomsman accurately and consult size charts provided by suit retailers. Professional tailors can also assist in determining the right size and making necessary alterations.
Should groomsmen wear the same accessories?
While matching accessories can create a cohesive look, allowing groomsmen to showcase their individuality through slightly different accessories can add depth and character to their ensembles.
Can groomsmen wear suits instead of tuxedos?
Yes, groomsmen can wear suits instead of tuxedos. Suits provide a versatile and modern alternative to traditional tuxedos, allowing for a more relaxed and contemporary aesthetic.
What are some alternative options to traditional groomsmen suits?
Some alternative options to traditional groomsmen suits include suspenders with trousers, tweed or linen vests paired with dress shirts, or even stylish blazers with chinos for a more casual or rustic-themed wedding.
Do groomsmen have to wear suits?
No, groomsmen have various options when it comes to their attire. While suits are a traditional choice, groomsmen can explore different groomsmen suit ideas that go beyond the conventional.
The decision to wear suits or alternative attire ultimately depends on the couple's vision for their wedding and the desired level of formality. By considering unique and personalized options, groomsmen can create a stylish and coordinated look that perfectly suits the overall theme and ambiance of the wedding day.