Introduction
There are still a few days left for last minute Mother's Day gifts. You will never know what is that unique gift which can convince your Mom about your love for her and make her smile. She probably deserves more than just a card and a bouquet, so why not spoil her with something she would really like? Below we have listed 30 of the best and most practical gifts for your mom that would make her smile. These gifts will not cost much but will surely provide you a good chance to get rid of this problem
List Of 30 Practical Last Minute Mother's Day Gifts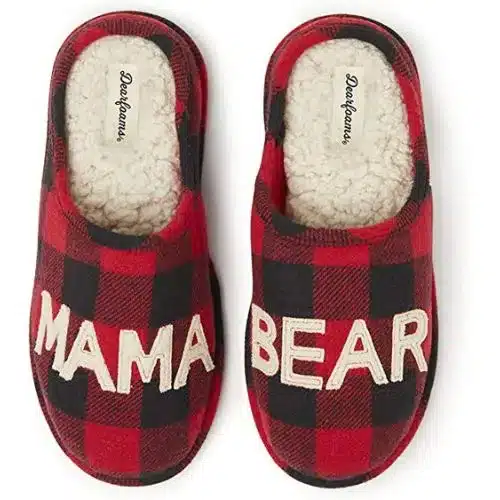 We thought it would be nice to get you something that will make your mom's feet feel like they're walking on clouds. These slippers are great for lounging around the house, but they're also perfect for when you want to go out and get some fresh air! They're durable enough that you can take them on a walk or even wear them if it rains. You can even take these slippers outside in case of an emergency. you're probably scrambling for a last-minute gift and this is the best choice for you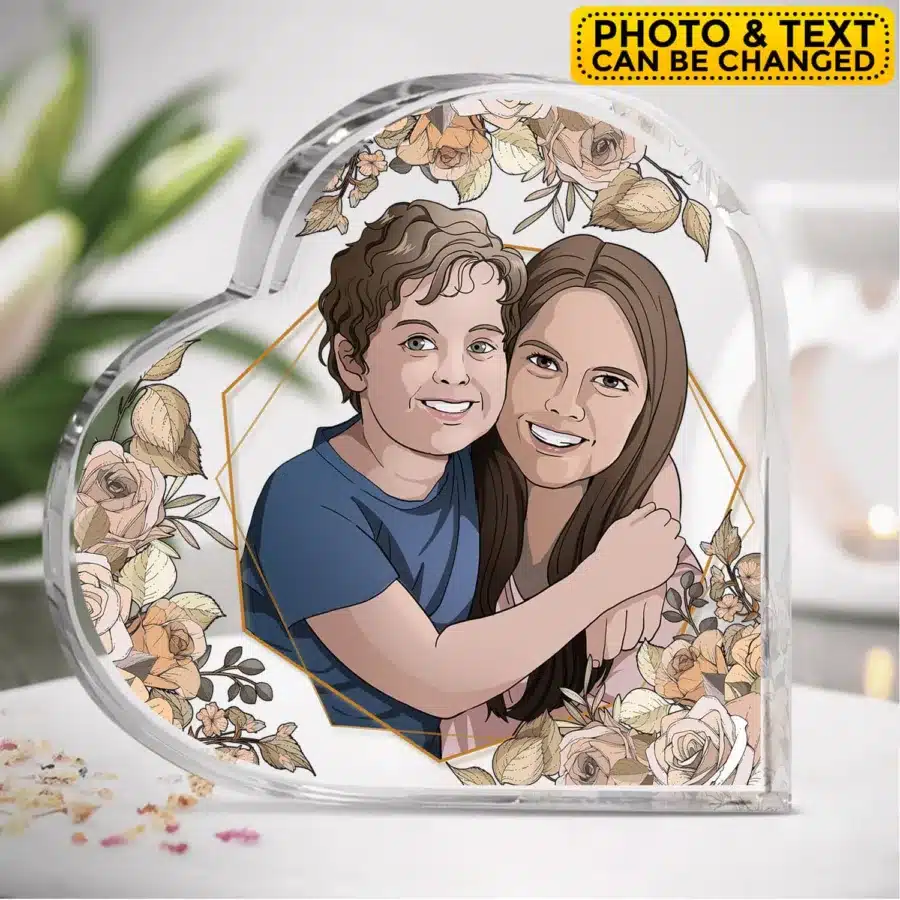 If you can't purchase a lot of material gifts for the woman that means so much in your life, then at least you can remember her on this special day with one of personalized portrait products. Artwork you will love! Custom Portrait of your loved ones is a beautiful, memorable and thoughtful gift for Mother's Day, she will be amazed by the beauty of this work, created just for her!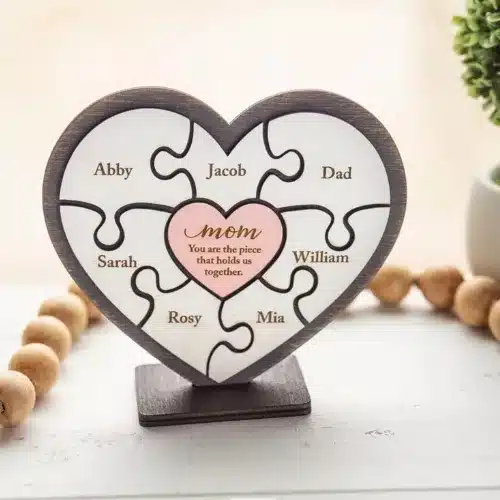 This puzzle piece sign makes a great gift for Mother's Day, but it's also a nice way to show your appreciation for all the hard work your mom puts in to keep you and your family together. A thoughtful piece of sentiment with an easy to read message. This message is perfect for any mom or special occasion. This little ceramic sign will remind her everyday how important she is.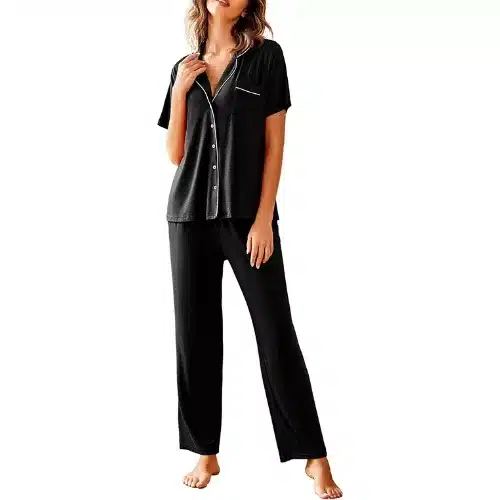 She'll love this short-sleeved button down top with a notched collar and cozy pajamas pants that are made from soft cotton fabric. It comes with a button-down top and cozy shorts that are perfect for lounging around the house or sleeping in. The top has short sleeves and a notched collar, so it looks great even when you're just lounging around the house. The shorts have an elastic waistband, so they're comfortable enough to sleep in all night long.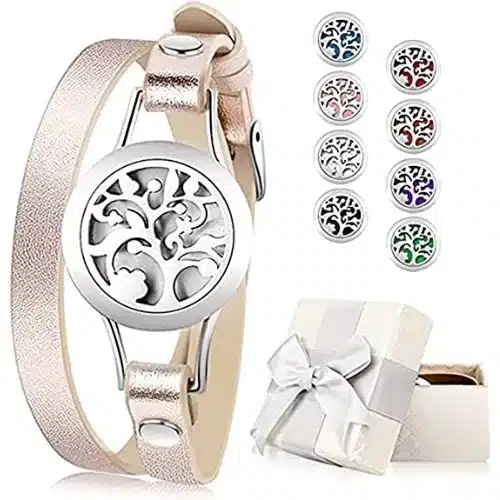 Looking for a unique relaxation gift for Mom? If your mom love aromatherapy and bracelets, then she will love wearing this awesome bracelet. Get this amazing aromatherapy diffuser magnetic bracelet to smell all day wear it with different colored pads to match her outfit and feel more relaxed in everything she do! The bracelet itself is made of premium stainless steel, which means it won't tarnish or rust like other bracelets made from less durable materials. It also comes with a lifetime warranty in case anything happens to it during normal wear and tear (like if your mom accidentally gets it wet).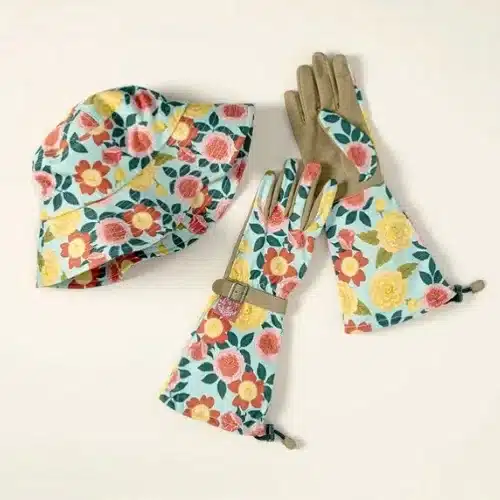 This Mother's Day, give her the best mom gift of protection from garden hazards and dirt. These pretty, floral garden gloves and hat offer excellent garden protection. Your mom's garden is so lovely, but it's also full of hazards: thorns, dirt, and prickly plants. she want to protect her hands and face from these hazards, but she also want to look beautiful while doing it. Our matching hat and gloves offer excellent protection from garden hazards and dirt, as well as being stylish enough to wear anywhere!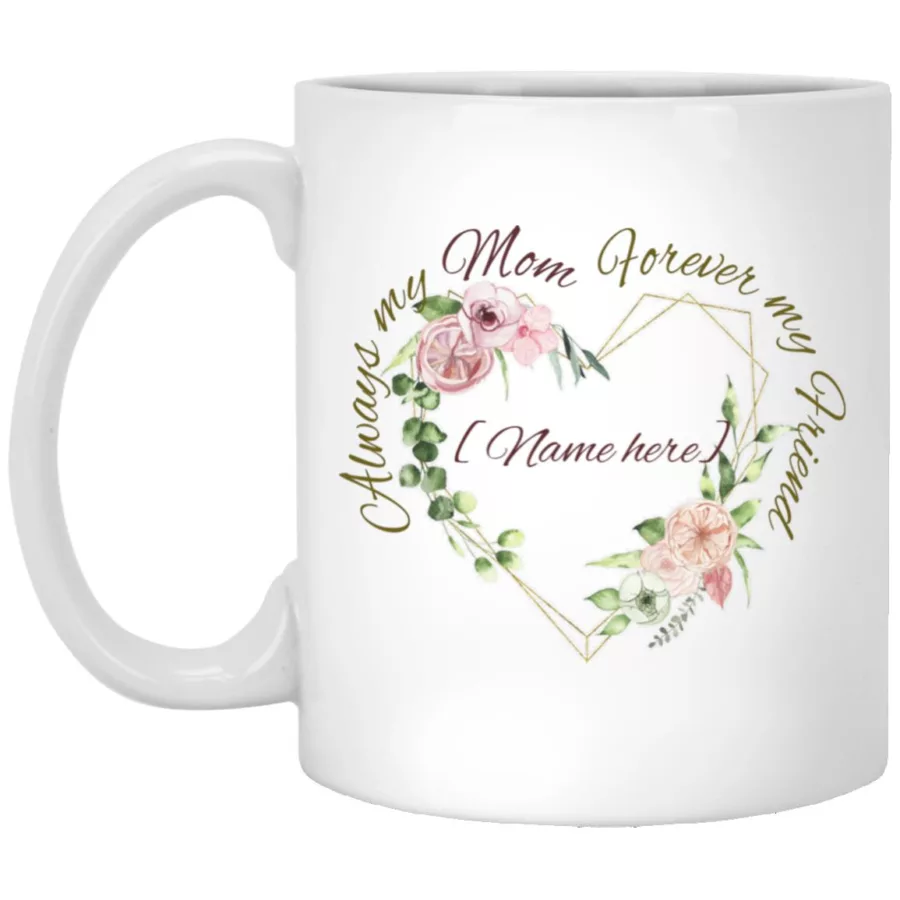 Put a smile on the face of your Mom as she enjoys a hot cup of coffee/tea/hot chocolate with this adorable and well-made ceramic mug. With this irreplaceable gift, your mom will always know how much you love her. The perfect cup has a beautiful white exterior with a simple design and message that's perfect for Mother's Day is coming up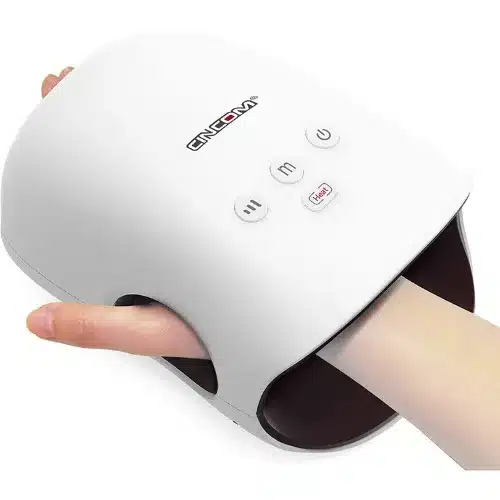 Are you struggling to find a last minute mother's day gift for your mom? Give your mom's hands a break with this Hand Massager with Heat. As a personal and on-call hand massage therapist, it relaxes tired hands with deep kneading and gentle vibration our mother will love how much she can relieve her own stress now, and that you recognized her needs in all of her busy days.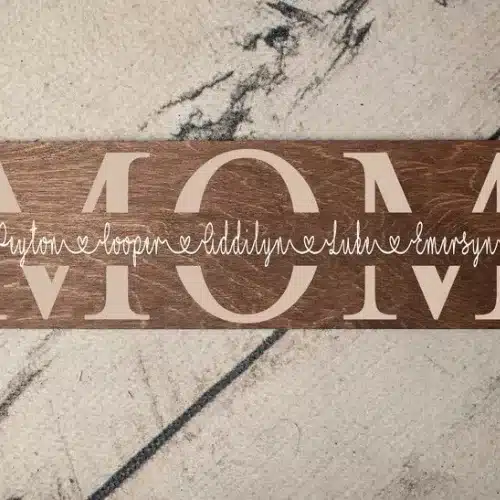 Have you forgotten to get Mom a gift? This rustic personalized sign is the perfect gift for mom and perfect addition to mom's home. This will be a cherished piece in the family home for many years to come. Our exclusive customized signs are sure to please any person in your life, including your mom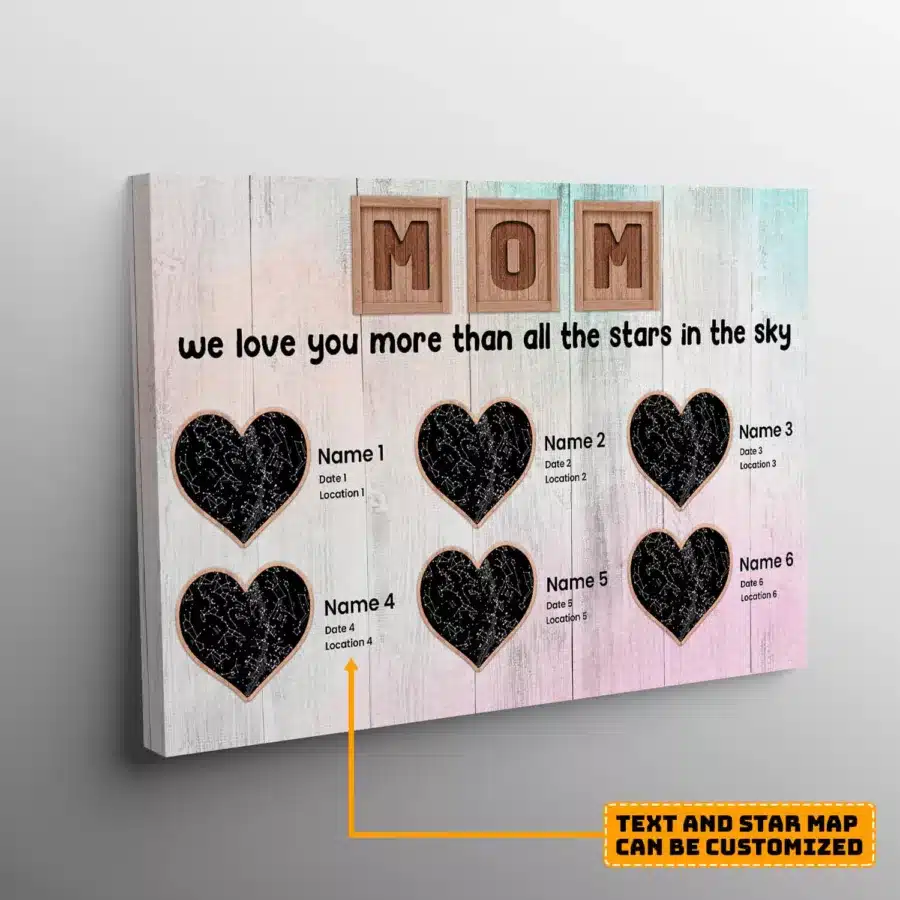 Though saying "We love you" is not enough to express your love for your mom, but this canvas artwork will make it alive. The design features a large heart and the words "We love you more than all the stars in the sky". Bring your family together with this thoughtful and unique personalized wall decor, which makes a great housewarming or wedding gift. A great scrapbook idea too!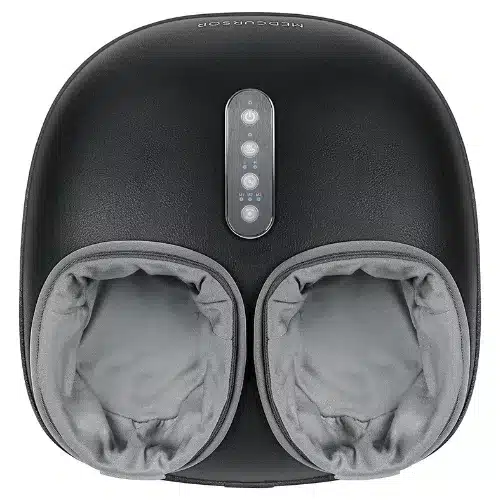 Do you want to buy your mom a foot massager that isn't hard to use, doesn't take up much space, is stylish and looks great in any home? If so, then look no further because we have the perfect foot massager machine for you. Just relax and enjoy the massage with this foot massager machine! The simple and stylish design makes it easy to take care of your feet. It has a heat function, multiple massage settings, and a removable foot compartment cover so you can easily clean it. This is sure to be the best Mother's Day gift for your mother and let make mom's day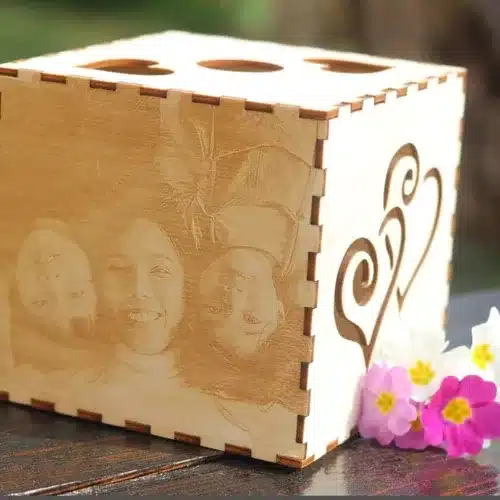 Don't miss the chance to surprise your mom with a special gift for Mothers day. This Mother's Day Gift Idea is perfect for any mom who enjoys a little magic. Present her with a Magic Photo Box that will fill her heart full of joy. Present box is made of high-quality plywood and is meant to endure a lifetime. Can carve phrases into the wood so that when put in a dark space, the holder can project a personalized message on the wall. The bundle also includes a little candle.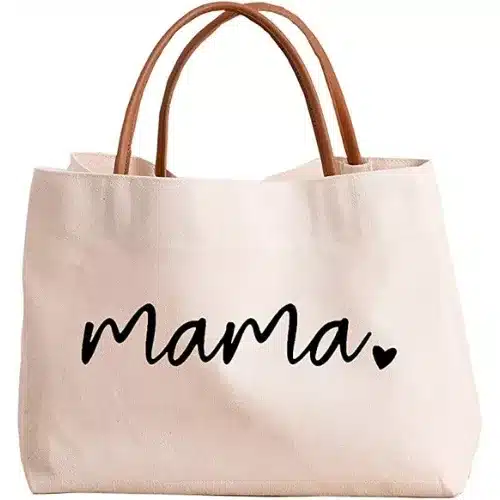 Be prepared for parking tickets, diaper bags, and baggage fees when you travel. Tote everything you need with Mom Life tote bags. Any mom will love this high quality bag. Momlife Tote is the perfect mom bag. It holds everything you need for a fun day at the beach or a shopping excursion with your toddler, including snacks, toys, diapers, and wipes, as well as a few extras to make it particularly memorable.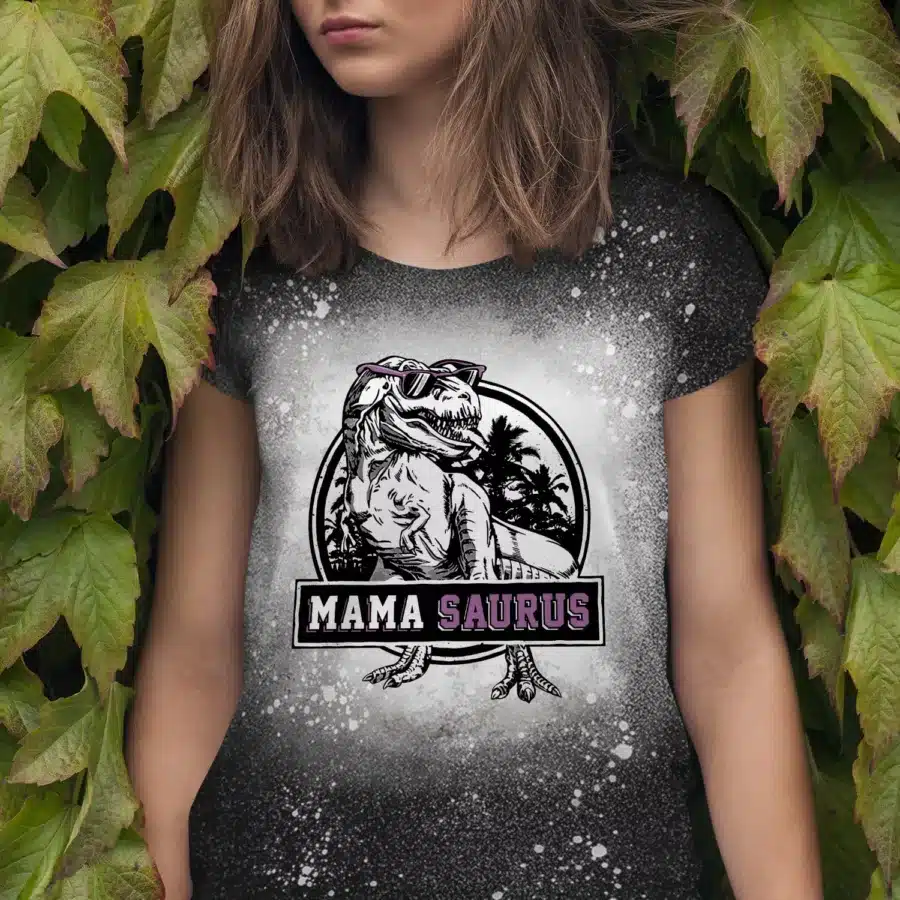 It is time to celebrate Mamasaurus and buy the best possible Mothers Day Gift online. This Funny Bleach Shirt For Mom is great for celebrating Mother's Day, going to a party with friends, hanging out with your family and showing off your love of dinosaurs everywhere.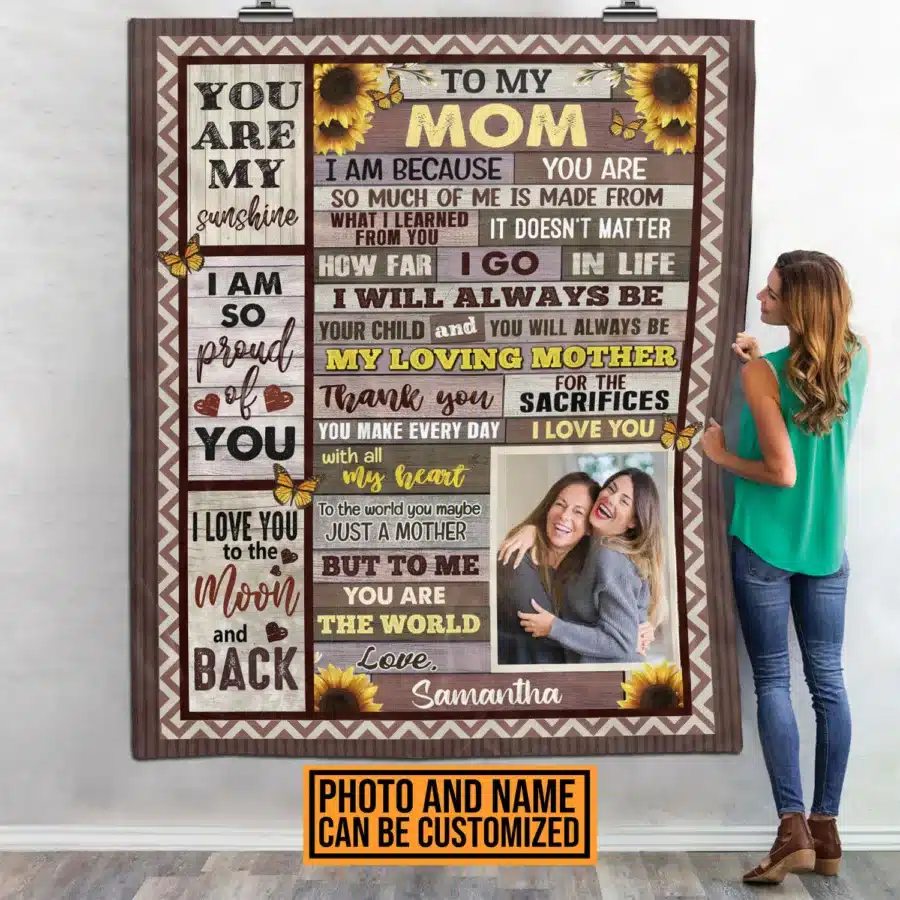 If you are still looking for last minute mother's day gifts for mom, A Personalized Blanket. Your mom would love to feel the warmth of your love and care. She needs something that reminds her of how much you care about her. It will be a great gift to make her feel special every time she uses it. Whether she's a new mom or well on her way to that milestone, celebrating motherhood has never been so easy.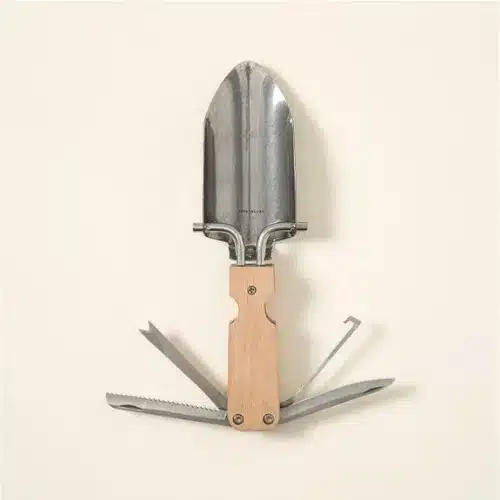 Gardeners know that their time is best spent working in their gardens. Work smarter, not harder, and give your mom tools she can use to work faster, smarter and more ergonomically on her next gardening project. She'll love this Pocket Trowel Garden Multi-Tool, The perfect mother's day gift for the gardening mom. This gift includes everything a gardener will need this year to create beautiful flowerbeds and food gardens.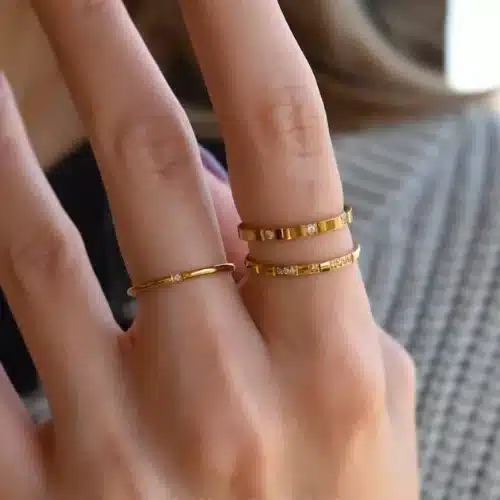 Mother's Day is coming up and there's no better gift than the gift of memories. Besides memories, there are other great options such as Gold Filled Rings. This Gold Filled Ring is the perfect gift for the modern day woman, beautiful, elegant and simple ring. Your mother deserves the best, which is why we created this stunning gold filled ring. Its minimalist style makes it perfect for every day wear while its gold-filled surface gives it the look and feel that you really want to give her.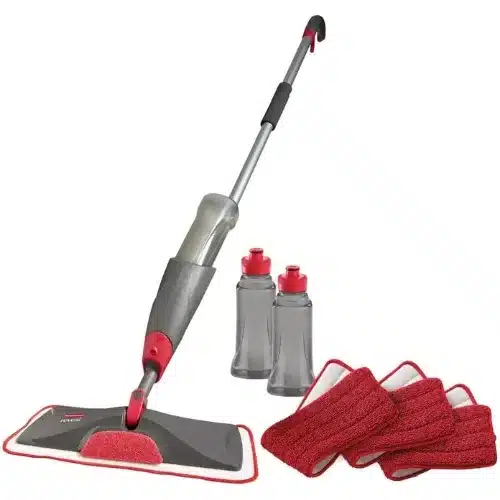 Mother's Day is here again! Need a last-minute gift that won't take up too much time? Give your mom the ultimate gift – a Floor Cleaning Kit! This kit is perfect for busy moms who don't have time to clean up spills and messes made by their kids. It's safe and eco-friendly, and can clean all types of floors. Plus, it's incredibly easy to use – just spray and mop! With machine washable pads, your mom won't have to keep buying disposable pads or towels. Give her the gift of a clean home without the hassle – get her the Floor Cleaning Kit today!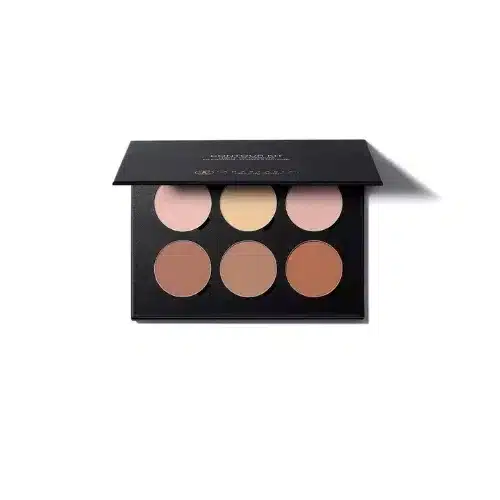 Whether you're on a tight budget or simply too busy to spend hours searching for the perfect gift for your mom on Mother's Day, I've got you covered. These items are sure to be a hit and make great gifts for any occasion, including for the beauty-loving mom in your life who may be struggling with dry skin. Give your mom the gift of natural-looking radiance with beauty products, the perfect gift for your favorite beauty mama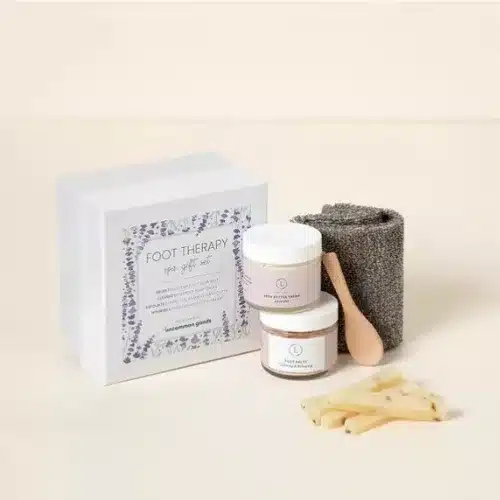 You're running out of time to find a great Mother's Day Gift. If you want to take the stress out of gift buying, and make the day special, then Foot Therapy Spa Gift Set is just what you need. It has all you need to pamper your mom's feet! Everything your mom need to create a relaxing, rejuvenating spa experience right in your own home. Get beautifully pedicured toes and heels, along with exfoliation of the foot and sole that will leave your mom feeling amazing!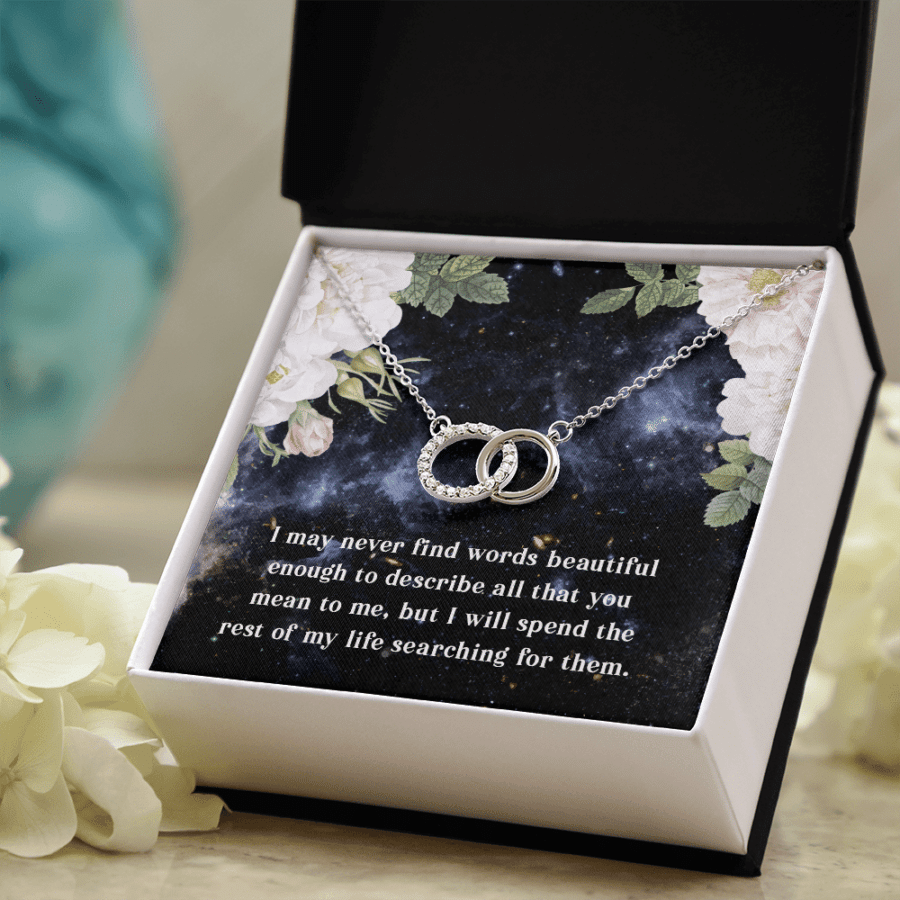 Make your mom cry tears of joy this Mother's Day! Our mothers deserve it! Jewelry, jewelry can be a very special gift, such as a necklace, symbolizing the everlasting love that you have with your mom. Make your mom smile and her heart beats faster. Let your love shine through with this Meaningful Gift of All That You Mean To Me. This sterling silver jewelry, jewelry necklace will remind her on a daily basis how much you care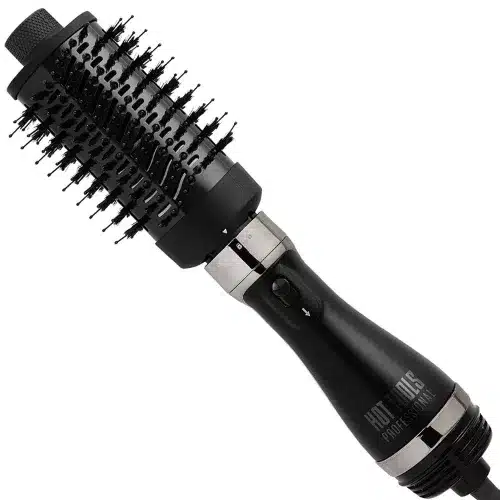 Are you in a rush to buy last minute Mother's Day gifts? Worry not about being late! Hot Tools Pro Artist Black Gold Hair Dryer is an elegant and high-end hairdryer that your mom will love. The price tag might make you flinch, but the technology used in this hairdryer is worth every dollar. You don't want to be remembered as that bad child who never bought the right gift, right?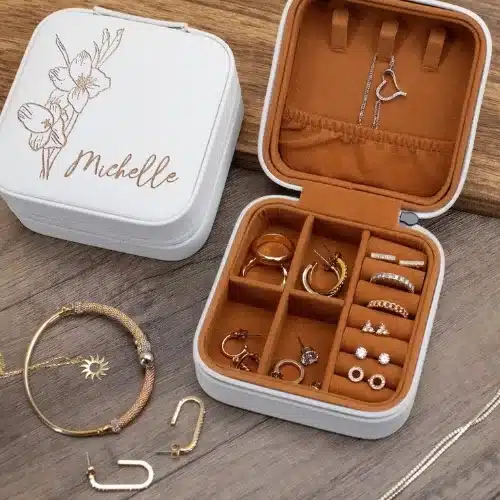 The great gift for mothers day are those which are customized and personalized to your mother's taste. This exquisitely fashioned jewelry box is truly a luxurious addition to any jewelry collection. Every mother deserves to be celebrated on Mother's Day, no matter how many times she has celebrated you throughout your life. This beautiful travel jewelry box is sure to put a smile on her face and make her feel proud, loved, and special all at once! It's a great way to keep up with all of your mom jewelry without taking up any counter space.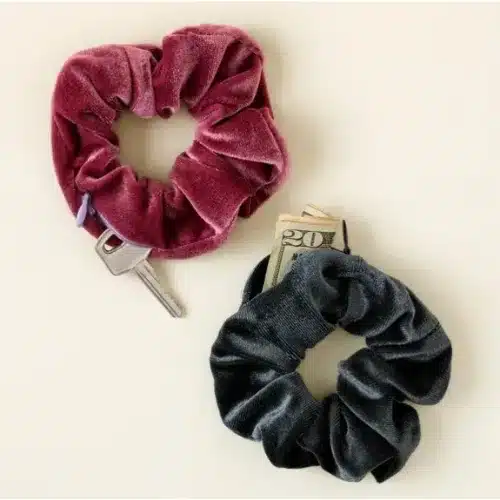 This is a perfect last minute Mother's Day gift idea! The set includes two velvet scrunchies that can be worn individually or stacked together. Made out of a soft black velvet, the material is luxurious and super cute! Perfect for all hair styles – whether you're going out, to the gym or running errands, these scrunchie packs are sure to save the day.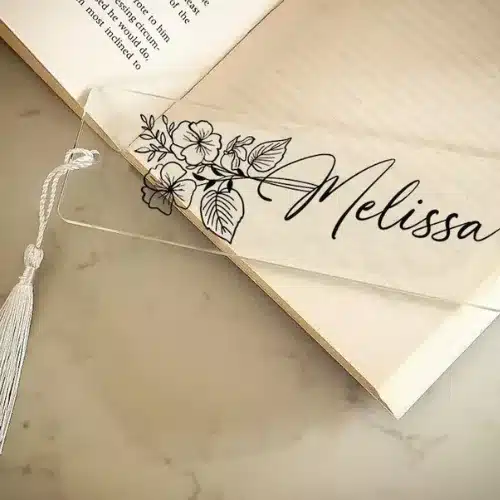 This custom flower bookmark is perfect if you just can't think of the right gift for mom. A stylish bookmark for the mom who loves flowers and her books! This floral bookmark, with a soft tassel, is personalized with any name or word you would like. Make your mom smile with this floral bookmark. Personalized Mother's Day Gift is the best way to welcome your mother and make her feel special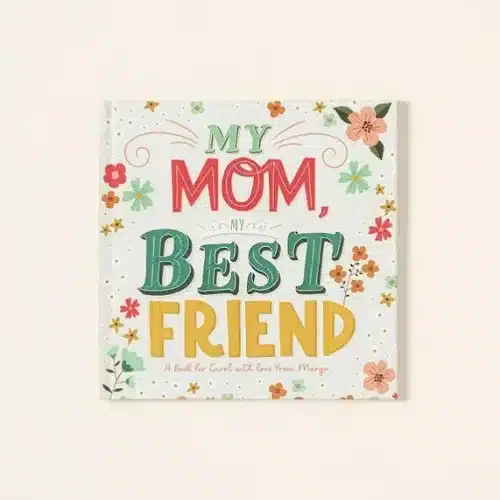 Looking for a last minute decision on what to get the woman who is always there for you? How can you tell her how much you care? My Mom, My Best Friend Personalized Book might just be the way to show the world – and your mom – just how much she means to you! This book is a sweet, thoughtful, and lovely keepsake to pass down through generations. Let your beloved mom know how much you care with this personalized book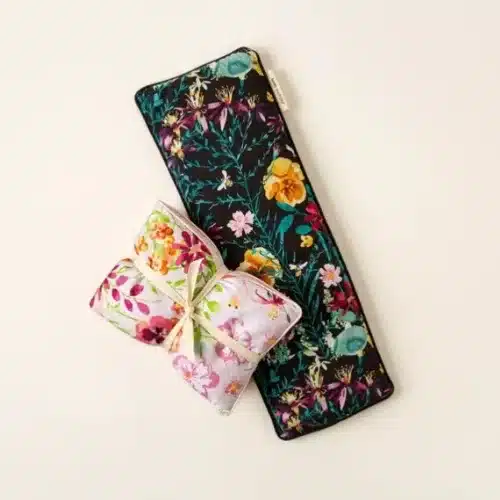 When the end of the day comes and you're wiped out, it's nice to have a relaxing spot to call your own. Heat this pillow in the microwave for two minutes to create a relaxing warmth and lavender scent. This mother's day gift is also perfect for any time your mom deserves some extra soothing love – she'll love it!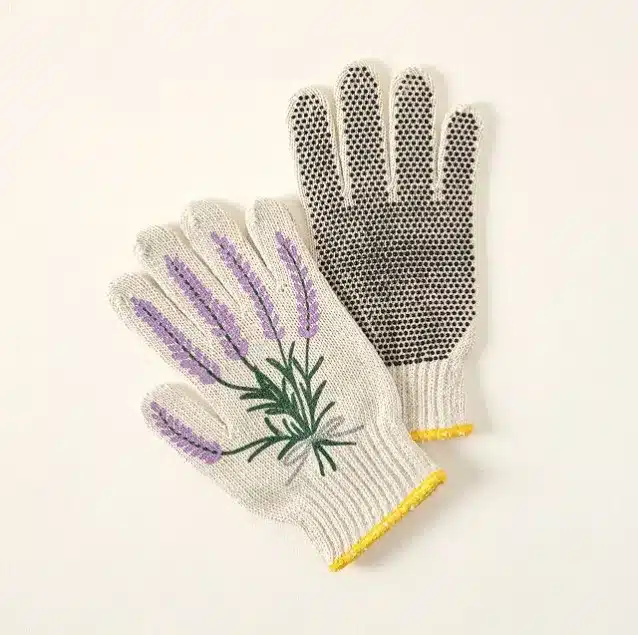 There's no better time than the present to tell Mom how much you appreciate her. Our Lavender Bundle Garden Gloves are the ideal way to make her day both comfortable and functional. This pair of gloves has a delicate, almost velvety texture that will feel fantastic on any mother's hands while she tends to her garden or cleans the house. These lavender garden gloves are ideal for the mother who appreciates her garden. They're comfortable to wear and excellent for shielding your hands from dirt, gravel, and other harsh gardening conditions.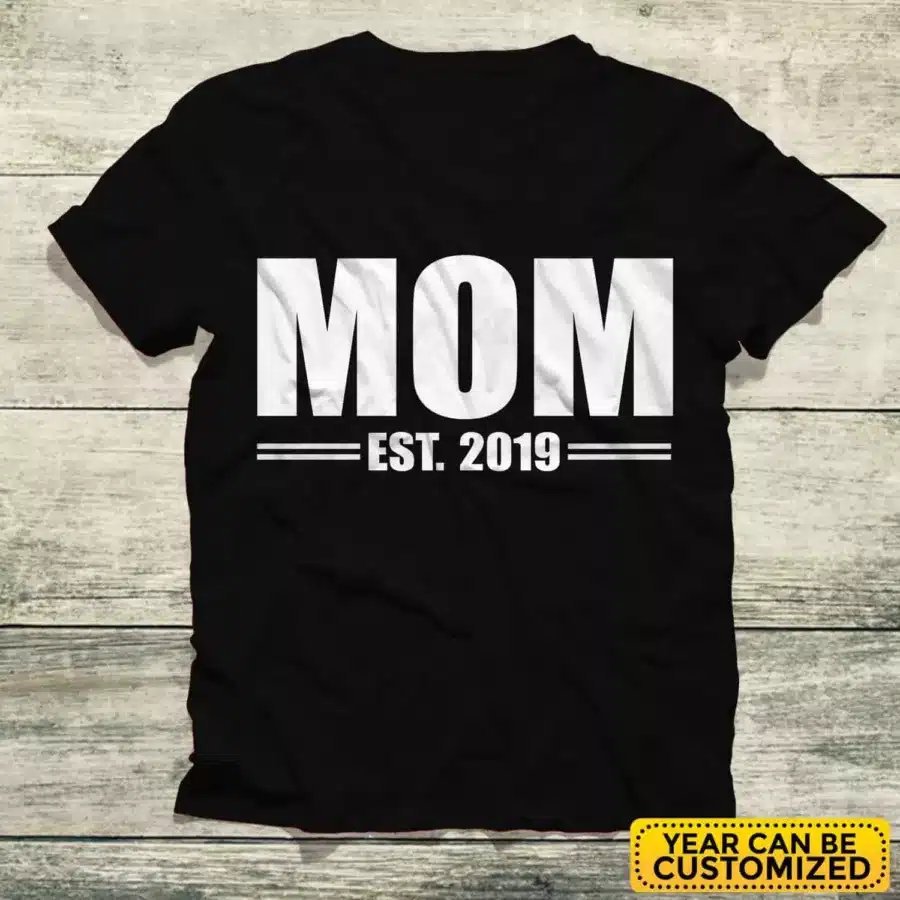 It doesn't matter how much money you spent on the previous gifts that you bought for your mom. You can't really replace her love and care. What your mom deserves is a simple gift that comes from the heart. You need to tell her that she is special for all what she did for you. Personalized Mom Est 2023 2024 T-Shirt will be her favorite gift this Mother's Day. The best gift for any mom! Customize your own unique year with this awesome personalized t-shirt!

Conlusion
With these 30 practical last minute Mother's Day gifts, you can show your mom how much you care and make her smile without having to spend weeks planning. Last minute gifts can be odd, no doubt. But these gifts are unusually easy to make and will definitely put a smile on her face. If you are running out of ideas just go with one of these and you're likely to have a very happy and fulfilled mommy!
20 Cheap Mother's Day Gifts for Every Mom: Spoil Mom without Breaking the Bank in 2023 (under $30)
Top 27 Unique Mother's Day Gifts that She'll Warm and Fuzzy in 2023
How to Say Heartfelt Thank You Messages for Parents and Quotes About Parents
30 Best Stepmom Gifts on Mother's Day to Show Her You Care
33 Best Mother's Day Gifts From Daughter to Make Mom Feel Special