Introduction
First-time dads, I get it. You're nervous. You don't know where to begin. What should you do? What should you buy? Express your love to best dad by choosing one of these 20+ New Dad Gifts. The hardest part is being a dad for the first time and showering your kids with love, presents and attention. So to help out the new dads (and Dads-to-be) my team put their minds together to create this list of gifts and ideas for what you could be doing this Father's Day
List of 20+ New Dad Gifts for Upcoming Father's Day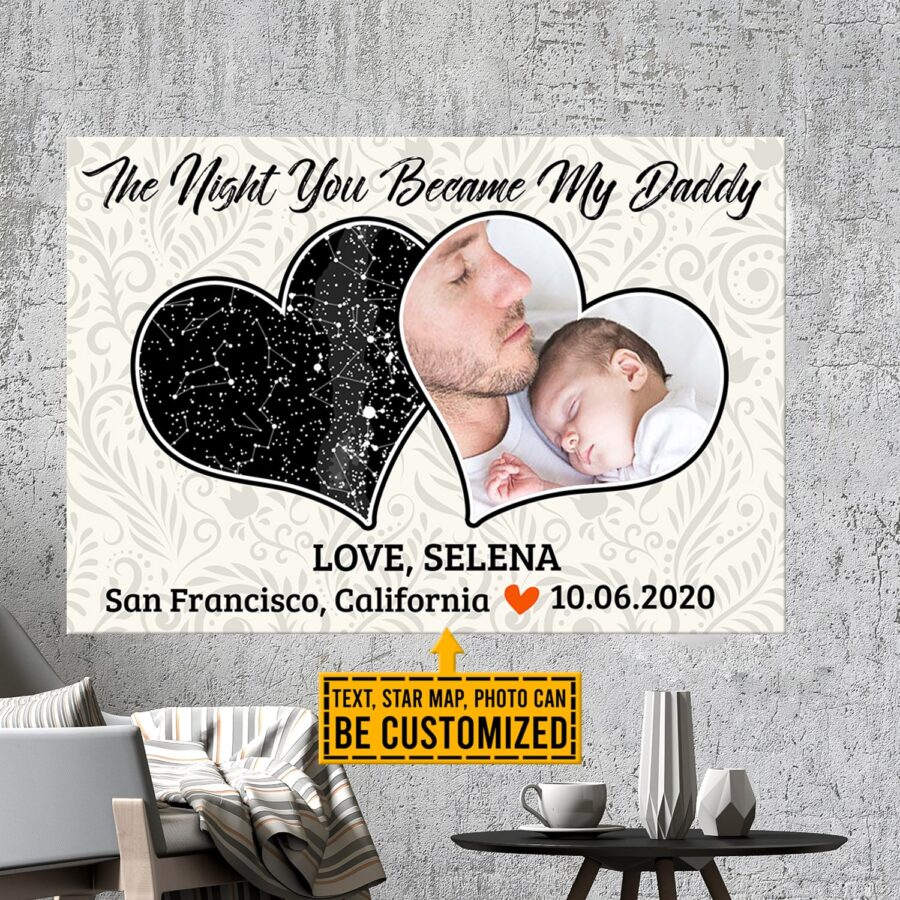 Imagine the surprise on his face when he unwraps this custom-made canvas, a practical gift for new fathers! It is a unique and thoughtful present that he'll love and will never want to take down from his wall. Featuring the whole sky, the map includes thousands of stars and over 60 constellations. And the best part is that you can personalize it by adding your baby's name and birth date in our customization tool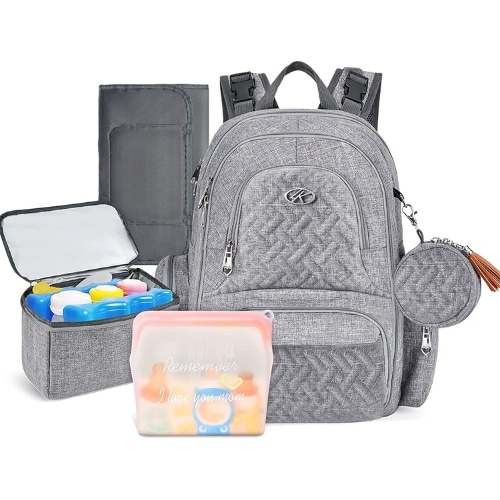 Complete gift set for new dad! Made of premium quality materials and come in an elegant gift box. The backpack has been ergonomically designed to fit the body correctly and keep you comfortable while carrying everything needed for the whole family. A diaper bag backpack is a great gift idea for a first time father. With this diaper bag backpack, carrying baby bottles, diapers, and other baby gear becomes a breeze, allowing the dad to have his hands free and focus on what truly matters—caring for his little one.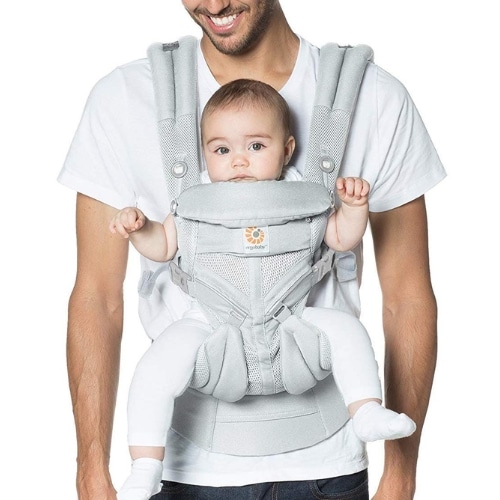 When you have a brand new baby, dad is going to be doing a lot more "baby carrying". Whether it's a newborn, an infant, or toddler — every new dad loves wrapping his little one in a soft baby carrier that allows him to easily keep the baby close while still being able to tend to other responsibilities. the Baby Carrier helps new dads feel like they are helping their baby with the job of keeping them safe and secure. This gift is exceptionally comfortable and easy to use, making it a best new dad gift on father day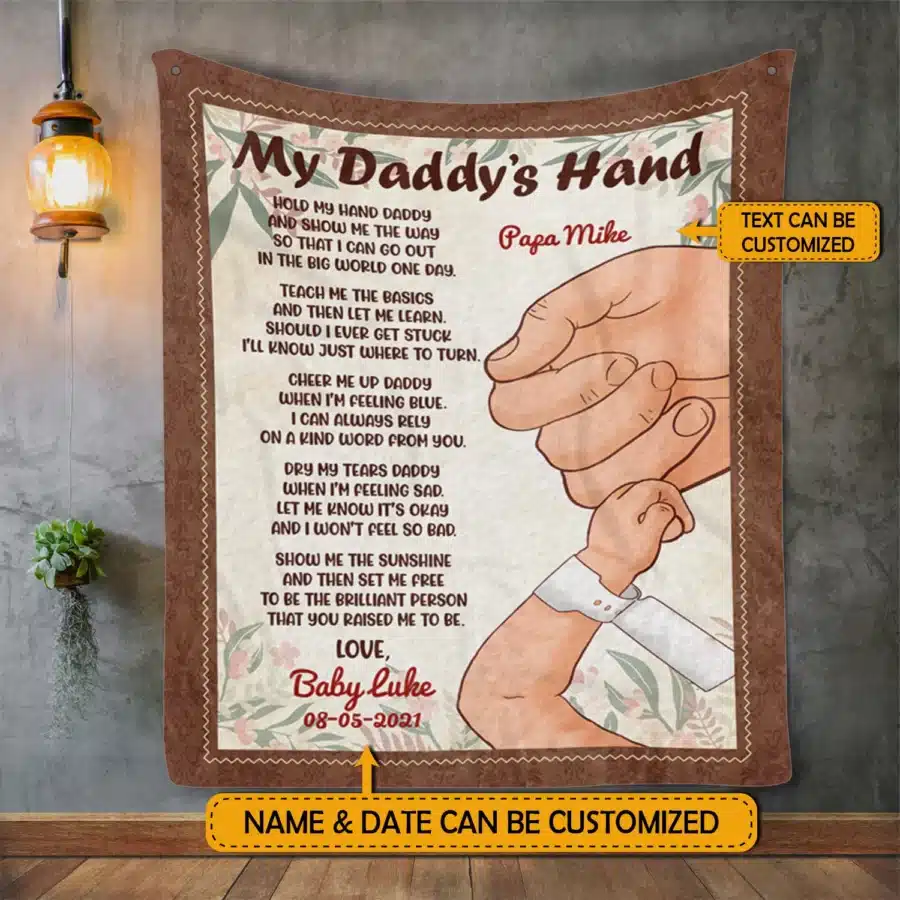 He deserves the world's softest, classiest, and most luxurious blanket as a gift that'll provide comfort during those sleep deprived and sleepless nights. Every man needs a blankie to keep him warm and cozy, especially new dads. This blanket is not just any ordinary blanket, it's a symbol of love and support for the new dad. It reassures him that whatever happens, he is doing a great job and everything is going to be okay.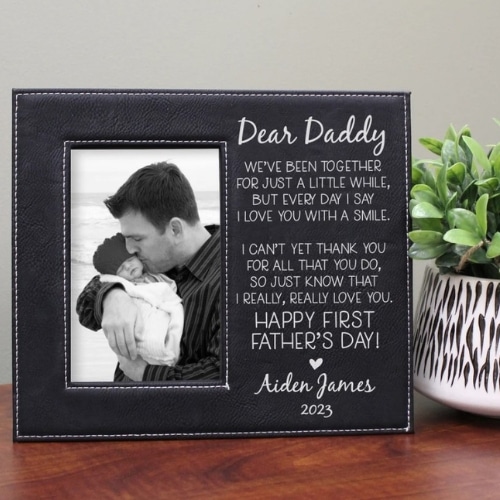 Grab this First Father's Day Picture Frame and celebrate your dad in style. A photo of your new baby's first smile is priceless, and certainly a present fit for new dads. But now we are here to make it even more special with photo accessories that'll elevate the experience. Its sleek and elegant design not only enhances the beauty of the photo but also adds a touch of sophistication to any space, this is the perfect gift they can proudly display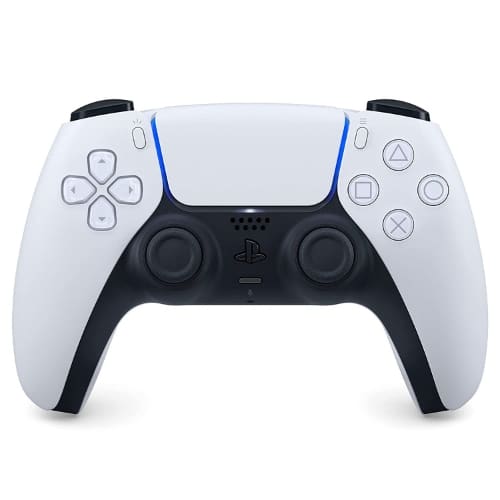 Gear up for new dad next eSport game with this new PS4 controller. This controller is perfect gift for every gamer out there. It's comfortable to hold and has a solid grip thanks to its ergonomic design. This controller is built with Adaptive Triggers, Haptic Feedback, Built-in Mic and Headset Jack to make his gaming experience better. If he loves sports games and gaming, then he might fall for this controller and make dad's life better.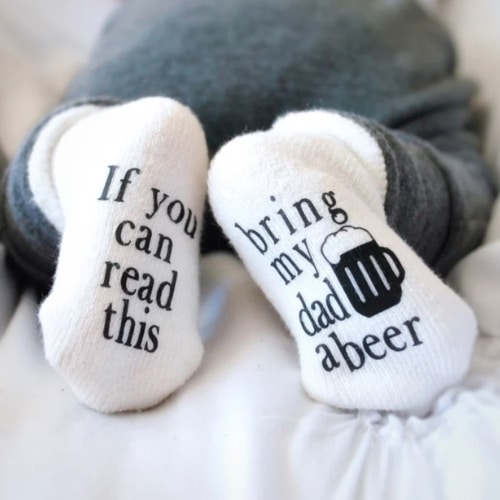 Fun new dad gift. It's a funny baby sock gift for the new dad. Our beer-themed socks are a fantastic surprise for the new dad. Crafted with creativity and a sense of lightheartedness, they capture the essence of fatherhood and the joy that comes with a new baby. These socks serve as a reminder of the exciting and humorous moments that await the dad as he embarks on this incredible journey. Absolutely hilarious and such a memorable gift for first father's day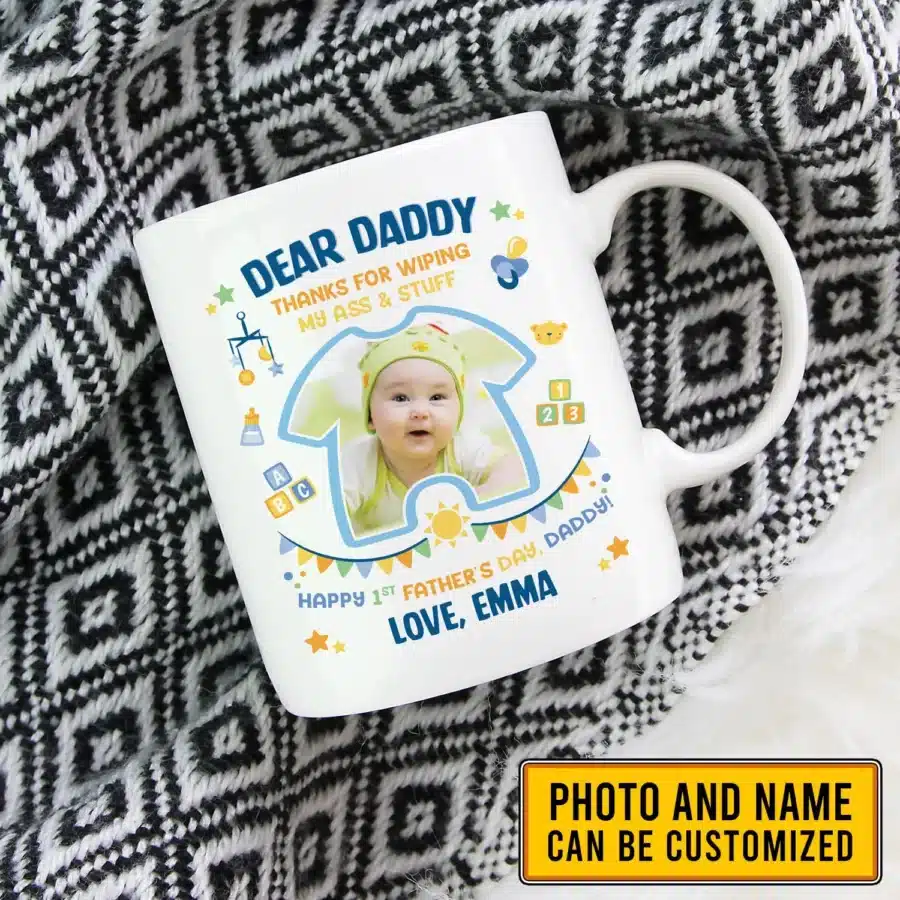 For a new dad, nothing is more precious than the grime and stains from his baby. It's a story that he'll proudly share for the rest of his life, and this coffee mug will be there with him as he does. Celebrate dad on his first Father's Day with this perfectly personalized mug! Use it to surprise him and bring a smile to his face. It's a thoughtful gift that acknowledges the unique bond between a father and his child, capturing the joy and love of this special journey.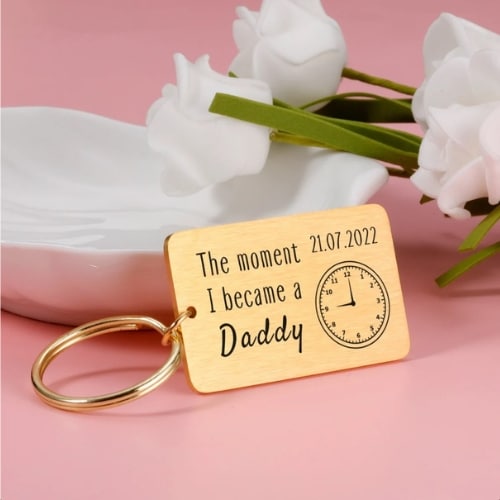 The moment of time when your baby enters into the world just happens to be the instant your man become a father. And it's a beautiful thing to be able to celebrate this moment on any key chain with our dad key chain. Show him how much you love him with this special keychain. This keychain is a personalized keychain that can be customized. It's made of stainless steel to print up the text content you want. It is a thoughful gift , designed to make surprise to your man and family. Make your mood more enjoyable and your life better.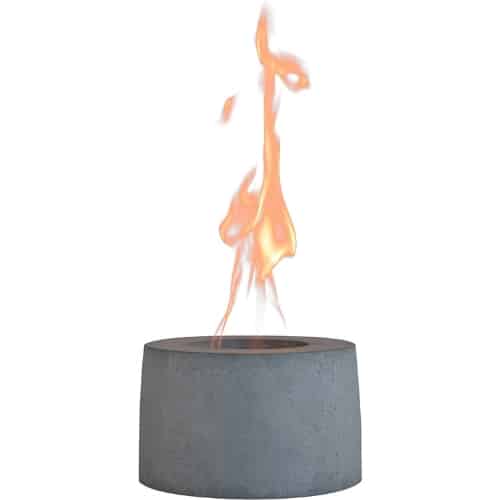 Any you know that a portable ethanol fireplace is a great gift idea for every new dad due to its portability. If you're looking for something that can look just as good in the Man Cave or in front of the TV as it can in front of the dining table, then consider this fire place. This new father's day gift is the most eco friendly way to add ambience to your outdoor patio with this Tabletop Rubbing Alcohol Fireplace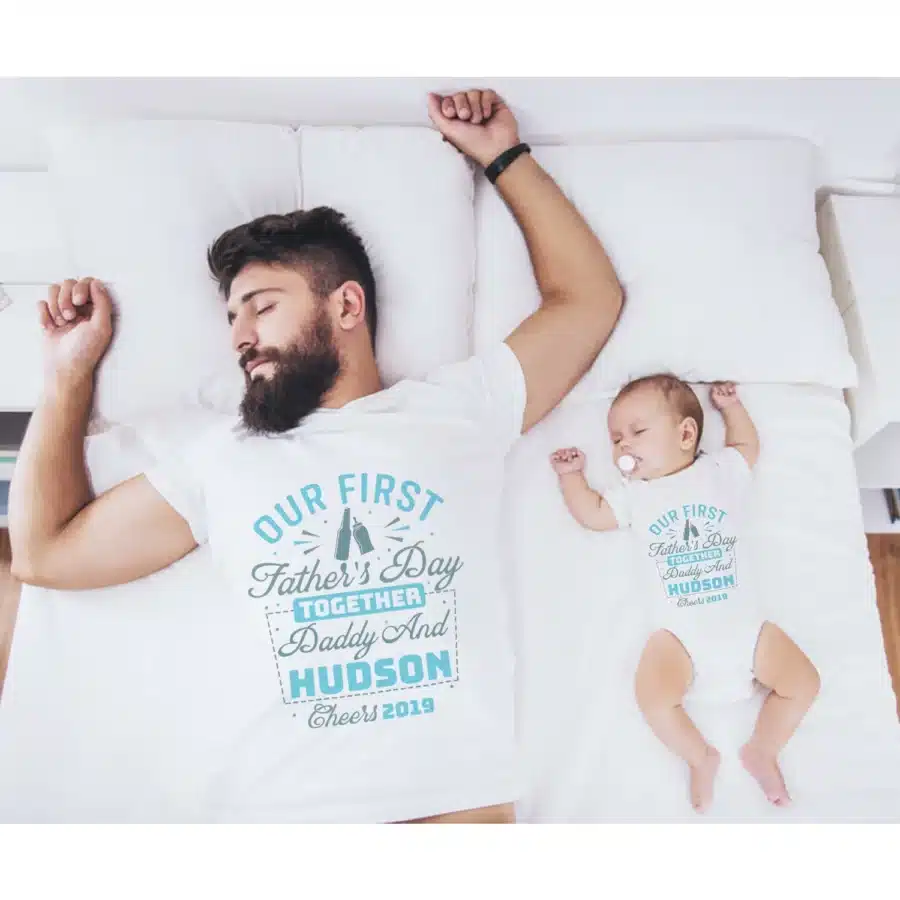 Celebrate the arrival of a newborn or surprise the new dad with one of the perfect gifts for new dads – a personalized dad shirt that you can both wear together. This special shirt has been thoughtfully designed for him and his little bundle of joy, symbolizing the beautiful bond they share. It's a loving and heartwarming way to show that he is now responsible for another human being, while also letting him know that there's no one else in the world he'd rather be with.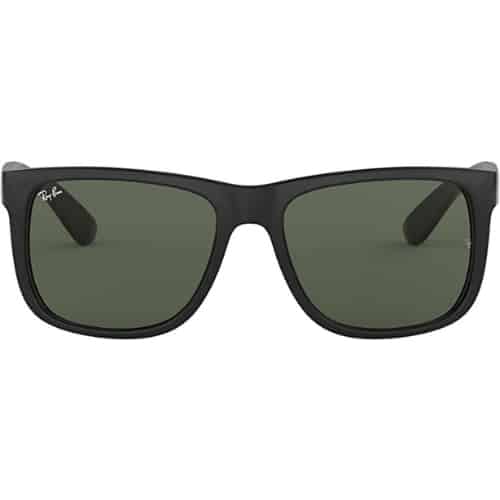 These stylish rectangular sunglasses will never go out of style. These Plastic UV Protection Coated Sunglasses are a stylish way to shield his eyes from the sun. A plastic frame and plastic lens layer in style and comfort, to offer fashion-forward eye protection. They are a wonderful gift that combines style and practicality. Surprise him with these sunglasses and let him enjoy the sun in style.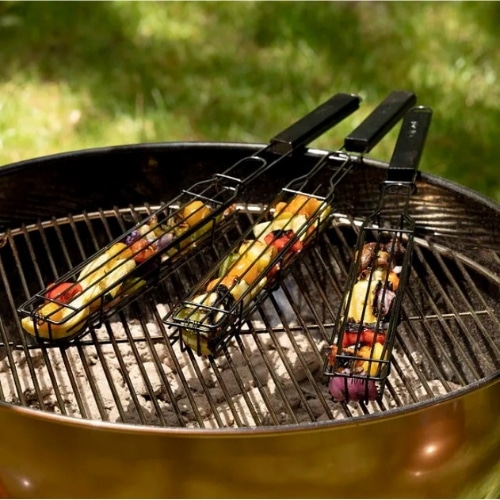 Grilling is a favorite pasttime for many around the world. The smell of bacon, burgers, and maybe even some steak on the grill is a wonderful thing. With these gorgeous wooden handled grilling accessories, the meat never touches the grill and the handles stay cool to the touch. The baskets are made of a woven steel wire with a decorative, hardwood handle on top. The baskets make it easy to turn meats, kabbs or vegetables over without having to use a spatula and risk tearing them apart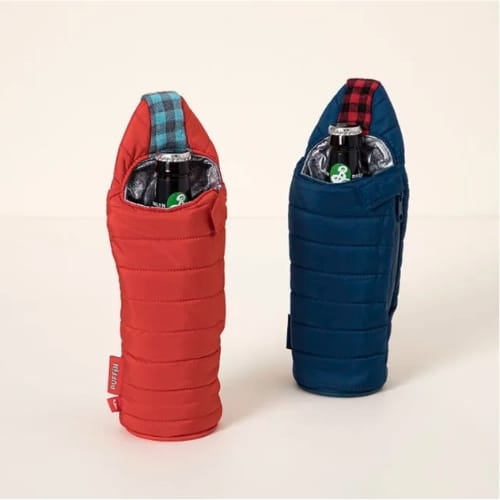 For all the new dads out there, it would be funny to give a sleeping bag with a beer bag but it's a great idea for the upcoming father's day. A new dad or beer lover in your life deserves some serious pampering. Treat them to this insulated bag designed to hold an ice cold beer, complete with a plush hood that doubles as a cozy pillow. This amazing gift will make any father's day memorable!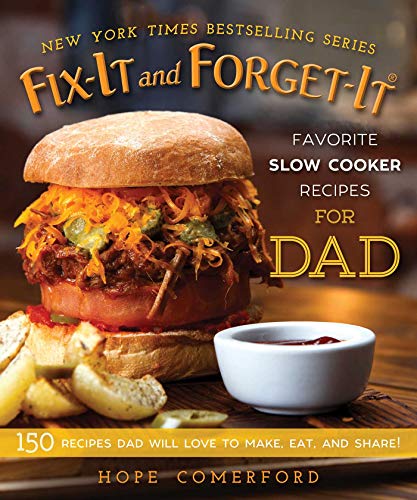 Not all dads are handy, but they sure can be handy around the house. Give our gift book to your favorite dad who is proud to be the father of a new baby, and maybe a book, and watch how he falls in love with the tips, recipes, and wisdom inside. These gifts for dads will keep their busy lifestyles in check. These gifts for dads go beyond just the material—they offer a way to connect, learn, and grow as a father. The busy lifestyle of a new dad can sometimes be overwhelming, but with this book, he'll find a sense of balance and guidance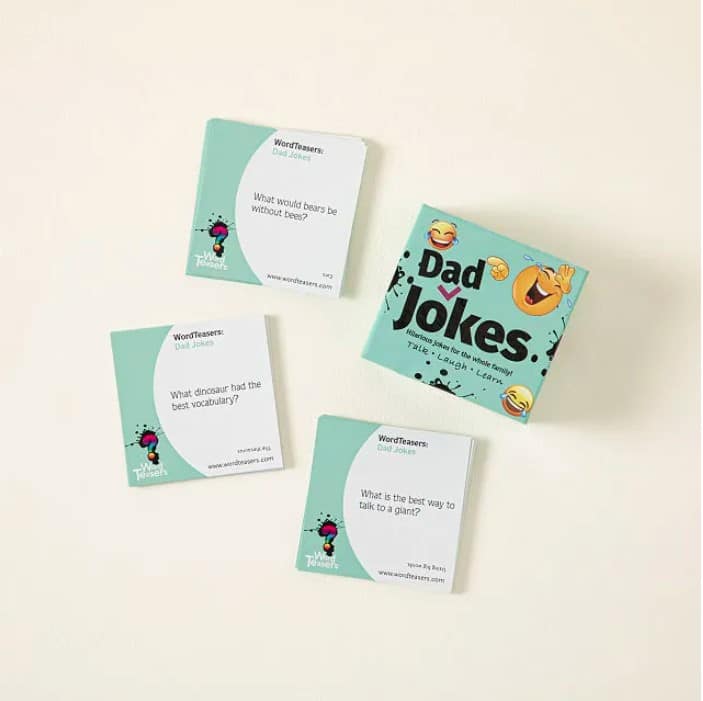 Dads just have a funny way about them, but dad jokes never go out of style. Dad humor is more than just a funny pun or dad joke, it's about bonding with your family over laughs. This gift book for new dads includes 300 "dad jokes" to keep him rolling (or groaning) about how awesome his life has become. With these dad jokes, he'll have a vast arsenal of humorous one-liners and puns to entertain his loved ones. Embrace the hilarity and celebrate the timeless tradition of dad jokes with this entertaining book that celebrates the unique sense of humor that dads possess.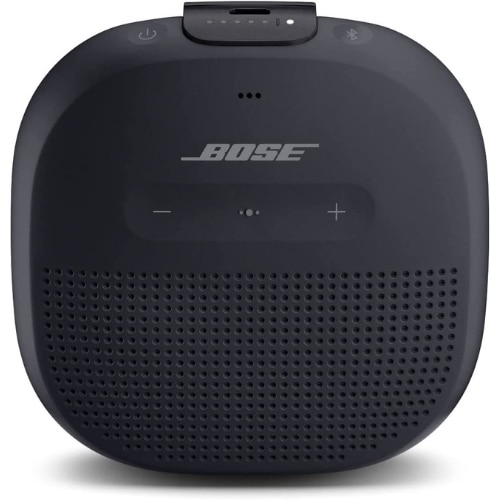 Bring out the music lover in your dad with this Bose SoundLink Micro Bluetooth Speaker, one of the best gift ideas for him. Allowing up to 6 hours of continuous play, this speaker is the best gift for dad, active and adventurous. Whether you're going camping or taking a trip in the car, this speaker can be easily transported and provide great sound wherever you go.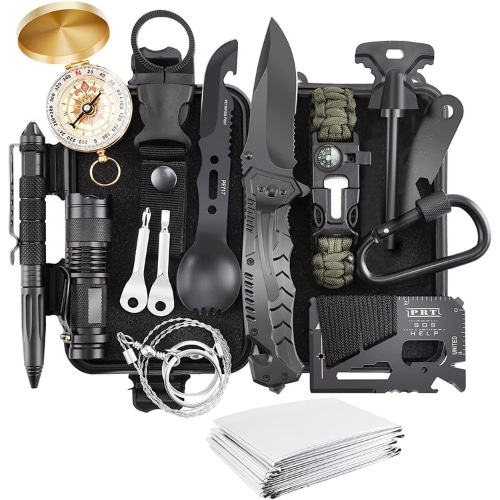 This survival kit is the ultimate gift for new dad on Father Day, and everything can fit in a small case. You can store in the car, in your office, at home… A gift that any man would love to have. This 17 in 1 Emergency Survival Kit is perfect for any person on the go. It's lightweight, compact, and has all the essentials that you would need if ever stuck without help, designed to handle anything life throws at you and keep you prepared for any situation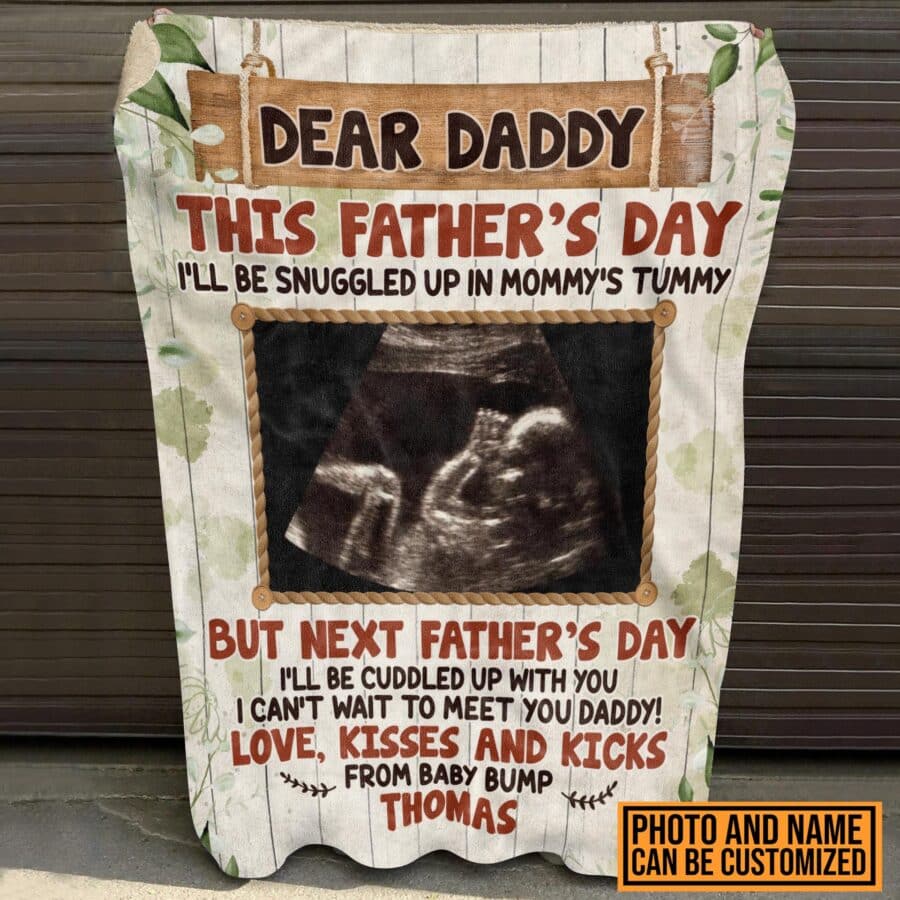 Wrap the new father in comfort with the warmth of this personalized Sherpa Fleece Blanket and capture priceless moments. This durable, lightweight, and super soft blanket was designed to assist him during his transition into fatherhood. Capture your baby's first moments in this adorable customized photo fleece blanket – a special gift for the new father. Preserve precious moments that you can cherish forever and pass down to your children and grandchildren. It also makes a great get-well gift that will serve as a reminder to Dad of his little one when they are not in his arms.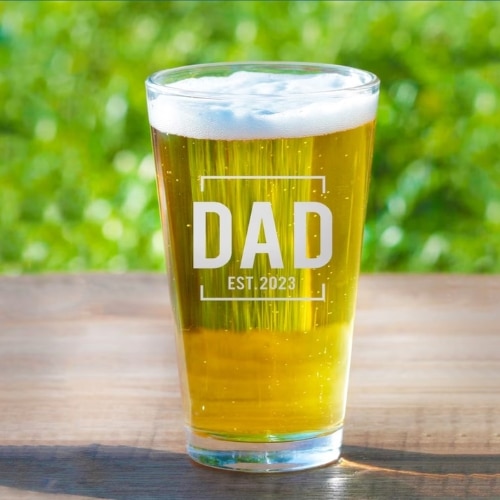 This beer glass is the perfect way to celebrate first Father's Day and makes one of the great gifts for new dads. The New Dad Beer Glass is more than just a vessel for beer; it holds the memories of late-night feedings, diaper changes, and the overwhelming love that comes with being a dad. It is a tangible reminder of the joy, challenges, and triumphs that fatherhood brings. Treat your dad to a new beer glass with this New Dad Beer Glass. He will enjoy it with his favorite beer on Father's Day, everyday or any day he likes.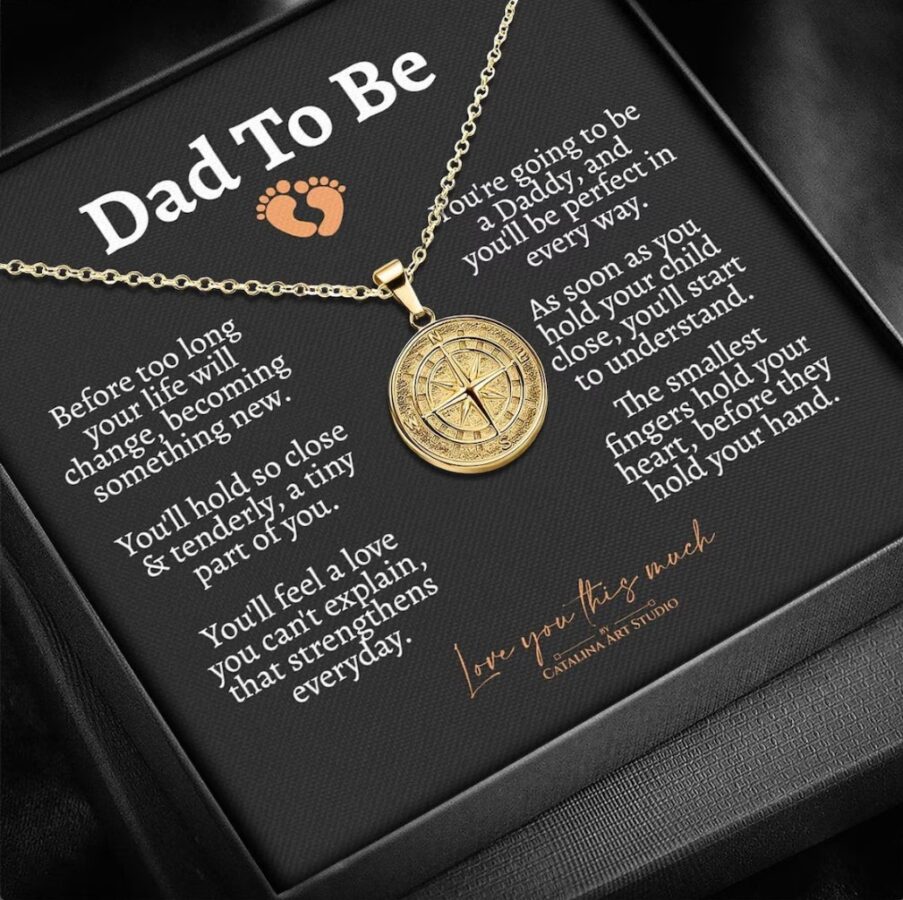 One of the most important roles in life is that of a father, especially for a new parent. Sparks will fly as soon as you give your child's father a special gift. Surprise him with this handsome compass necklace! It will surely remind him of the very moment in which he became a father. This compass necklace is the perfect gift for the dad-to-be packed with sentimentality and symbolism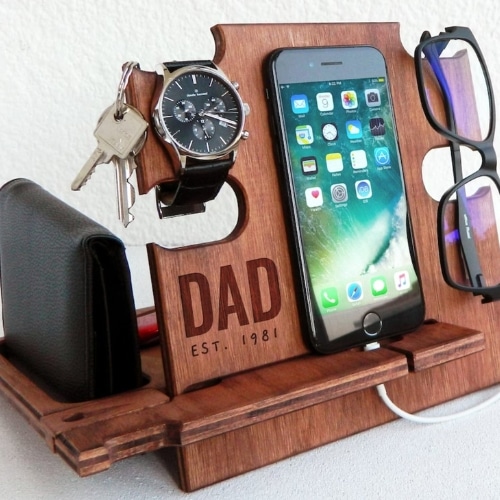 Each dad is unique, and thus so are his tastes. That's why it can be tough to find the right gift for men. With his new baby on the way, your dad needs a place to keep everything. This Wood Docking Station will make sure that Dad has the essentials close at hand and amazing gift ideas for new dad who's got a lot to handle these days!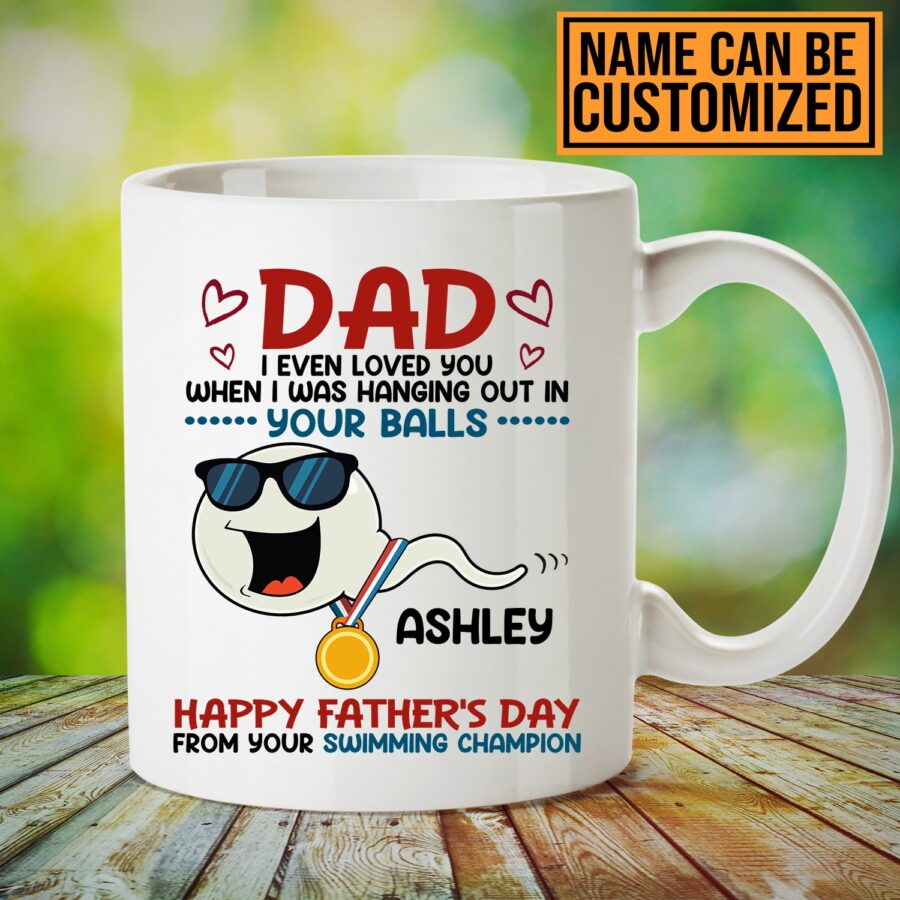 These personalized mugs are the best gifts for the new dad or an awesome gift idea for Dad on Father's day. These funny mugs would make a great gift idea for anyone who is even a little bit of a coffee addict, they are sure to enjoy a good laugh while enjoying their morning cup. Let your new dad know how much you love him, with this funny mug that represents their fatherhood journey. The perfect gifts for celebrating the birth of a baby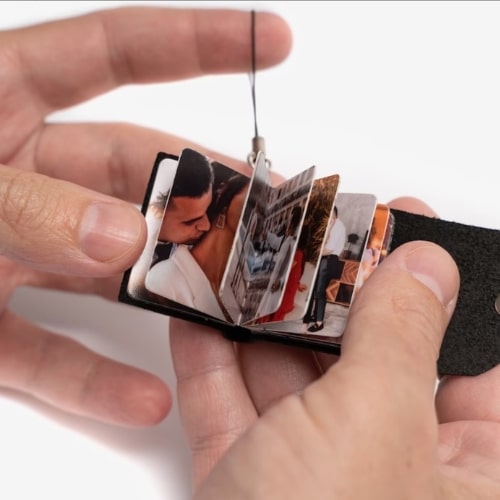 A new dad, a priceless moment. If you know someone just starting out on their fatherhood journey, help them celebrate with adorable mini photo album keychain! A delightful book to store your favorite memories of your little one's first year and first father's day. With its leather-bound cover, it becomes a keepsake that holds a few precious memories close at all times. Remind him of why he's so special and never forget your first Father's Day with this precious memento.
Conclusion
These affordable yet refined pieces are just the right gift to commemorate your new fatherhood. Put the finishing touch on a heartfelt card that you have written with some of these gifts, or even give your congratulatory call in person, and you will be sure to melt their heart. Best of luck and Happy Father's Day!