Veterans Day holds a special place in the hearts of Americans. This article provides you with a list of the best 20 gifts for veterans on Veterans Day 2023 that are carefully chosen to convey your appreciation and gratitude in a meaningful way.
Veterans Day holds a special place in the hearts of Americans. It's a day dedicated to honoring the brave men and women who have selflessly served in the United States armed forces. This annual observance, Veterans Day 2023 held on November 11th, 2023 not only commemorates the veteran's effort in World War I but also serves as a poignant reminder of the sacrifices made by present military veterans. This article aims to provide you with a curated list of over 20 thoughtful gifts that are carefully chosen to convey your appreciation and gratitude in a meaningful way.
Introduction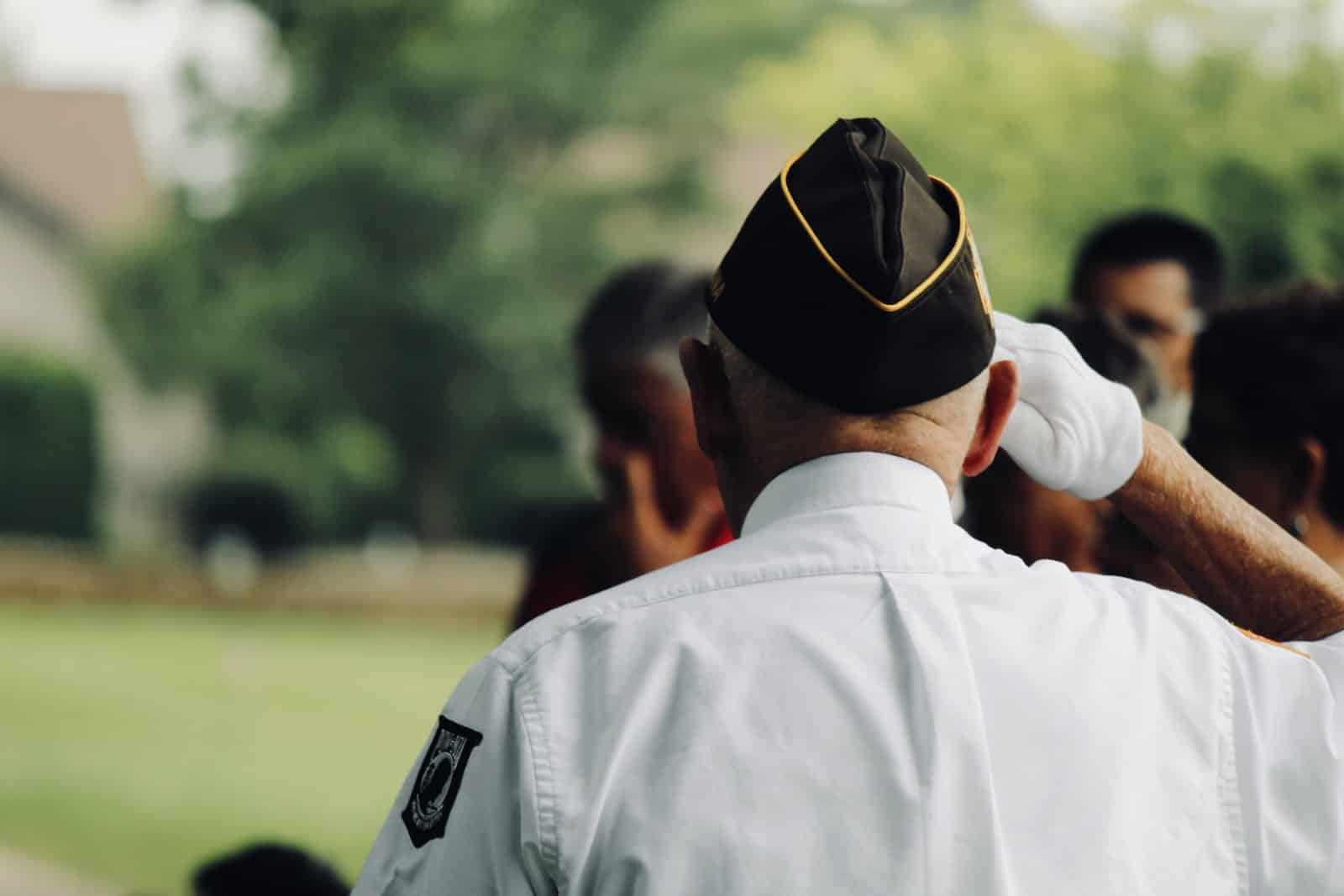 What is Veterans Day?
Have you ever wondered what is Veterans Day, and why it is an unforgettable day to many Americans? Veterans Day, originally known as Armistice Day, was established to mark the end of hostilities in World War I. On the 11th hour of the 11th day of the 11th month in 1918, the Armistice with Germany brought an end to one of the deadliest conflicts in history.
From that historical moment, November 11th is etched in history as the day the guns fell silent, signifying the end of World War I. Nowadays, Veterans Day is an official United States public holiday, observed annually on Nov. 11, that honors military veterans, that is, persons who served in the United States armed forces. It is a day to honor all veterans, past and present, for their unwavering commitment and sacrifice.
What does Veterans Day 2023 mean to people in the United States?
To Americans, Veterans Day represents a powerful symbol of gratitude and respect. It's a day when communities come together to acknowledge the courage and dedication of those who answered the call of duty. It can be your dad, your uncles, your grandfather, brothers, husbands, mothers, etc. It's a day when we express our deepest thanks to them, the heroes who safeguard our freedoms.
Veterans Day 2023 is the 105th Veterans Day from the first one, carrying deep meanings about all the sorrow and loss of America in terms of people through many wars since 1918. On Veterans Day 2023, people can show our thankfulness to military veterans who dedicated their youth to the Vietnam War, World War I & II, Afghanistan, etc, and present or retired military veterans who have contributed to the peace of America these years.
How to Honor Veterans with Meaningful Gifts for Veterans
Beyond anniversary parties, parades, and ceremonies, gifting is a meaningful way to show our appreciation to veterans this Veterans Day 2023. It's an opportunity to express our gratitude in a tangible and heartfelt manner. Each gift carries with it a message of respect and acknowledgment for the sacrifices made.
Therefore, this year, let's make Veterans Day 2023 unforgettable with us. Let's go beyond the ordinary and find ways to make our veterans feel truly cherished. This article aims to provide you with a curated list of over 20 thoughtful gifts. These gifts are carefully chosen to convey your appreciation and gratitude in a meaningful way. Besides gifts for veterans dad, our list covers gifts for veterans from all genders and different units, promising to leave your beloved ones on cloud nine.
List of 20+ thoughtful gifts for veterans on Veterans Day 2023
Section 1: Personalized Gifts
Personalized products have always been amazing gifts for veterans on many occasions, especially like the memorable Veterans Day 2023. Here are some excellent ideas on personalized gifts for veteran.
1. Personalized Military Unit T-Shirt – Hoodie – Sweatshirt with quote
Elevate your veteran's wardrobe with our personalized Military Unit apparel, available in a range of styles. The sharply-printed vivid image of the American flag and Vietnam map pays homage to a pivotal moment in history. The brilliant red and yellow quote, "Vietnam Veteran Been There Done That And Damn Proud Of It," boldly declares the indomitable spirit of those who served.
Choose from an array of five colors: Black, Dark Heather (a dignified shade of grey), Maroon Red, Navy Blue, and Royal Turquoise.
Customization Tips:
Make it personal by customizing the Military Unit line on the back. Keep it succinct, letting it echo the specific journey of the veteran. Whether it's a unit designation or a meaningful insignia, this added touch ensures a truly unique garment.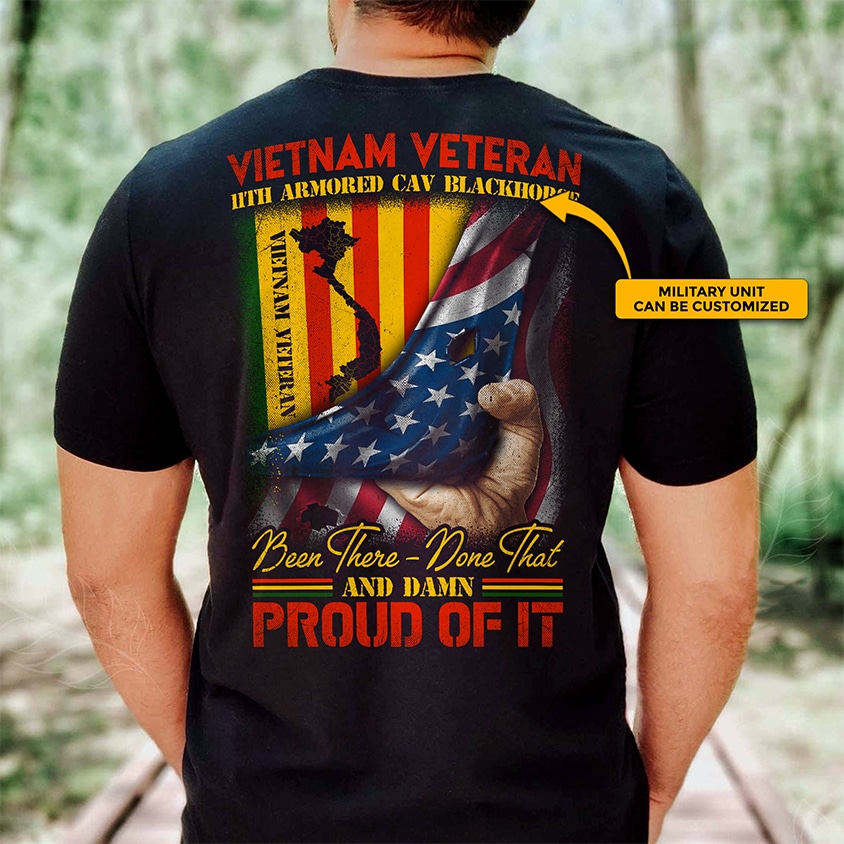 2. Personalized Vietnam Veteran Eagle Decorative Custom Shaped Wooden Christmas Ornament Keepsake
This ornate wooden ornament, shaped like a majestic eagle with accompanying dog tags, embodies strength, resilience, and unwavering dedication. Hung with pride, it serves as a year-round reminder of the sacrifices made in the name of freedom. It's not just an ornament; it's a testament to the indomitable spirit of veterans this Veterans Day 2023.
Style and Shape: Crafted in the form of a flapping eagle, this wooden keepsake is a powerful symbol of might and tenacity. This product allows you to customize the specific time period the veteran served in th army or in a particular war, making it a special gift that shows your thoughtfulness.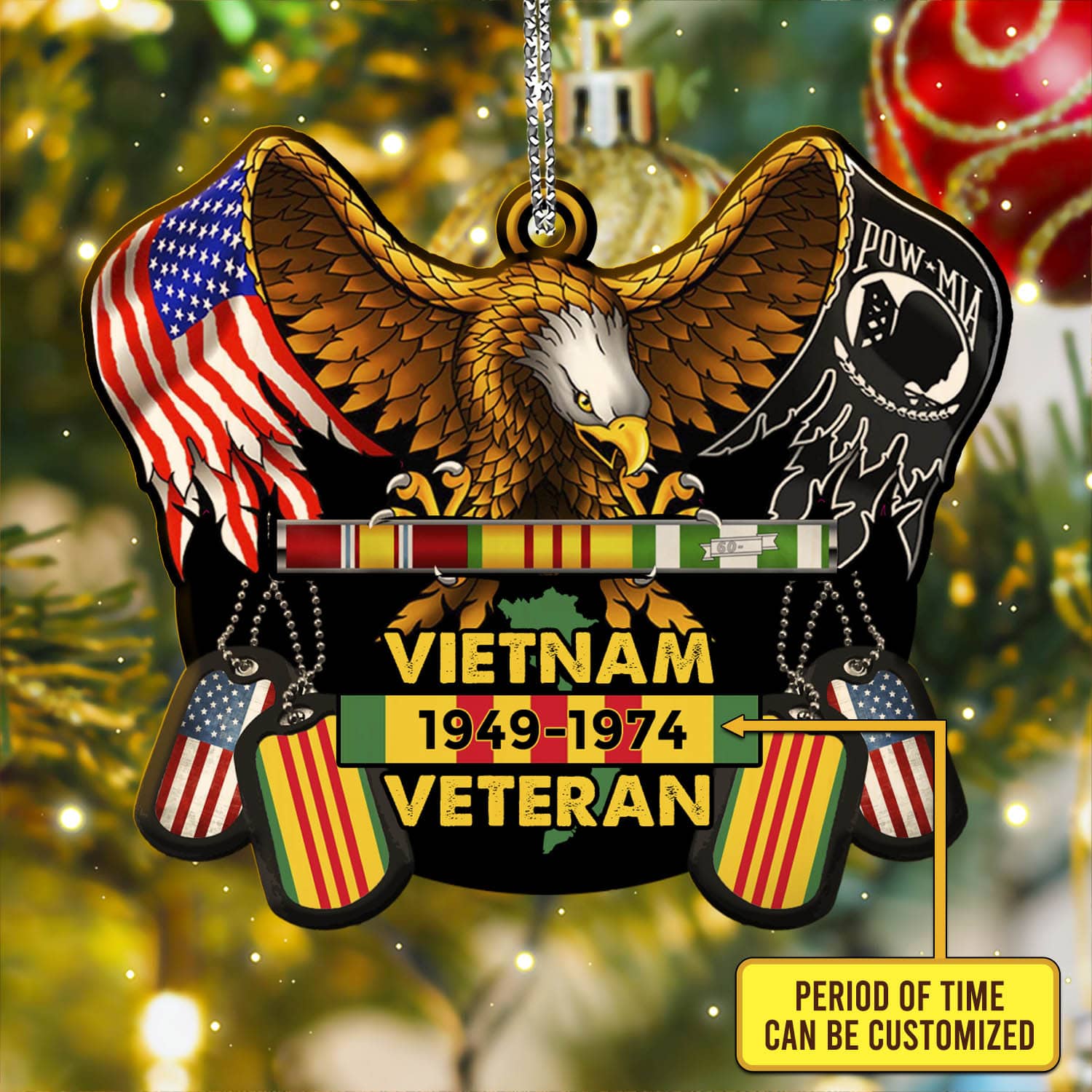 3. Personalized Photo I Am A Veteran I Love Freedom I Wore Dog Tags Canvas Prints – Women Veteran Unframed Poster
This unframed canvas print stands as a powerful tribute to the women who have served their nation with unwavering dedication. The quote, "I Am A Veteran I Love Freedom I Wore Dog Tags," encapsulates the fierce pride and love for freedom that defines these extraordinary individuals on Veterans Day 2023.
Crafted with meticulous attention to detail, our canvas prints offer not only visual appeal but also durability. With five versatile sizes to choose from, they find their place in various settings, from living rooms to offices.
Customization Tips:
Selecting the right photo is key to creating a meaningful gift. Opt for an image that resonates deeply with the veteran, one that encapsulates a cherished memory or a defining moment of their service.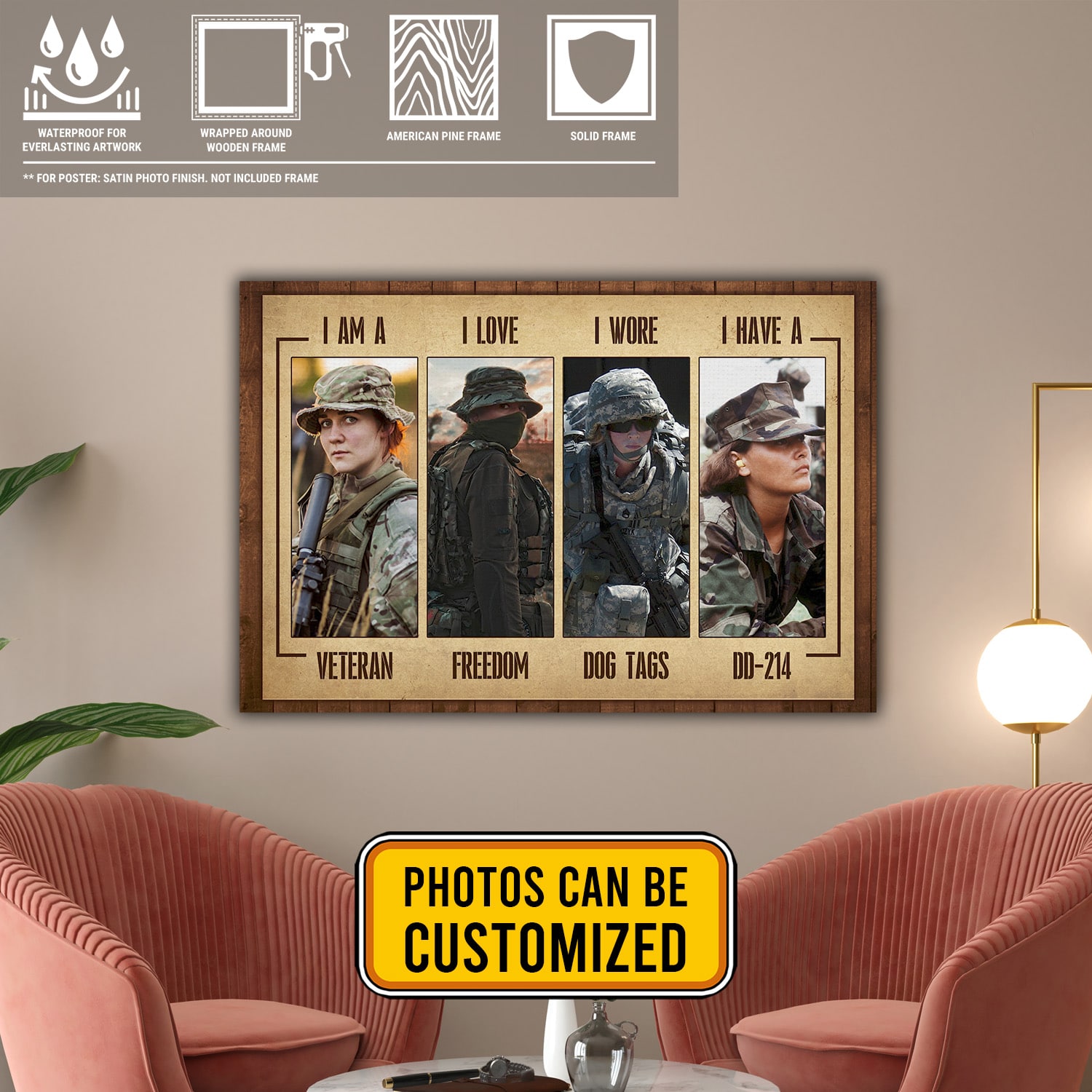 4. Personalized Vet Bod Like Dad Bod But With Bigger Balls Dad Veteran Bullet Shape Insulated Tumbler With Lid
This distinctive tumbler, shaped like a bullet, is a rare find, available exclusively from CubeBik. It not only serves as a practical vessel for hydration but also embodies the rugged spirit of a true veteran. Crafted from stainless steel, this tumbler is built to withstand the rigors of any adventure. Its high impact resistance ensures it will stand the test of time, accompanying the veteran through every expedition.
Customization Tips:
Choose between the 16 oz. and 32 oz. options, and personalize it with Name of Receiver. This thoughtful touch will transform a functional item into a cherished keepsake, a constant companion on journeys of all kinds.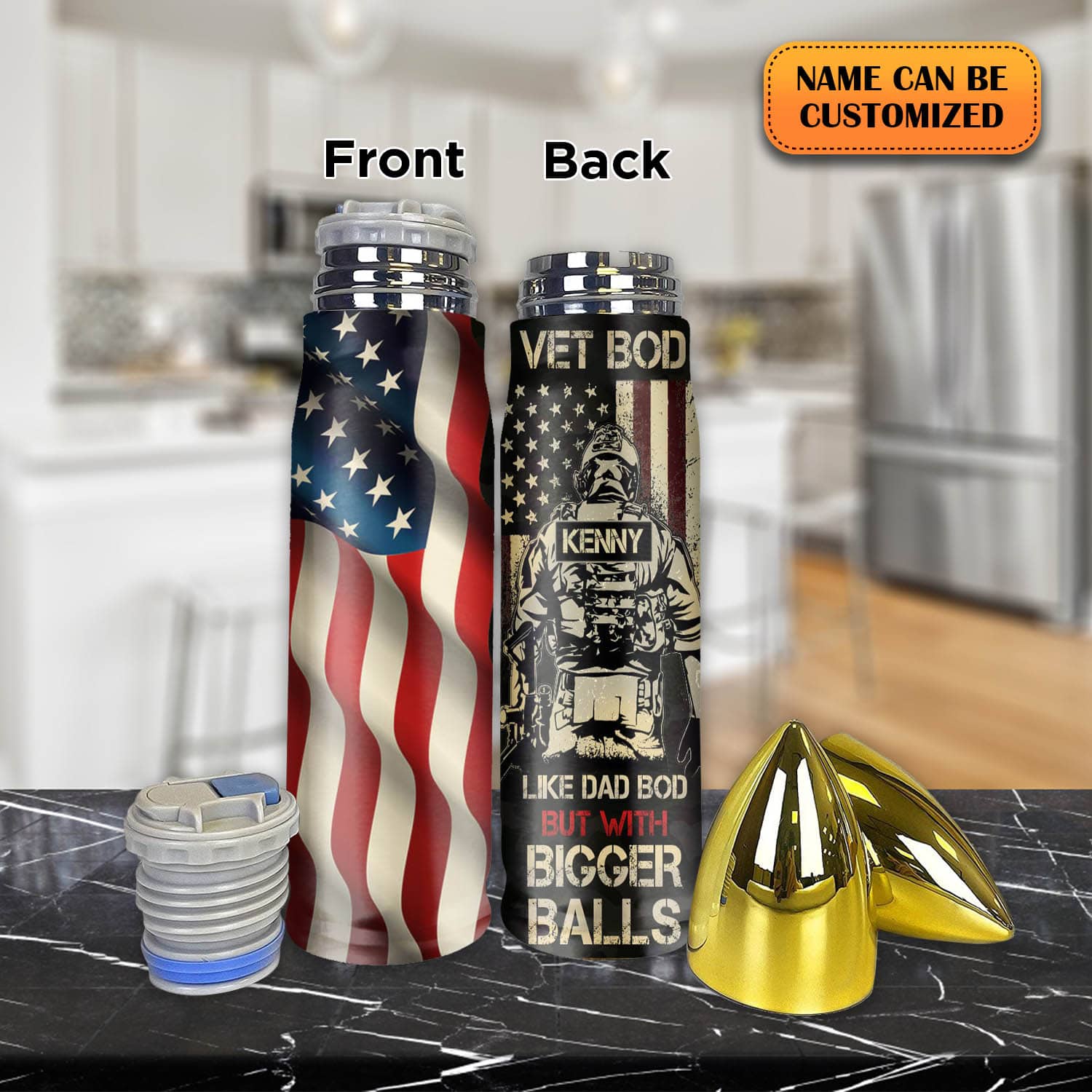 5. Personalized Name I'm A Veteran Proud VietNam Veteran Bullet Shape Insulated Tumbler With Lid – Love Freedom Gifts American Flag Travel Coffee Mug
Celebrate your veteran's unwavering dedication with another unique bullet-shaped Tumber with Personalized Name and a meaningful quote "I'm A Veteran Proud VietNam Veteran". This unique design, complete with the American flag and a heartfelt veteran's declaration, embodies a deep sense of pride and service.
With the option to customize the name, there is nothing more precious and endearing than this, signifying your personal touch and genuine care. Every sip transports them back to the days of camaraderie and duty. Give a gift that not only honors their service but also reminds them of your heartfelt appreciation. Order now and let this tumbler speak volumes of your gratitude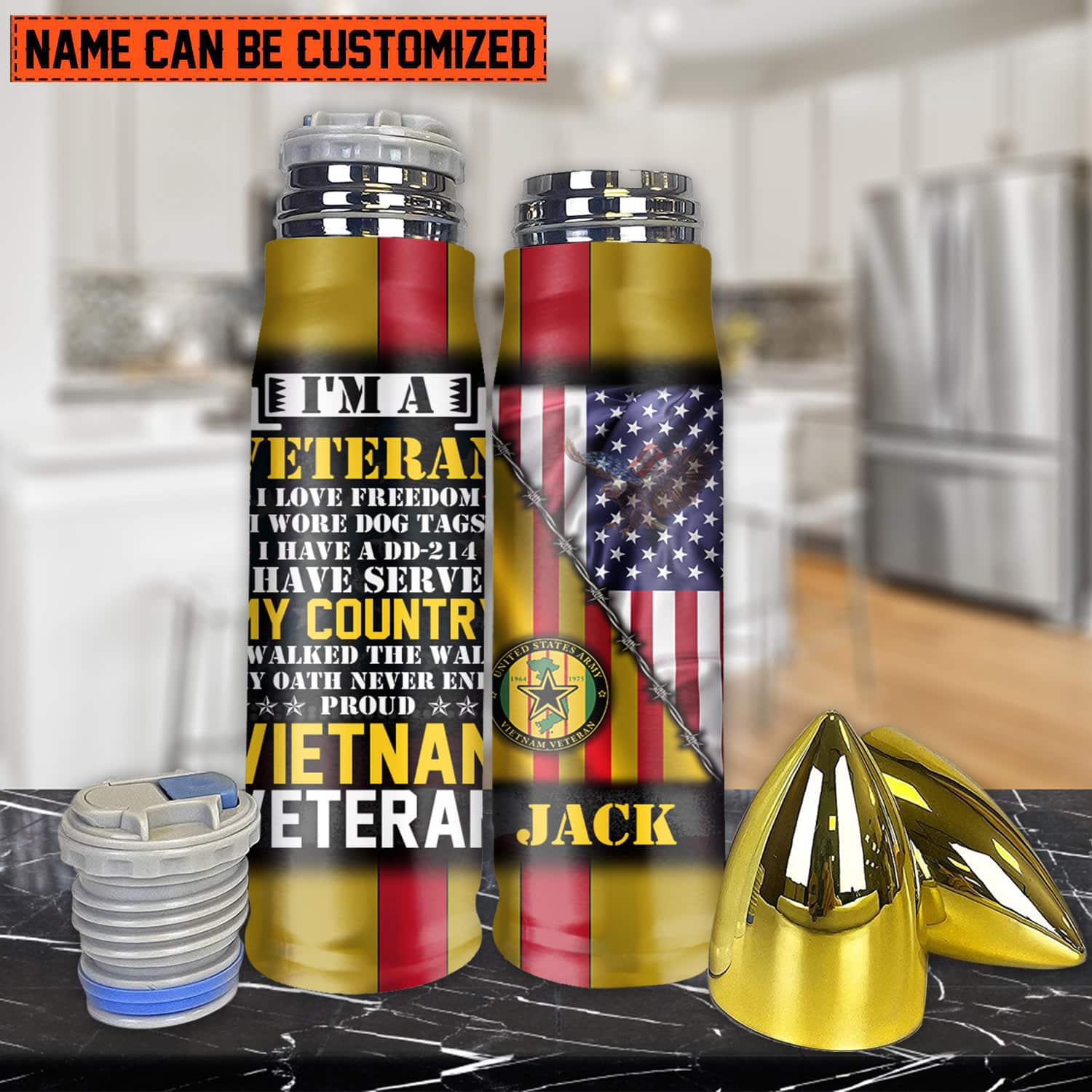 6. The Veteran – Custom Pet Drawing Canvas Poster – Personalized Pet Portrait Decor Wall Art
Few things hold a special place in a veteran's heart like the companionship of a loyal pet. This custom pet drawing transcends the ordinary, encapsulating the profound bond between a veteran and their furry friend. It immortalizes the cherished moments spent together, serving as a daily reminder of unconditional love and companionship.
Our dedicated team of professional designers takes pride in crafting each portrait from scratch. By uploading a favorite photo, we embark on a journey to transform it into an aesthetic masterpiece. The preview we send for confirmation captures the essence and spirit of the beloved pet, creating an artwork that mesmerizes the receiver.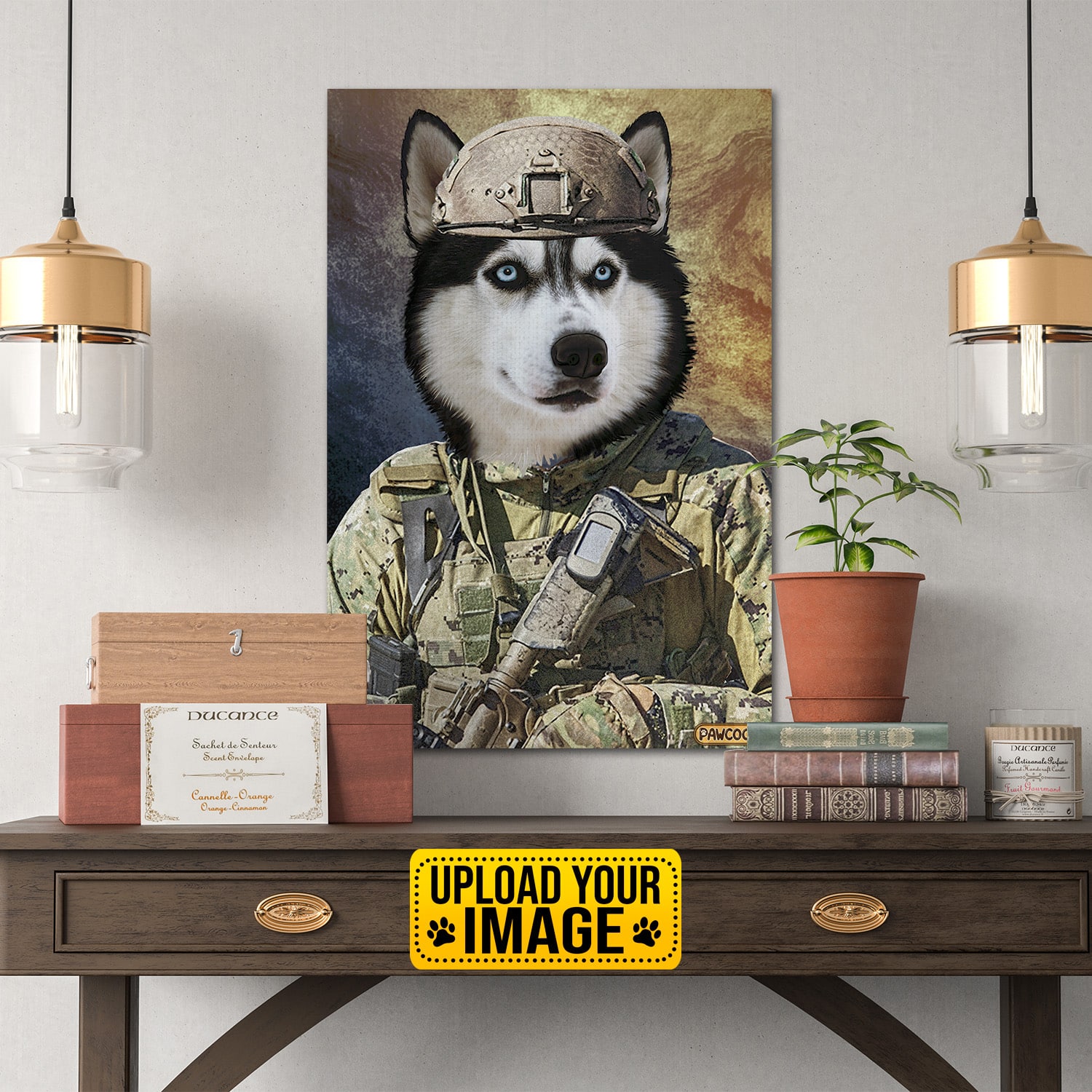 7. Personalized Veteran Couple Tumbler – To My Smoking Wife Vacuum Insulated Cup – Wine Tumbler with Lid
This personalized tumbler is a tribute to the enduring love and shared experiences of veteran couples. It serves as a piece of easy-to-carry equipment, ideal for outdoor adventures or intimate indoor date nights. Whether sipping wine or a favorite beverage, this tumbler encapsulates the warmth and closeness that defines their journey together.
This stainless steel wine tumbler, dishwasher safe and capable of keeping drinks hot or cold, offers custom personalization, making it a unique and thoughtful gift for Veterans Day 2023. Adorned with a meaningful and affectionate quote, it also features the option to print names and photos, making it a truly one-of-a-kind keepsake. Sized at 12 oz., it's designed for comfort and convenience.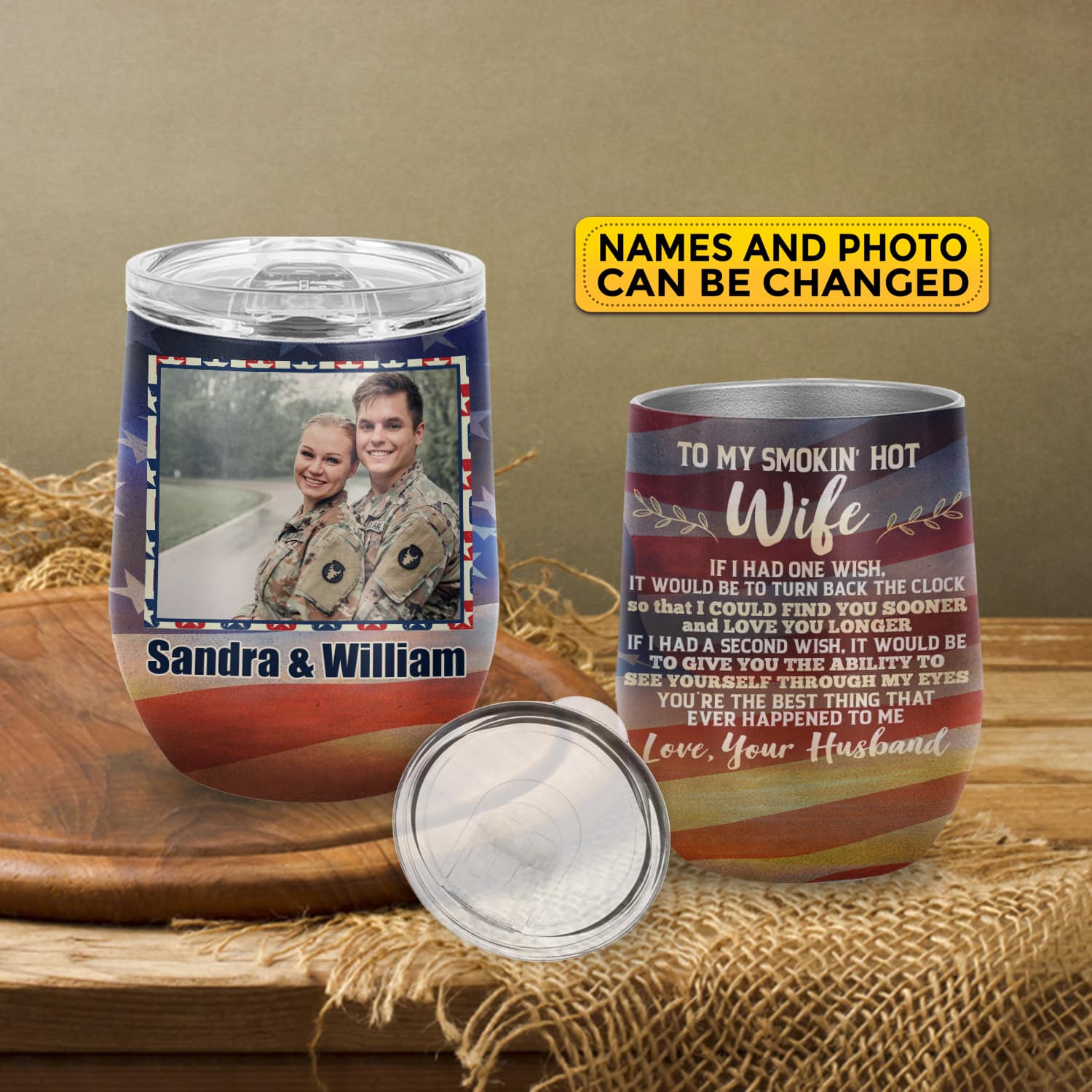 8. Personalized Never Underestimate An Old Man With A Military Background T-shirt
This T-shirt is a tribute to the military veterans who carry with them a wealth of experience and wisdom. The customizable name tag on the military soldier's outfit adds a personal touch, allowing the wearer to proudly display their affiliation with the military. The high-quality print featuring a soldier against the backdrop of the American flag exudes a timeless, retro charm.
With a range of six colors to choose from—Black, Dark Heather, Forest Green, Maroon Red, Navy Blue, and Royal Turquoise—this T-shirt provides options for every style preference, ensuring a perfect fit for any veteran on Veterans Day 2023.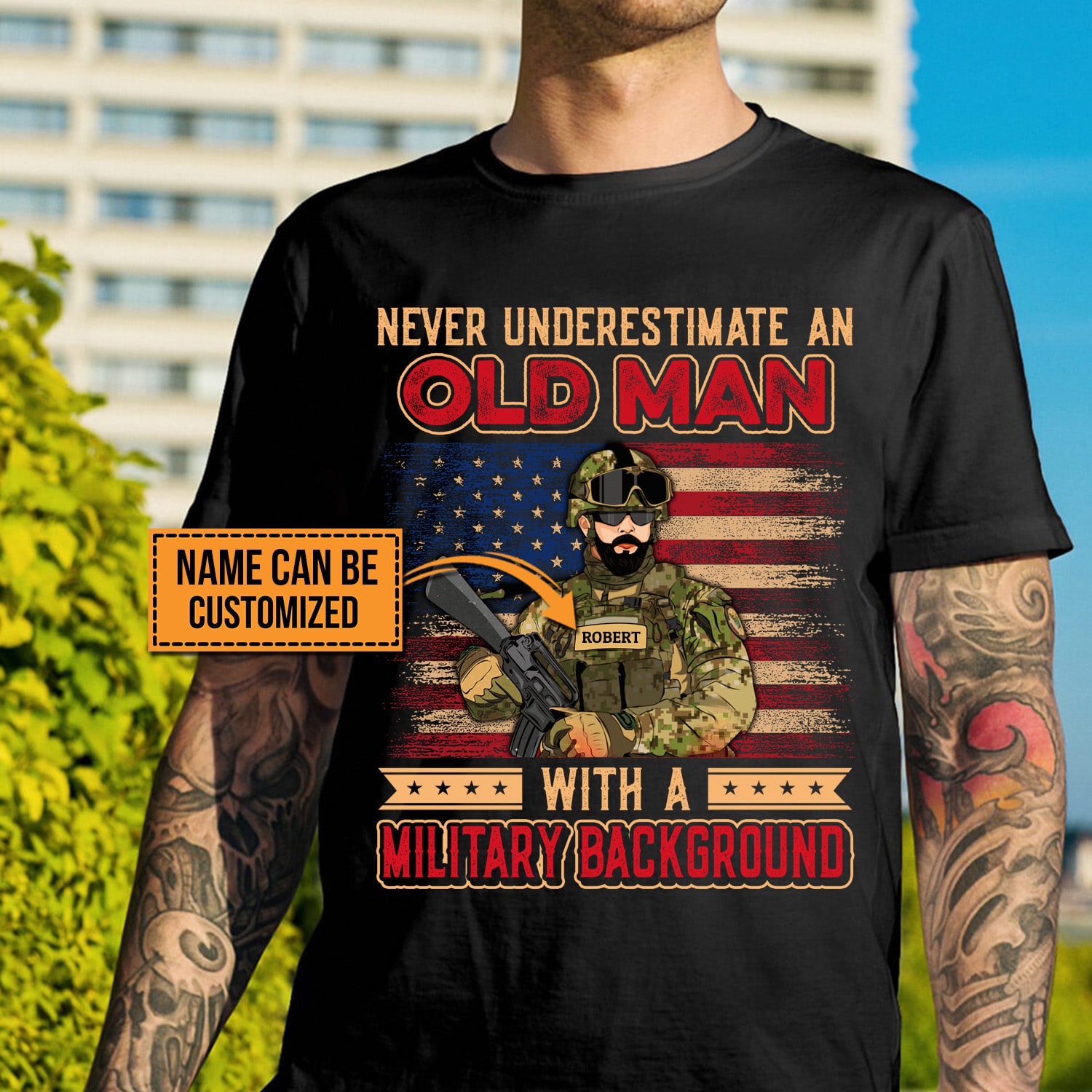 9. Military Engraved Dog Tags for Veteran on Veterans Day 2023
Some gifts are priceless, and this exquisite necklace is destined to become a cherished treasure. Ideal for fathers, grandfathers, brothers, husbands, and more, these dog tags feature eye-catching designs and meaningful quotes that ignite the spirit. For a Veterans Day gift that will be cherished for a lifetime, our stunning necklace is the perfect choice.
Available in both Gold Plated and Silver options, each dog tag comes with the corresponding necklace. The back can be custom engraved with up to 20 characters, allowing for a personal touch that resonates deeply. The luxurious military necklace measures 24″ (61 cm) with an upgraded clasp, while the dog tag itself boasts dimensions of 28.5 mm x 51 mm.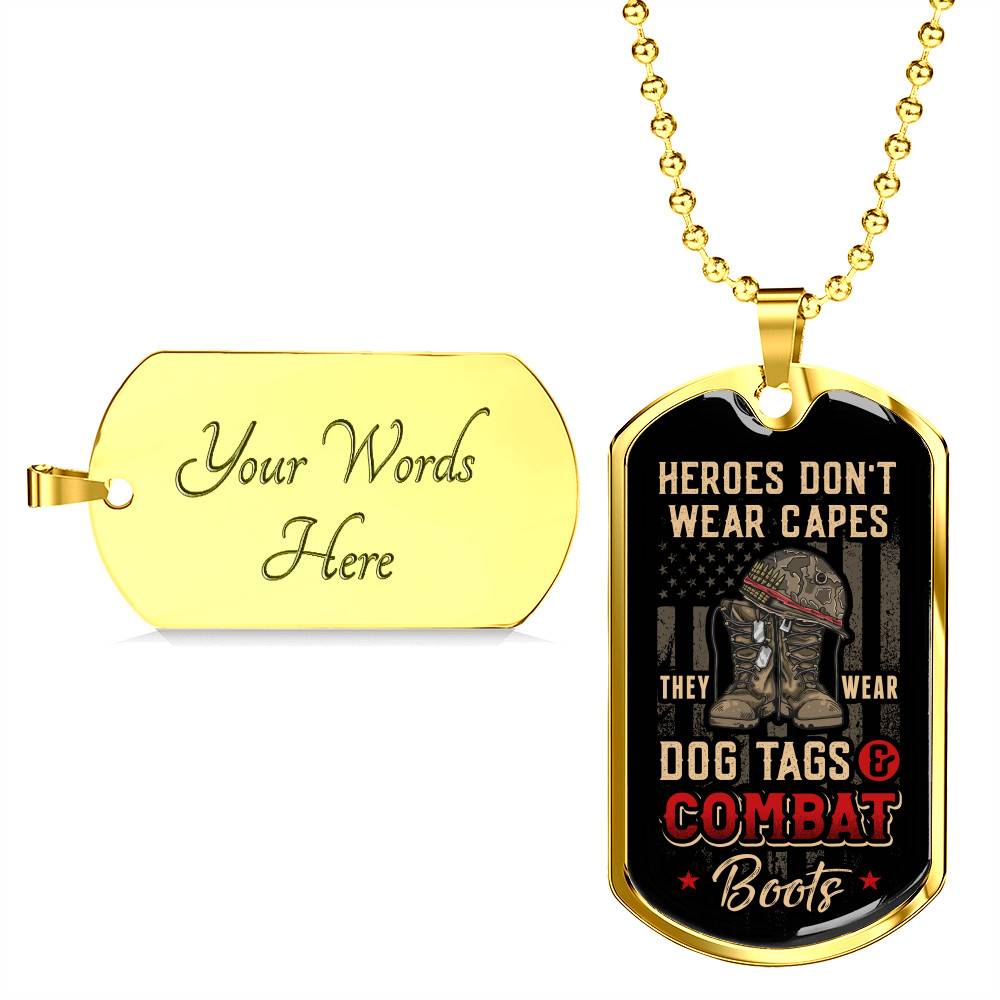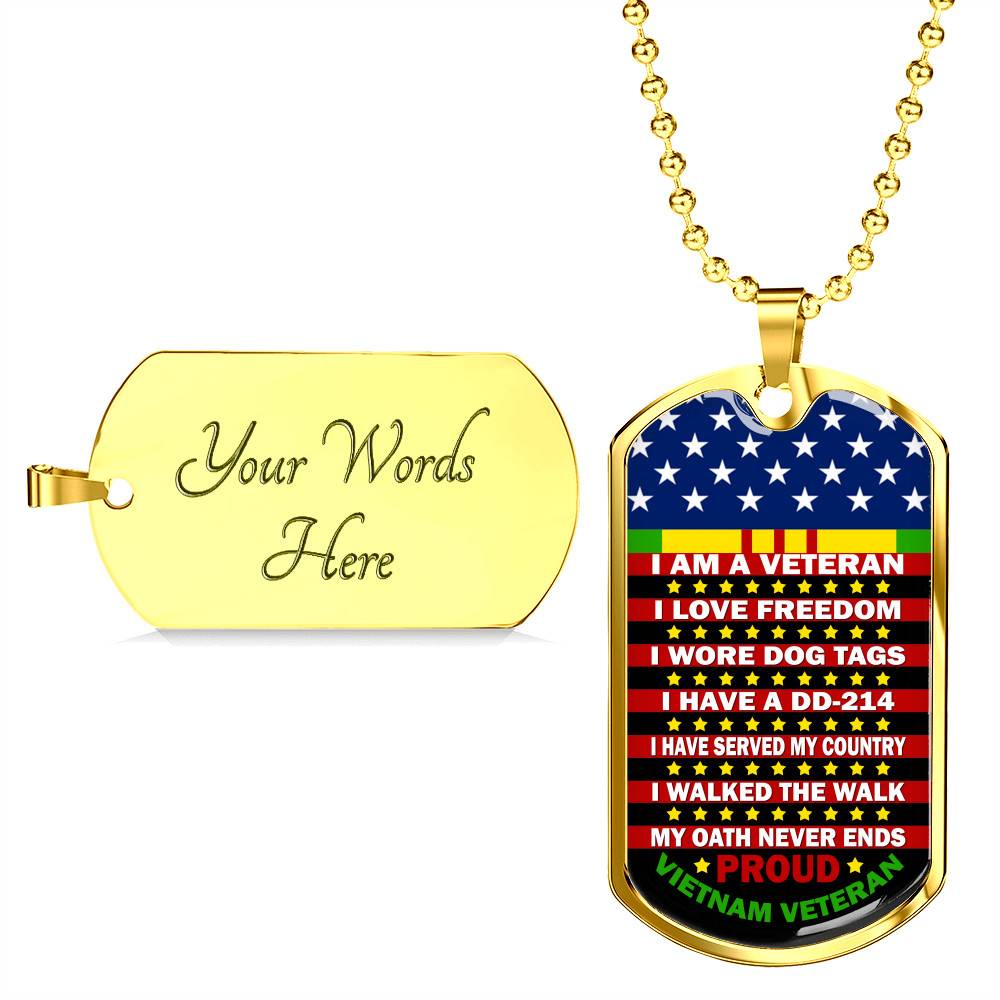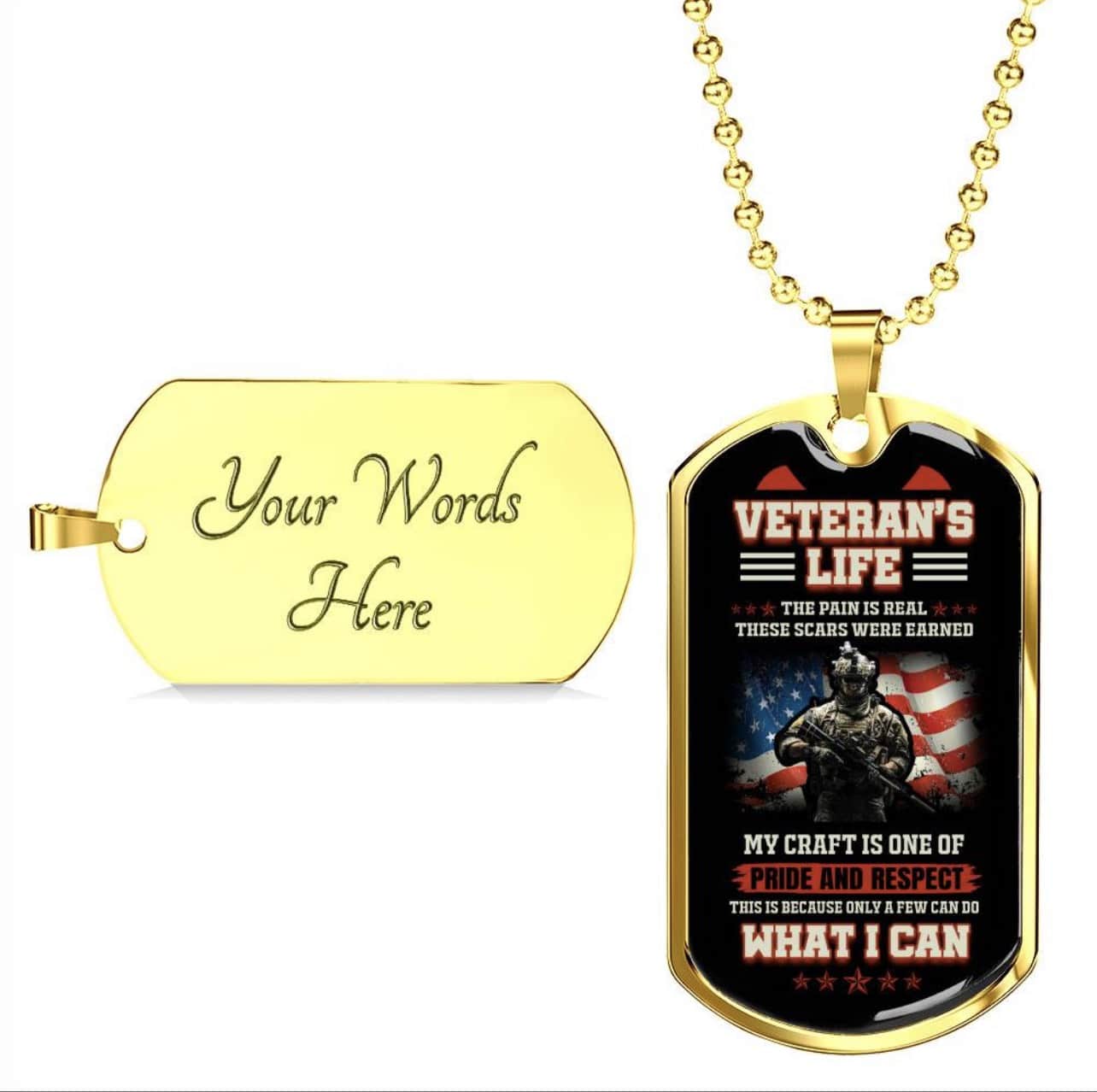 10. Personalized Name US Army Veteran Double-Sided Ceramic Coffee Mug – Beer Stein – Water Bottle – Color Changing Mug
This personalized collection of mugs and drinkware is a heartfelt way to honor and celebrate the legacy of a US Army veteran. Whether it's the morning coffee ritual or a relaxing evening beverage, each sip becomes a reminder of service and sacrifice.
n the personalized touch of two names, etched on the dog tags, lies a promise. It's not just a mug; it's a declaration of belonging, a salute to the shared journey. From ceramic to color-changing, each vessel is a canvas that carries the legacy of a veteran's heart. Such a thoughtful Military Gift for Veterans on Veterans Day 2023.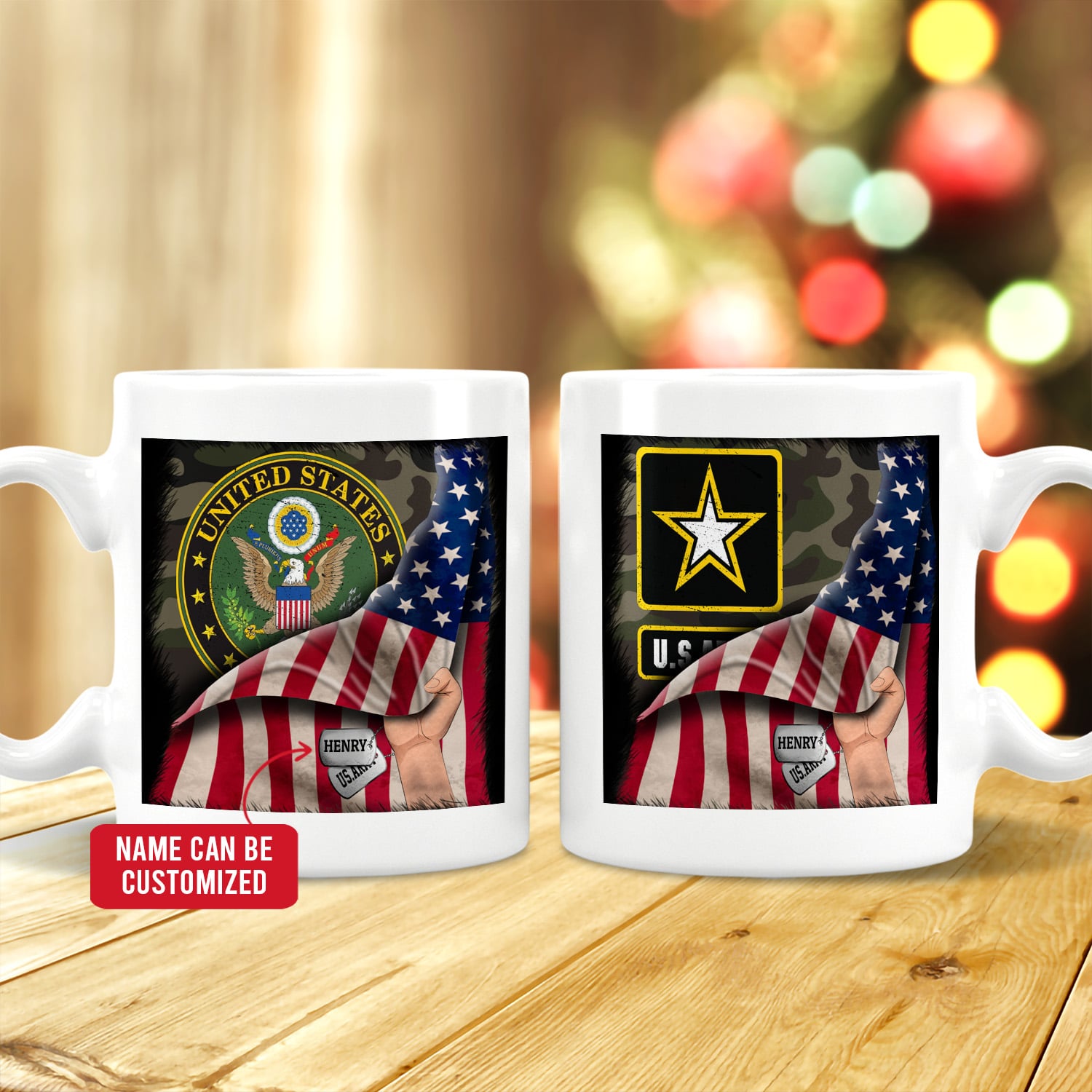 Section 2: Veterans Day 2023 Flags
Veterans Day flags hold a special place in every household, infusing a spirit of honor and remembrance. Outdoor, indoor, or in the garden, they contribute to a palpable atmosphere of gratitude and patriotism. Our selection of Garden Flags promises to make your home the most captivating tribute Veterans Day 2023.
11. Personalized Family Name American Flag Stand For The Flag And Honor The Fallen Veteran Garden Flag – House Flag
This flag stands not only as a symbol of national pride but also as a tribute to the families that support our veterans. The inclusion of a personalized family name adds a unique touch, forging a deeper connection to the cause. Available in three sizes—Garden Flag, House Flag, and Wall Flag—each option is meticulously crafted for enduring beauty.
Both sides of the flag bear the message, ensuring that honor and remembrance are visible from every angle. Your family name can be customized to highlight your family's support to Veterans Day 2023.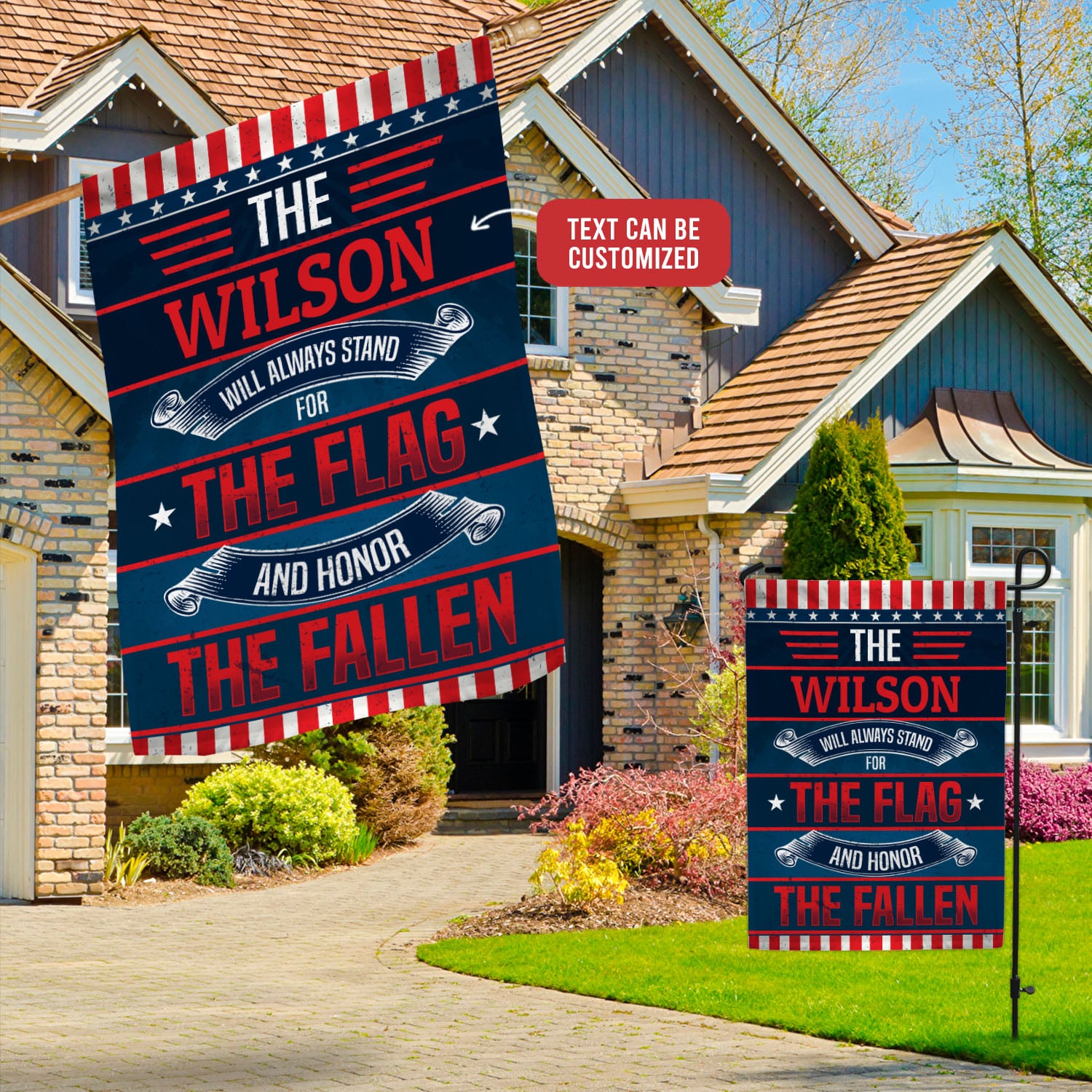 12. Thank You Flag to Those Who Served and Paid the Ultimate Sacrifice
The Thank You Flag is more than a piece of cloth; it's a chorus of thanks, a visual symphony of gratitude. Crafted with care, it serves as a poignant reminder of the sacrifices made by our veterans. Its presence is a salute, a heartfelt "thank you" that resonates in every breeze. A "Thank" means as meaningful as thousand of blessing words on Veteran Day 2023.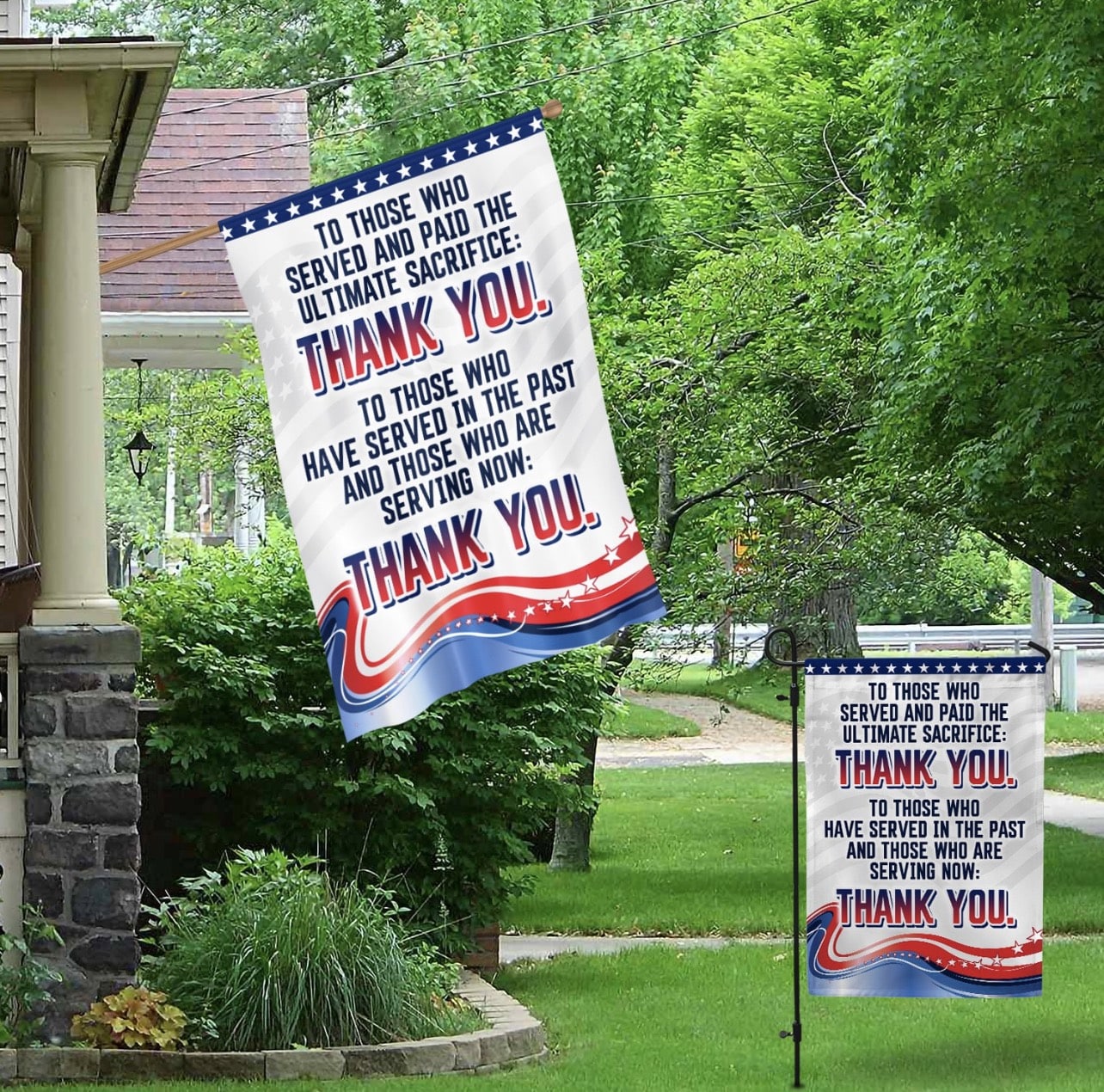 13. Veteran of the US Army Flag for Veterans Day 2023 – An Emblem of Army Service
This flag is a beacon, shining a spotlight on the valor and sacrifice of those who have served in the US Army. It stands as a tribute to the brave men and women who have shouldered the responsibility of safeguarding our nation. In its presence, their dedication and courage are celebrated.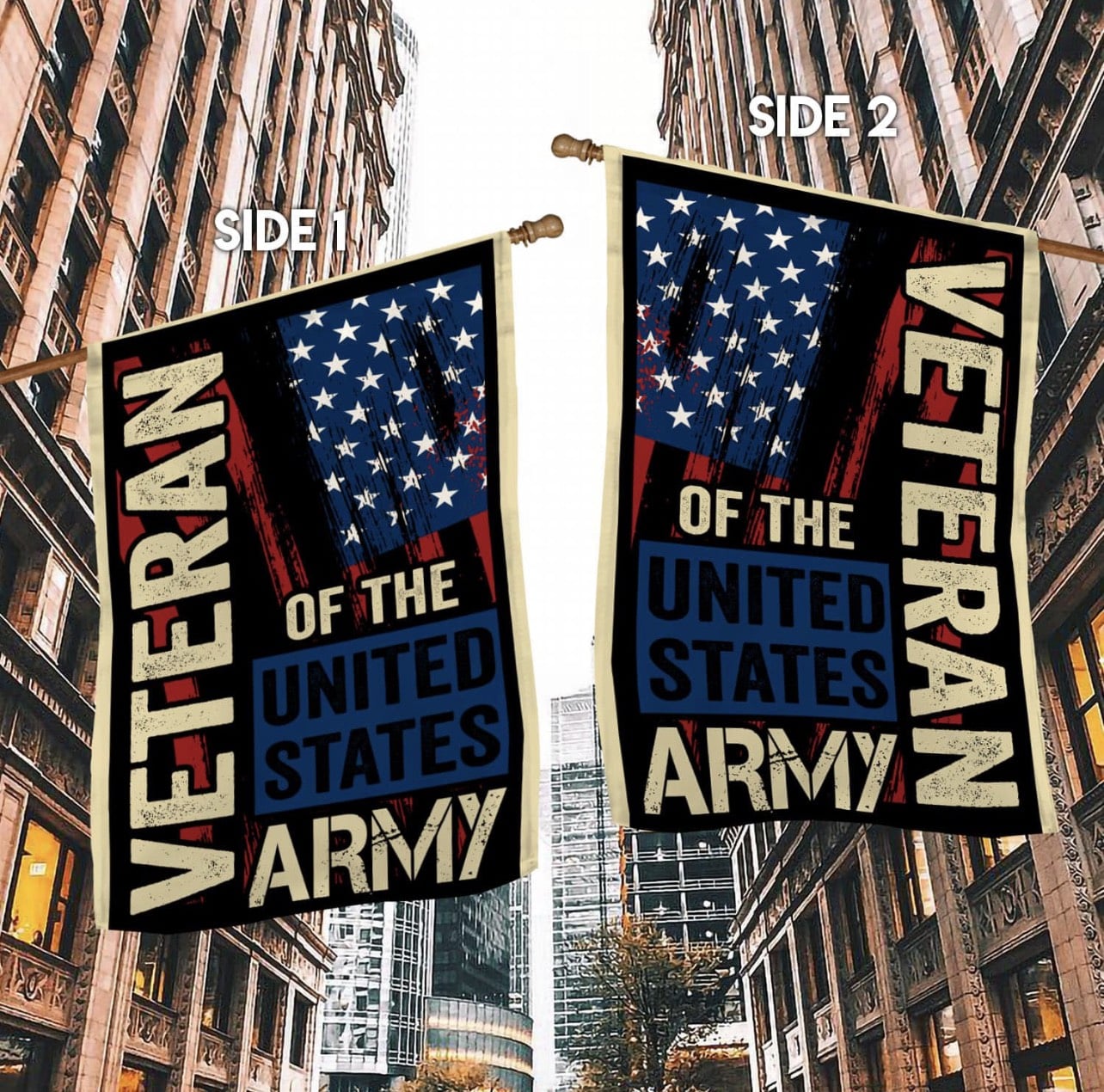 14. US Air Forces Veteran Flag – Honoring the Sky Guardians this Veterans Day 2023
For those who have soared through the skies, this flag pays tribute. It is a testament to the valor of Air Force veterans, the guardians of the heavens. Its presence is a salute to their service, a reminder that their contributions are etched in the annals of history.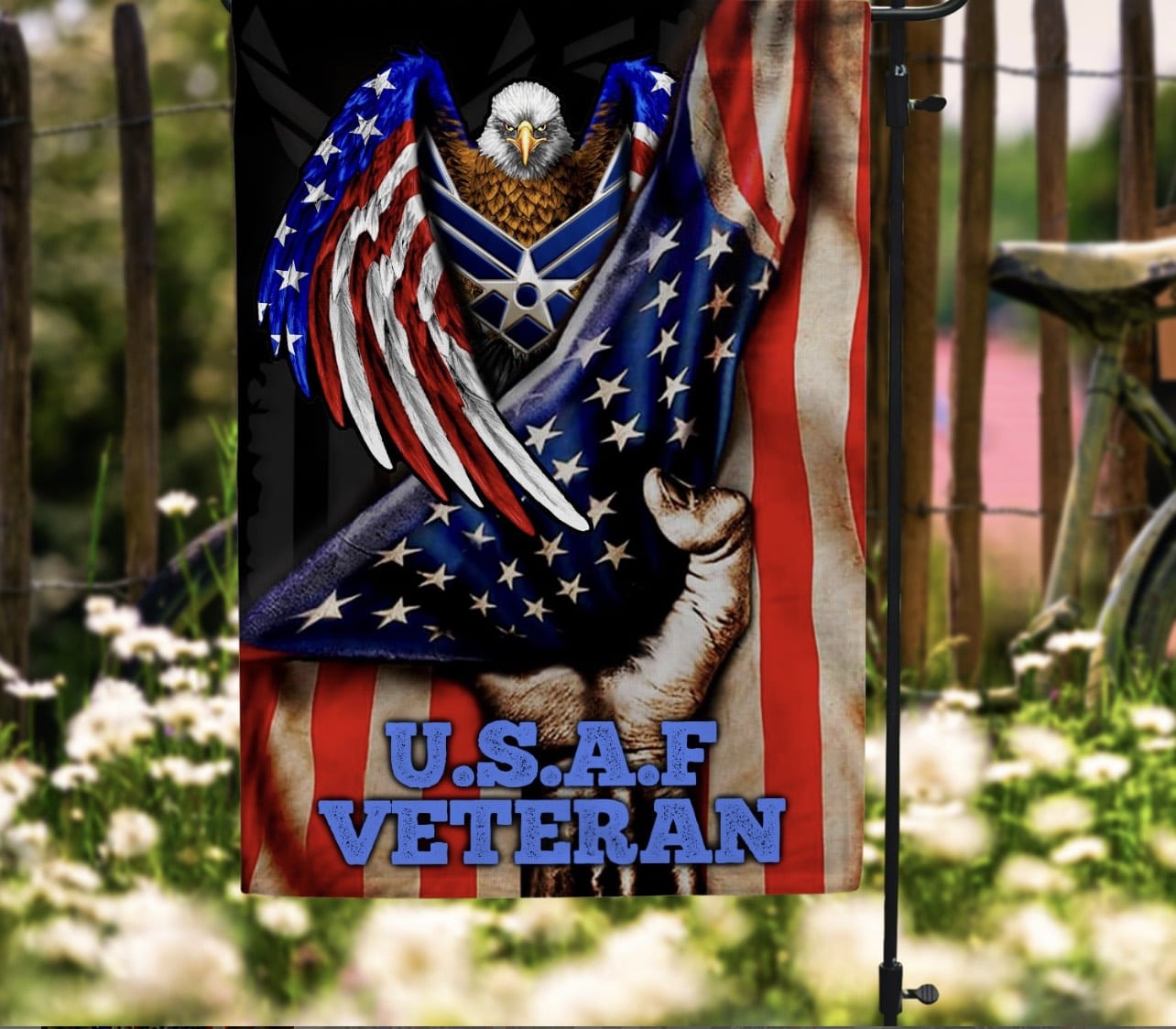 15. Navy Veteran Flag – Anchored in Service and Sacrifice
This flag speaks volumes about the unwavering dedication of Navy veterans this Veterans Day 2023. It is a symbol of their commitment to defending our seas, a tribute to their courage in the face of formidable challenges. In its presence, the waves of gratitude wash over those who have sailed under the Navy banner.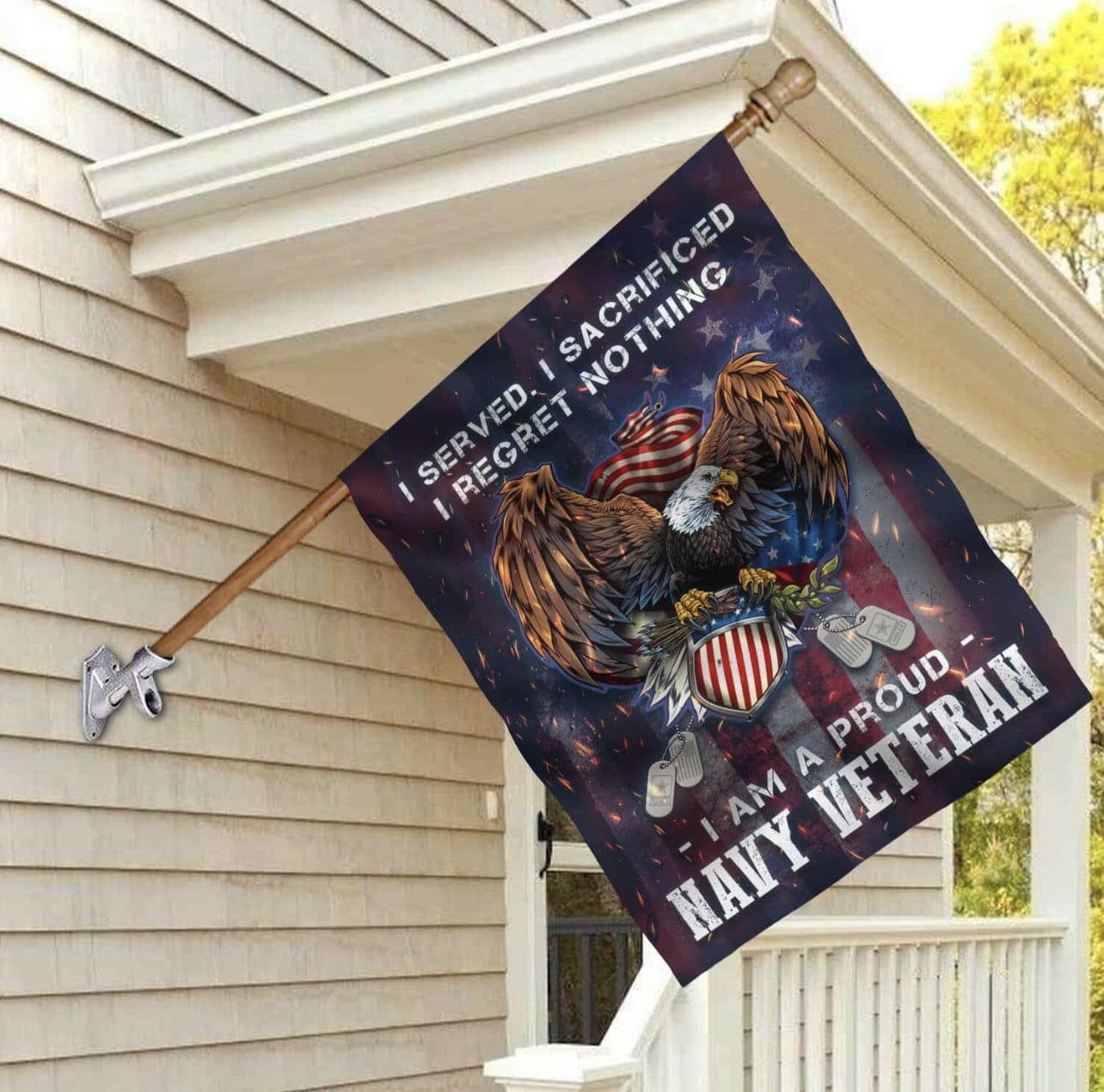 Section 3: Wellness and Comfort Gifts
16. American Veteran Land Of The Free Fleece Blanket – Sherpa Blanket – Gifts For Veterans – Veteran Gifts For Men
This blanket is more than just a cover; it's a cocoon of comfort, a tribute to the enduring spirit of American veterans. Enveloped in its warmth, one can't help but feel the embrace of a grateful nation. Whether as a military gift for Veterans Day 2023 or a personal memory treasure, it's a tangible token of appreciation for the sacrifices made.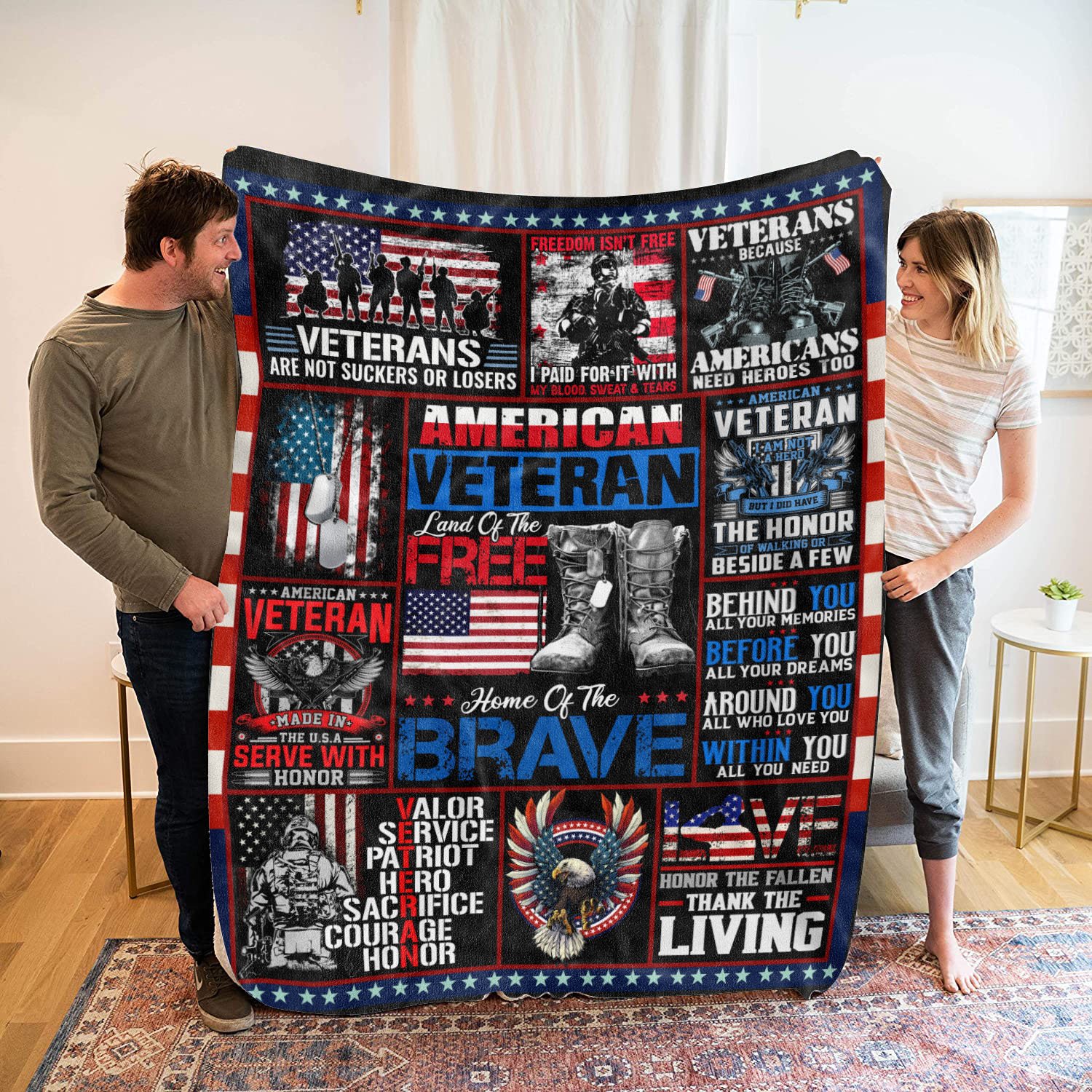 17. Personalized Name USA Navy Veteran Fleece Blanket – Mink Sherpa Blanket – Woven Blanket
This personalized blanket is a canvas of honor, celebrating the dedication of Navy veterans. The inclusion of a name adds a touch of intimacy, a reminder that each veteran is cherished and recognized for their unique contribution. Wrapped in its embrace, one can feel the waves of gratitude wash over them.
With the name of receiver can be customized, this could be one of the most lovely veterans gifts this holiday.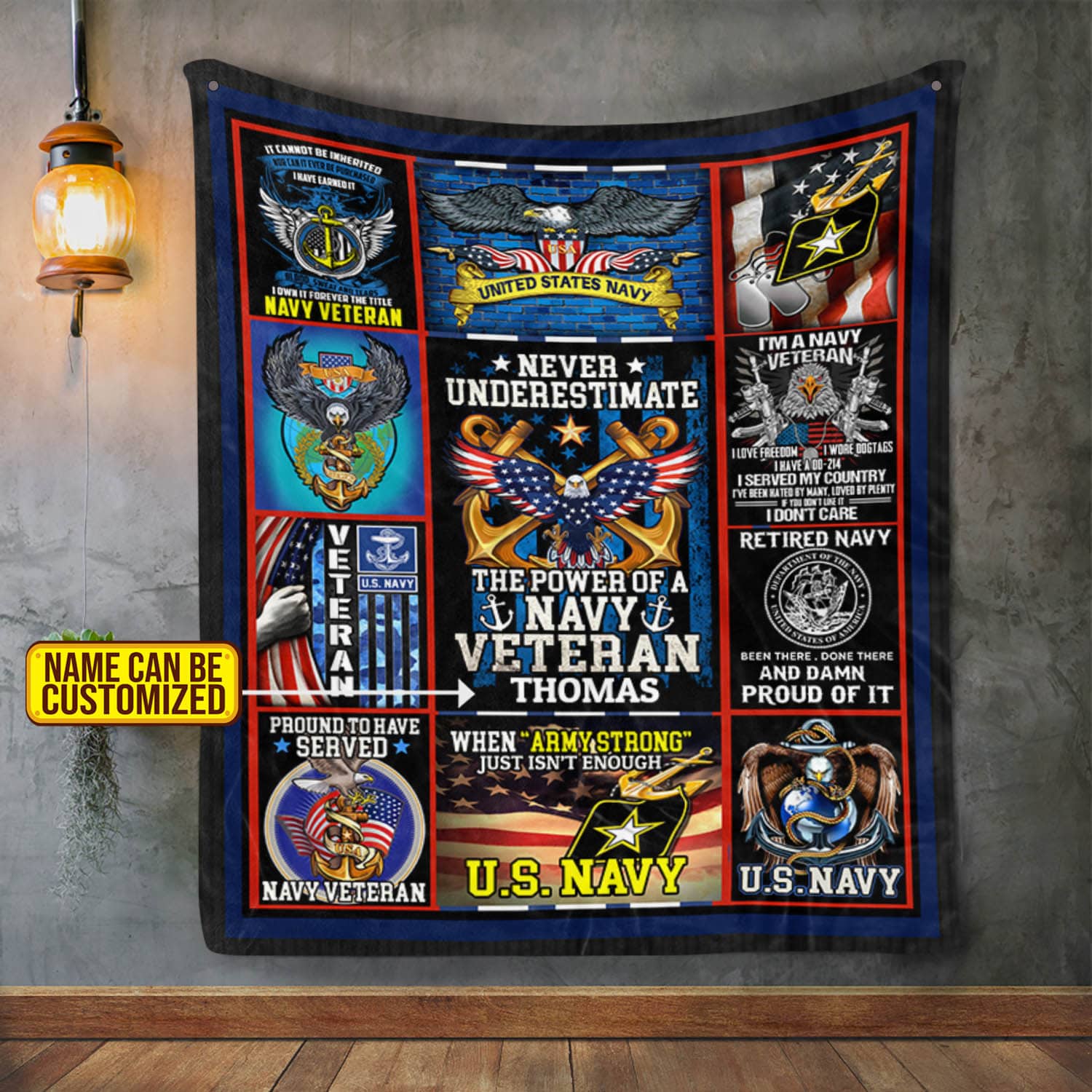 18. Just a Woman Who Wore Combat Boots – For Female Veterans
This gift is a tribute to the women who have served with distinction. It is a recognition of their unique journey, their resilience, and their unwavering commitment. Whether as a token of appreciation or a gesture of solidarity, it speaks volumes about the courage and strength of female veterans.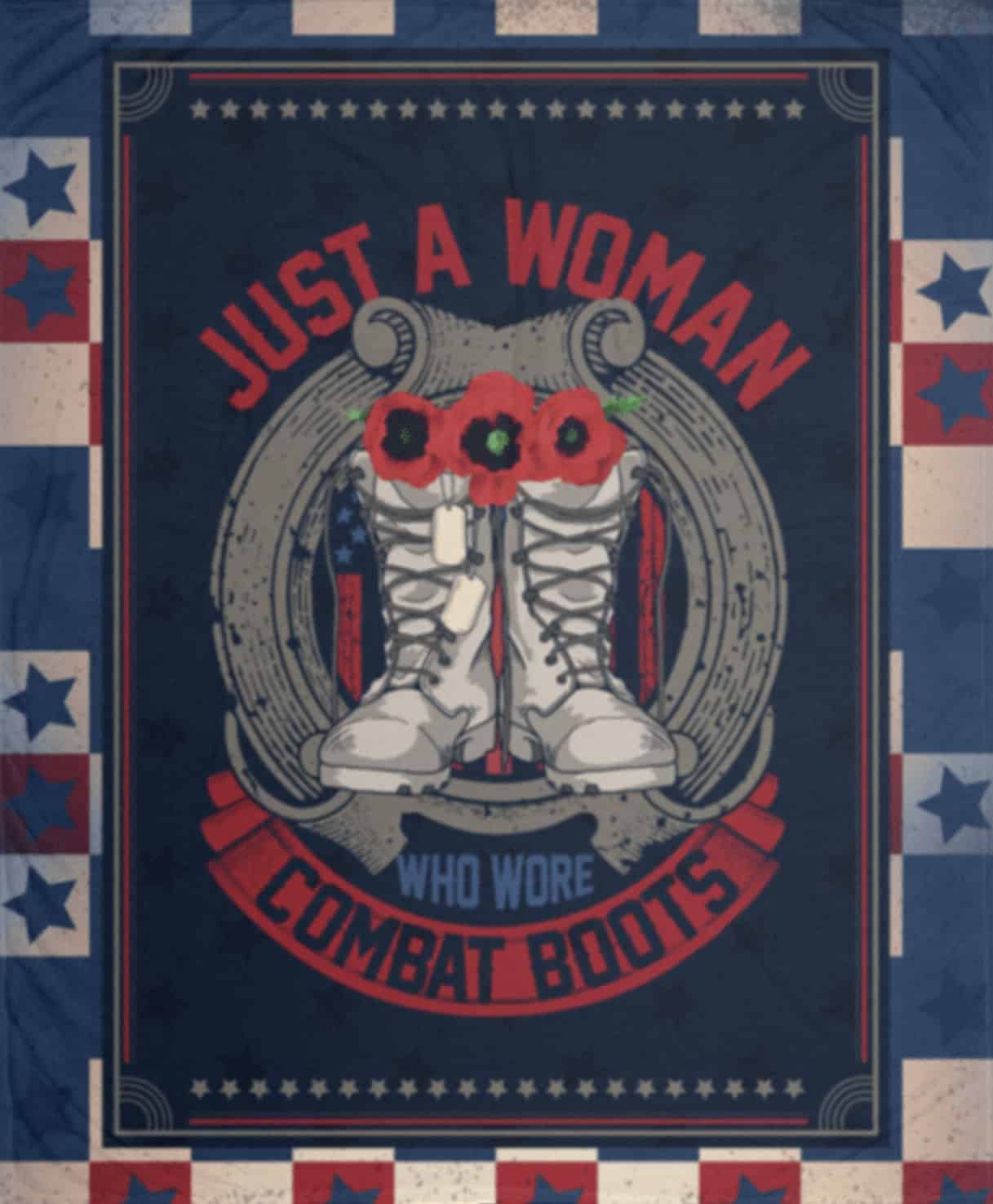 19. Veteran Truck Decal Sticker: Vinyl Graphic Decal Bumper Sticker
For veterans who wear their service like a badge of honor, this decal sticker is a proclamation to the world. It adorns vehicles with a visual testament to service and sacrifice. Each drive becomes a tribute, each journey a reminder of the legacy of service. Now your beloved veterans can travel on every street with the love of the country and the pride of being a veteran.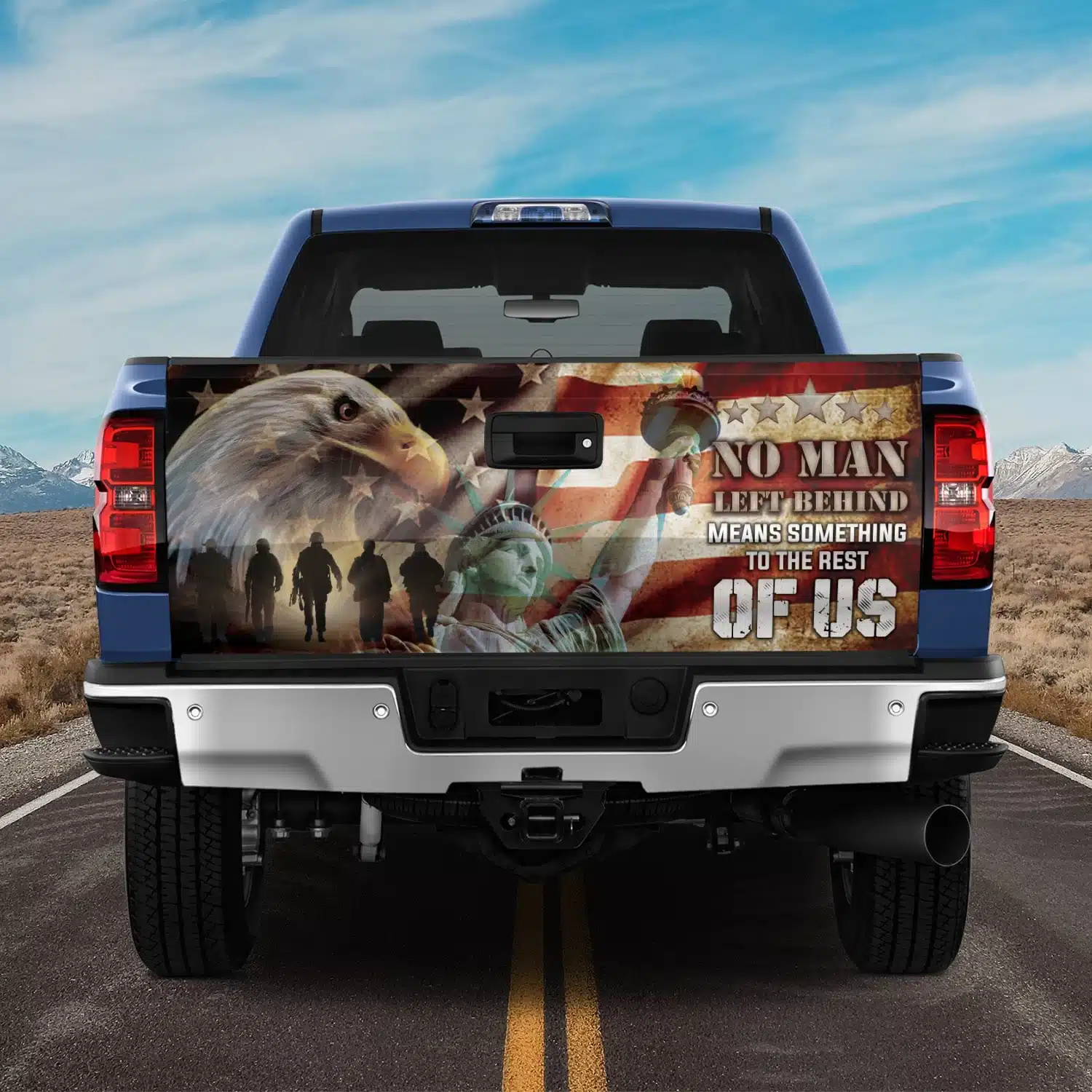 20. Veterans Day 2023 Gifts: Washable Reusable Face Mask
A face mask becomes more than a protective shield; it's a statement of care, of responsibility towards oneself and others. This Veteran Day, gifting a washable, reusable mask is an act of love and respect. Its significance lies in its role in safeguarding health, allowing veterans to continue their journey with confidence. This mask is reusable and machine washable, making it a sustainable choice for everyday use. It's a practical and thoughtful gift that promotes both safety and comfort.
In today's world, a face mask is a symbol of care and consideration. By gifting a washable, reusable mask, you're not only providing a practical item but also showing that you value the health and well-being of your loved ones on Veterans Day 2023.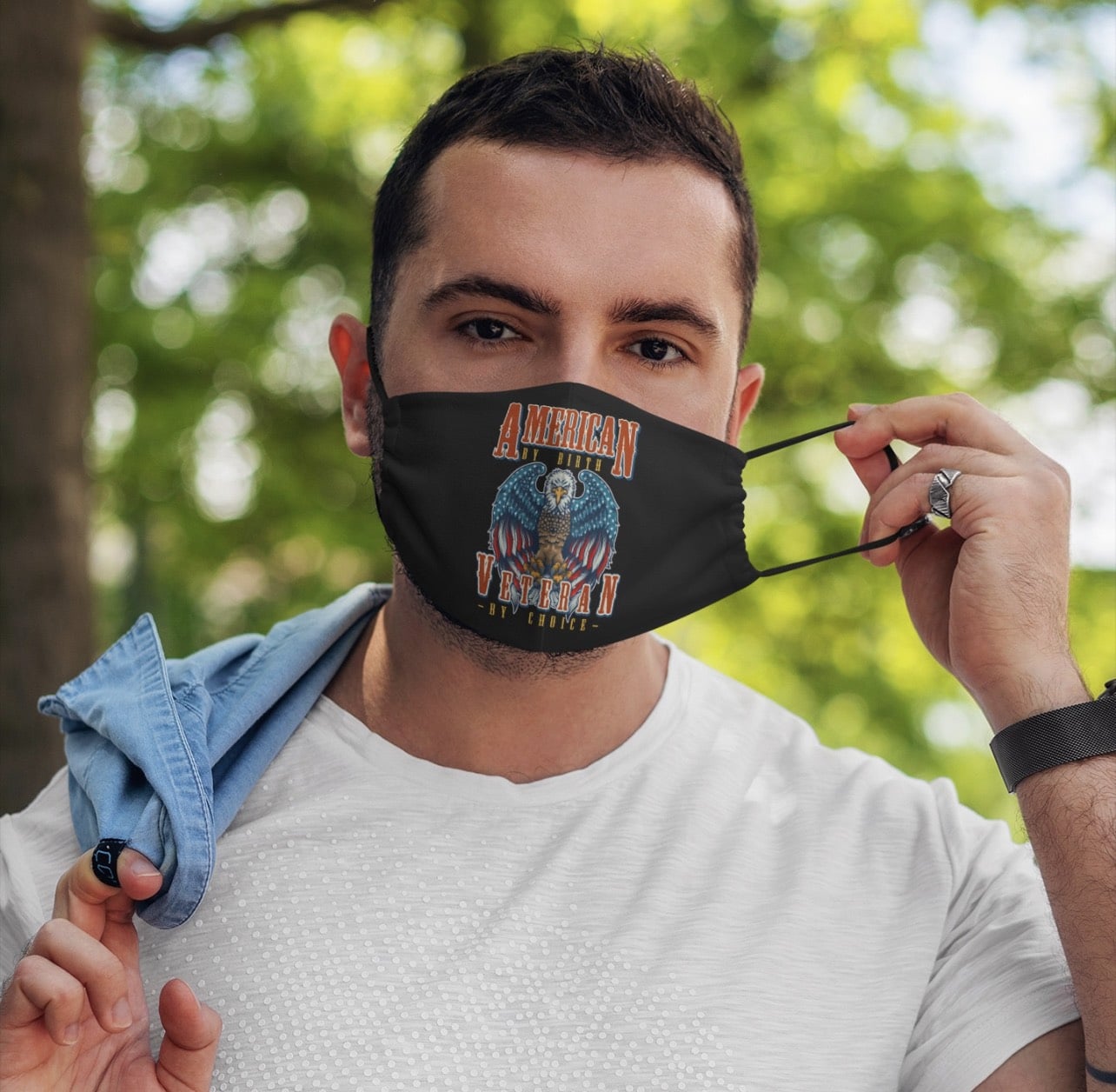 Conclusion
In exploring these carefully curated gifts for Veterans Day 2023, we've uncovered a diverse range of meaningful options, each carrying its own special significance. From personalized keepsakes to practical wellness items, each gift embodies a tribute to the courage, sacrifice, and unwavering dedication of our veterans. May this Veterans Day be a moment of reflection, remembrance, and heartfelt acknowledgment for all the brave men and women who have selflessly served our nation. Let your chosen gift be a symbol of the respect and admiration you hold for their remarkable contributions.
The editorial team at Cubebik Blog is a group of dedicated individuals with a passion for words and a commitment to quality. They work tirelessly to ensure that every article is well-researched, informative, and error-free.