Bridesmaid gift boxes are an ideal choice to show appreciation to your leading ladies and create lasting memories of your special day.
Are you planning your wedding and searching for the perfect way to express your gratitude to your bridesmaids? Look no further! Bridesmaid gift boxes are an ideal choice to show appreciation to your leading ladies and create lasting memories of your special day. These thoughtfully curated gift boxes are not only a token of appreciation but also a way to celebrate the unique bond you share with each of your bridesmaids. In this article, we will explore the charm and significance of unforgettable unique bridesmaid gift ideas and boxes that will make your destination wedding each day even more remarkable.
The Significance of Bridesmaid Gift Boxes
Bridesmaid gift boxes hold great significance in recognizing the dedication and love of your bridesmaids. These thoughtfully curated gifts go beyond material items and serve as tokens of appreciation, symbolizing the memories and bonds created throughout the wedding journey. By presenting your bridesmaids with gift boxes, you convey your gratitude and ensure that their contributions are remembered for years to come.
How to Create Your Bridesmaid Gift Boxes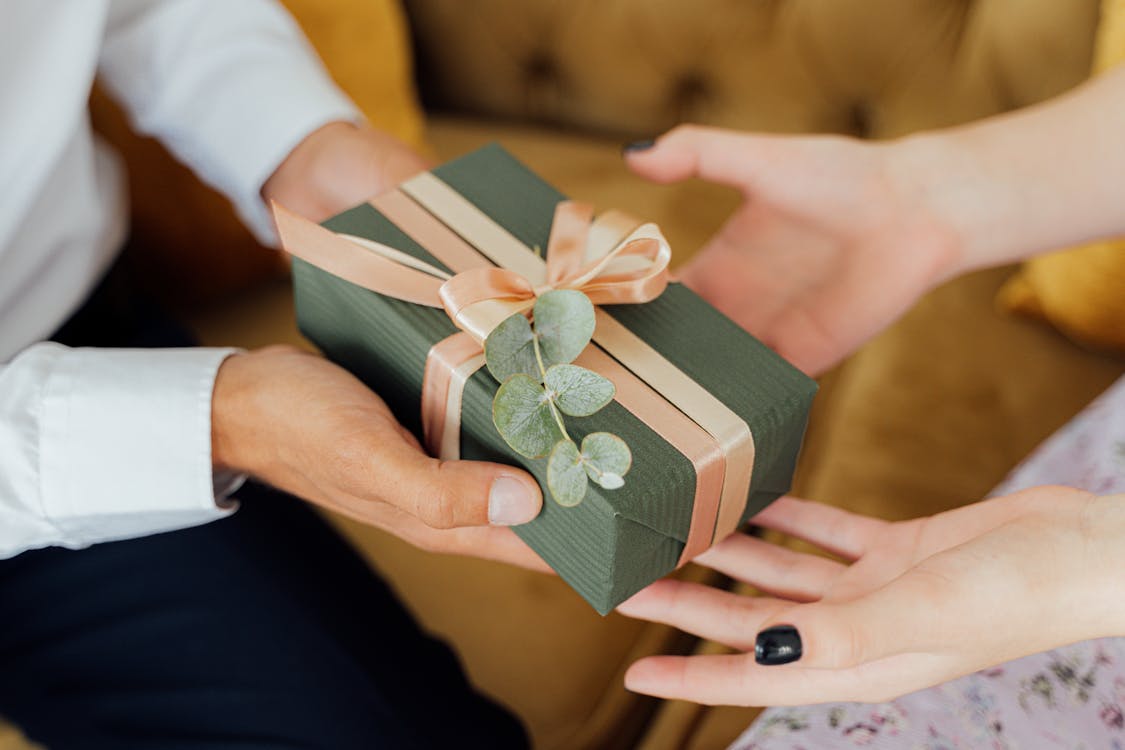 Set a Budget
Before starting the creation process your unique gift idea, establish a budget that suits your financial constraints. This will help you make informed decisions about the contents and packaging of the gift boxes.
Consider Personal Preferences
Take into account the individual preferences and tastes of your bridesmaids. Think about their hobbies, interests, and personal styles when selecting the items for their gift boxes. This personalized approach will make the gifts more meaningful and appreciated.
Choose a Theme
Select a theme that aligns with your wedding style and the personalities of your bridesmaids. This will create a cohesive look and feel for the gift boxes and make them more visually appealing.
Must-Have Items: Curating the Perfect Gift Box
When selecting items for your bridesmaid gift boxes, it's essential to consider the must-haves that will make the experience memorable. Some popular choices include beauty and skincare products, stylish accessories, scented candles, and gourmet treats. These items will not only pamper your bridesmaids but also make them feel special on your wedding day.
Select Meaningful Contents
Fill the gift boxes with items that hold sentimental value or are useful to your bridesmaids. Consider their favorite scents, colors, and activities when choosing the contents. This thoughtful selection will demonstrate your understanding and appreciation for their individuality.
Personalize the Packaging
Add a personal touch to the gift boxes by customizing the packaging. You can include handwritten notes, personalized labels, or even the bridesmaids' names engraved on the boxes. This attention to detail will make the bridesmaids gifts feel even more special and unique.
Where to Find Unique Bridesmaid Gift Boxes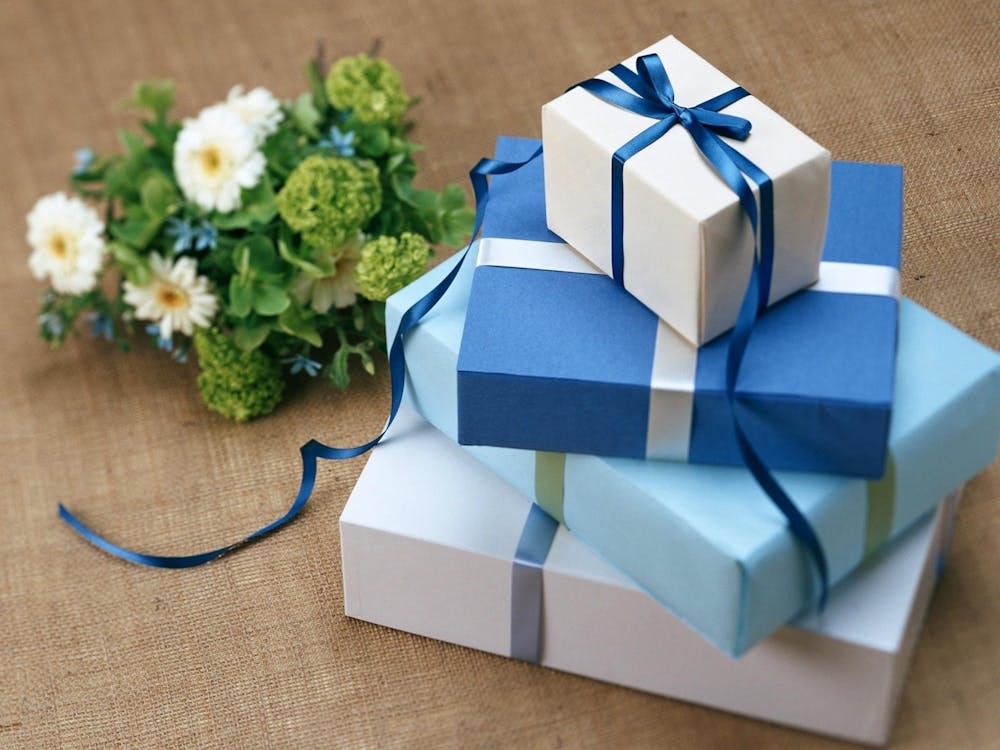 If you're short on time or prefer a hassle-free option, numerous online platforms offer a wide variety of unique bridesmaid gifts and gift boxes. Amazon: The world's largest online marketplace offers a wide selection and reliable service.
Amazon: The world's largest online marketplace offers a wide selection and reliable service.
Etsy: Discover handcrafted and personalized options from independent artisans.
UncommonGoods: Find sustainable and distinctive gifts that align with your values.
Minted: Explore premium and customizable bridesmaid gift boxes.
These platforms provide convenience and a plethora of choices, allowing you to find the perfect gifts for your bridesmaids from the comfort of your own home. Be sure to read reviews and check the credibility of the platform before making a purchase.
Personalized Jewelry: A Timeless Gesture
Personalized jewelry gift for bridesmaids is a classic and elegant choice. From engraved bracelets and necklaces to monogrammed earrings, these pieces can be customized with initials, names, or meaningful symbols. Each time your bridesmaids wear their personalized jewelry, they'll be reminded of your special bond and the cherished memories you've created together.
Engraved Initial Necklace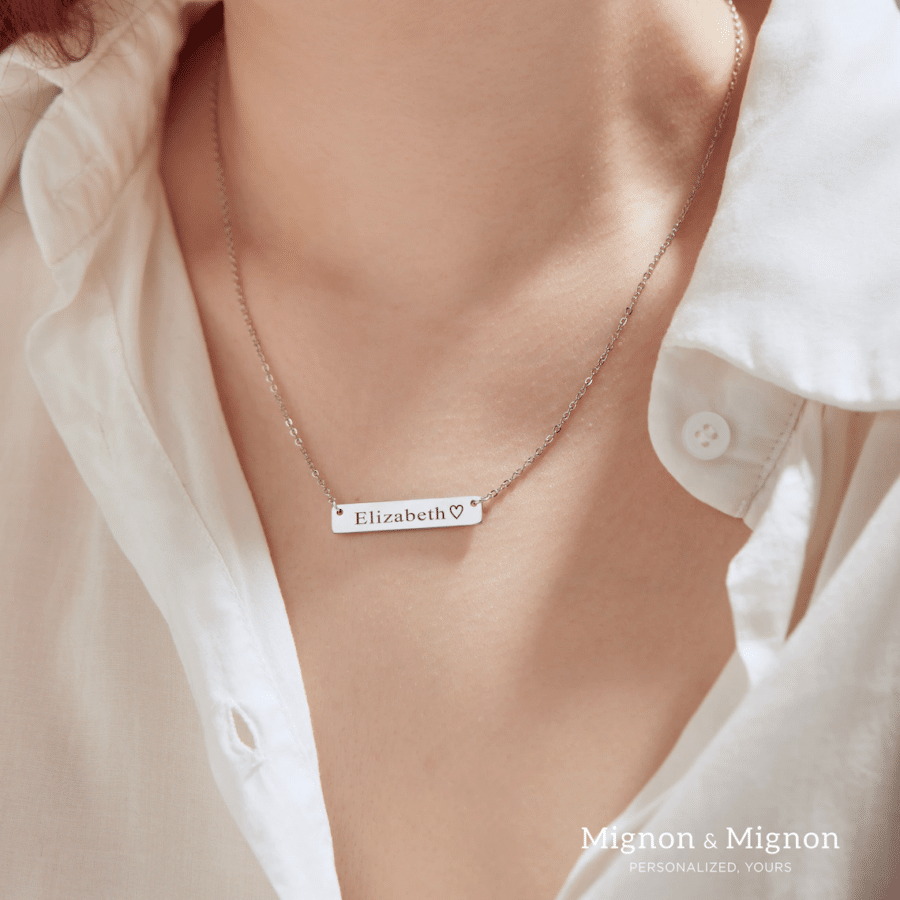 This bridesmaid necklace gifts features a pendant in the shape of your bridesmaids' initials, beautifully engraved in a font of your choice. Crafted with high-quality materials, it serves as a timeless piece that can be worn every day or on special occasions, symbolizing the unique bond you share.
Monogrammed Charm Bracelet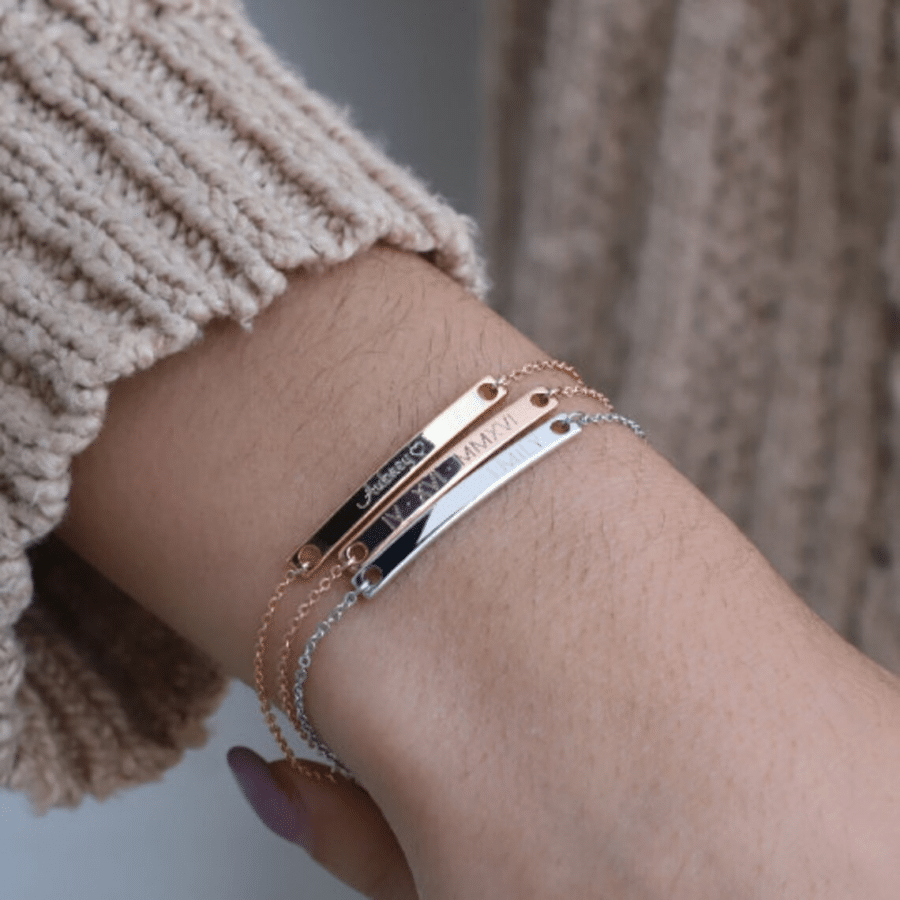 This elegant charm bracelet showcases personalized monogram charms, crafted with intricate details. Each charm represents a bridesmaid's initials and can be customized with their preferred metal finish. It's a sophisticated accessory that adds a touch of personalization and style to any outfit.
Birthstone Stud Earrings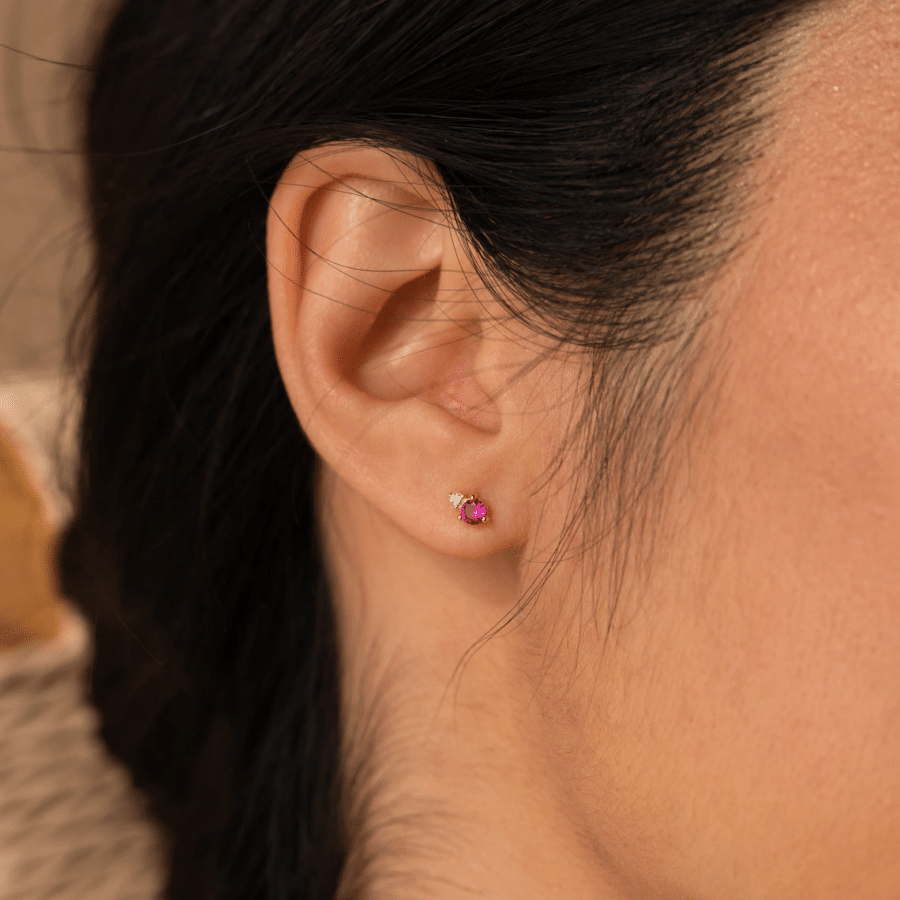 These stunning stud earrings feature the birthstone of each bridesmaid, adding a personal touch to their jewelry collection and wedding event. The gemstones are carefully selected to reflect their birth month, creating a meaningful and cherished gift that celebrates their individuality.
Spa and Pampering Sets: Indulge and Relax
After all the hustle and bustle of the wedding planning process, your bridesmaids deserve some pampering. Spa and pampering sets are perfect for creating a relaxing and indulgent experience. Consider putting together a curated box filled with scented candles, bath bombs, luxurious body lotions, and face masks. This thoughtful, gift idea will allow your bridesmaids to unwind and rejuvenate after the wedding festivities.
Luxurious Bath Gift Set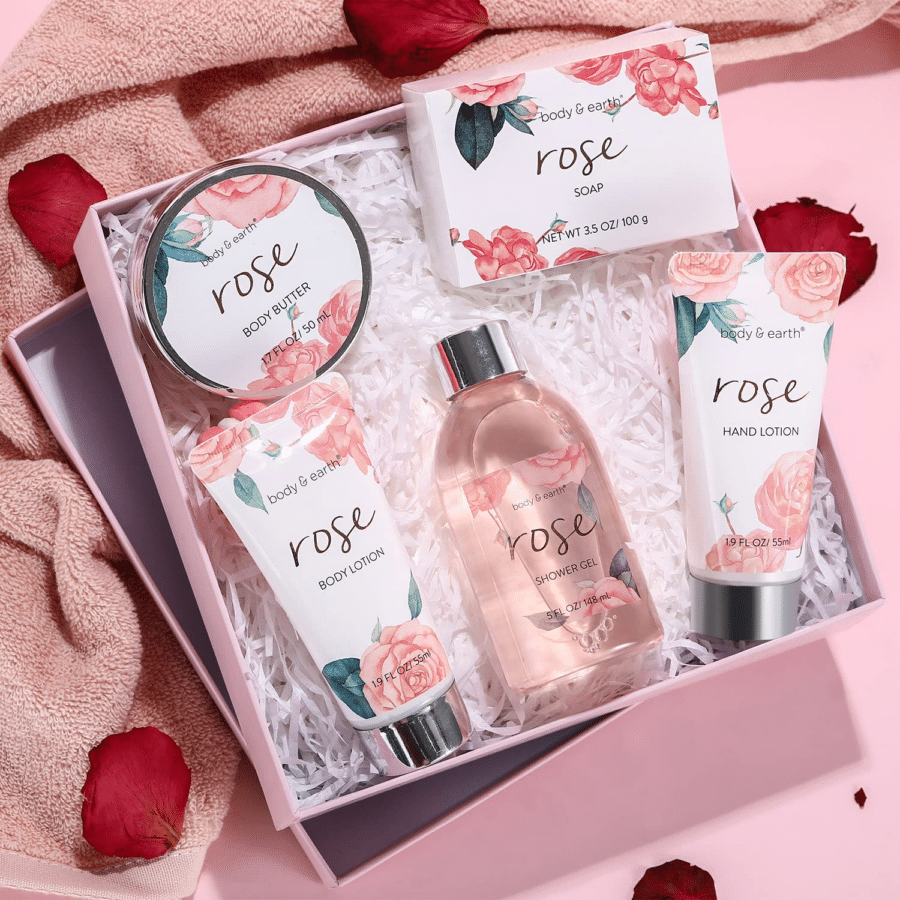 Treat your bridesmaids to a spa-like experience with a luxurious bath gift set. It includes fragrant bath oils, foaming bath bombs, and velvety body lotions. Designed to provide relaxation and rejuvenation, this set allows them to create a tranquil oasis in the comfort of their own homes.
Scented Candle Collection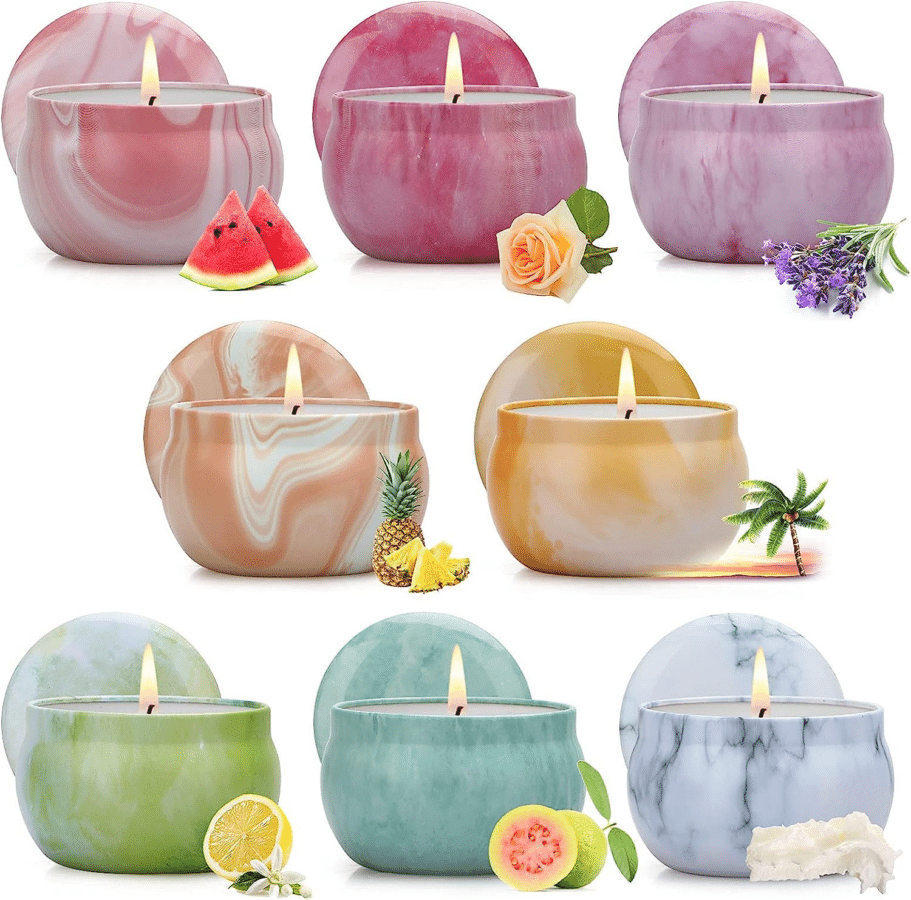 Help your bridesmaids unwind and create a soothing ambiance with a scented candle collection. These beautifully crafted candles feature a variety of calming fragrances, such as lavender, rose gold vanilla, and jasmine. As they light the candles, the gentle flickering flame and enchanting scents will transport them to a state of pure bliss.
Facial Spa Mask Kit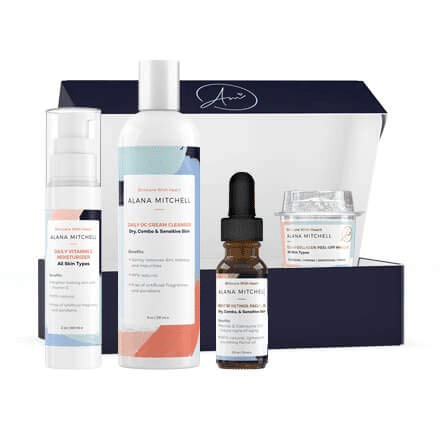 Give your bridesmaids the gift of glowing skin with a facial spa mask kit. This set includes a selection of high-quality face masks enriched with nourishing ingredients. From hydrating sheet masks to detoxifying clay masks, it provides a range of options to suit different skin types, ensuring a pampering experience that leaves their skin radiant and refreshed.
Thoughtful Keepsakes: Memories to Treasure
Keepsakes are a wonderful way to commemorate your wedding day. Consider gifting your bridesmaids personalized photo frames, engraved trinket dishes, or custom-made scrapbooks filled with pictures and heartfelt messages. These thoughtful keepsakes will be treasured for years to come and serve as a constant reminder of the special role they played in your wedding.
Personalized Photo Frame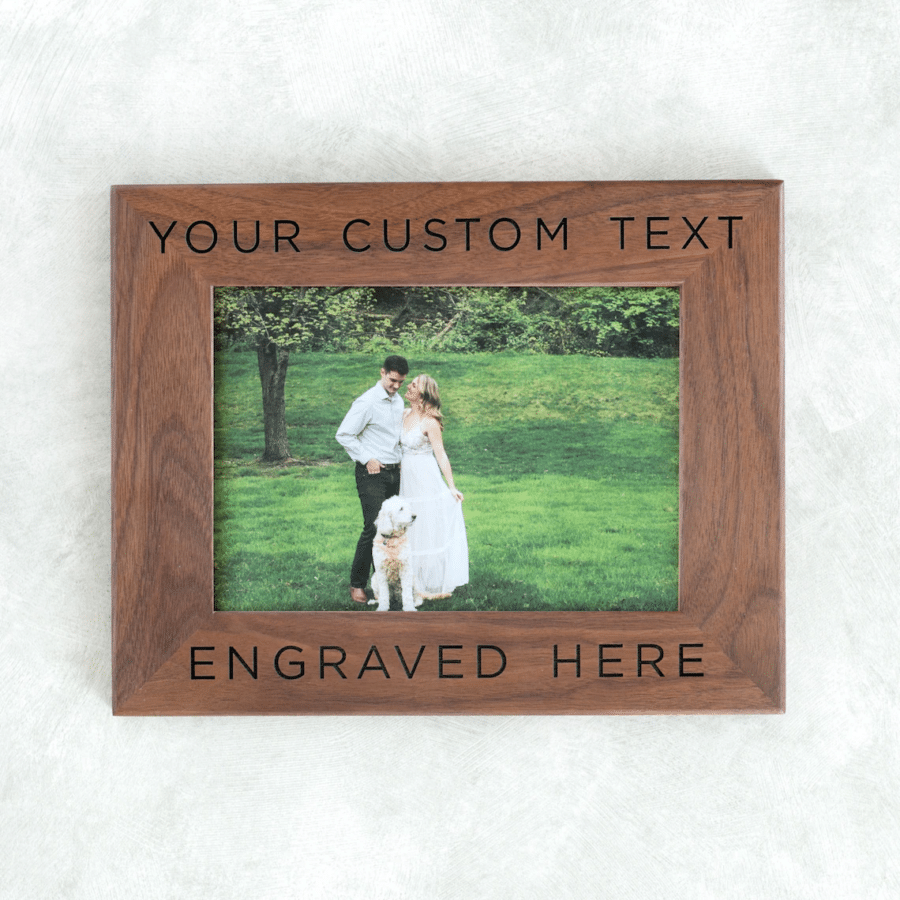 Capture a special moment shared with each bridesmaid by gifting them a personalized photo frame. Engraved with their name and the date of your wedding, this beautifully designed frame provides a perfect display for a cherished photo. It serves as a constant reminder of the bond you share and the memories you've created together.
Engraved Trinket Dis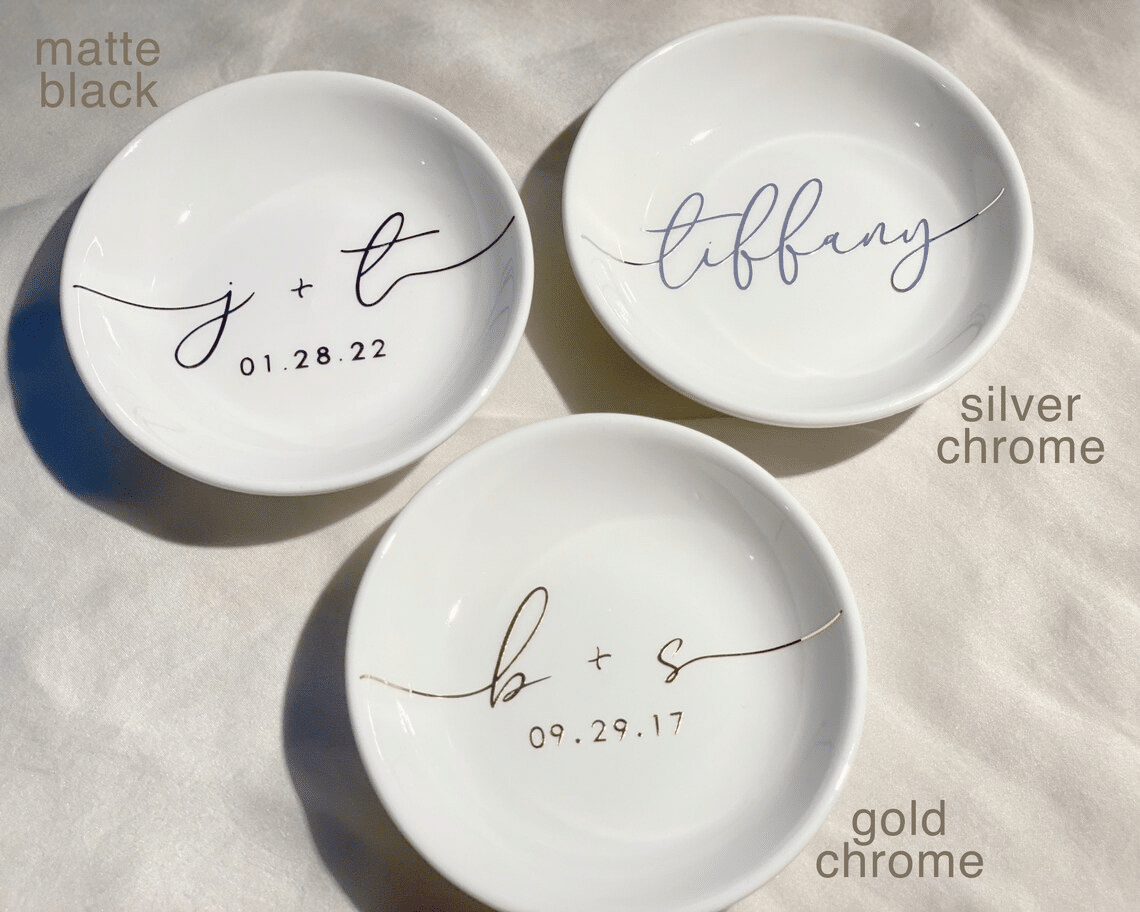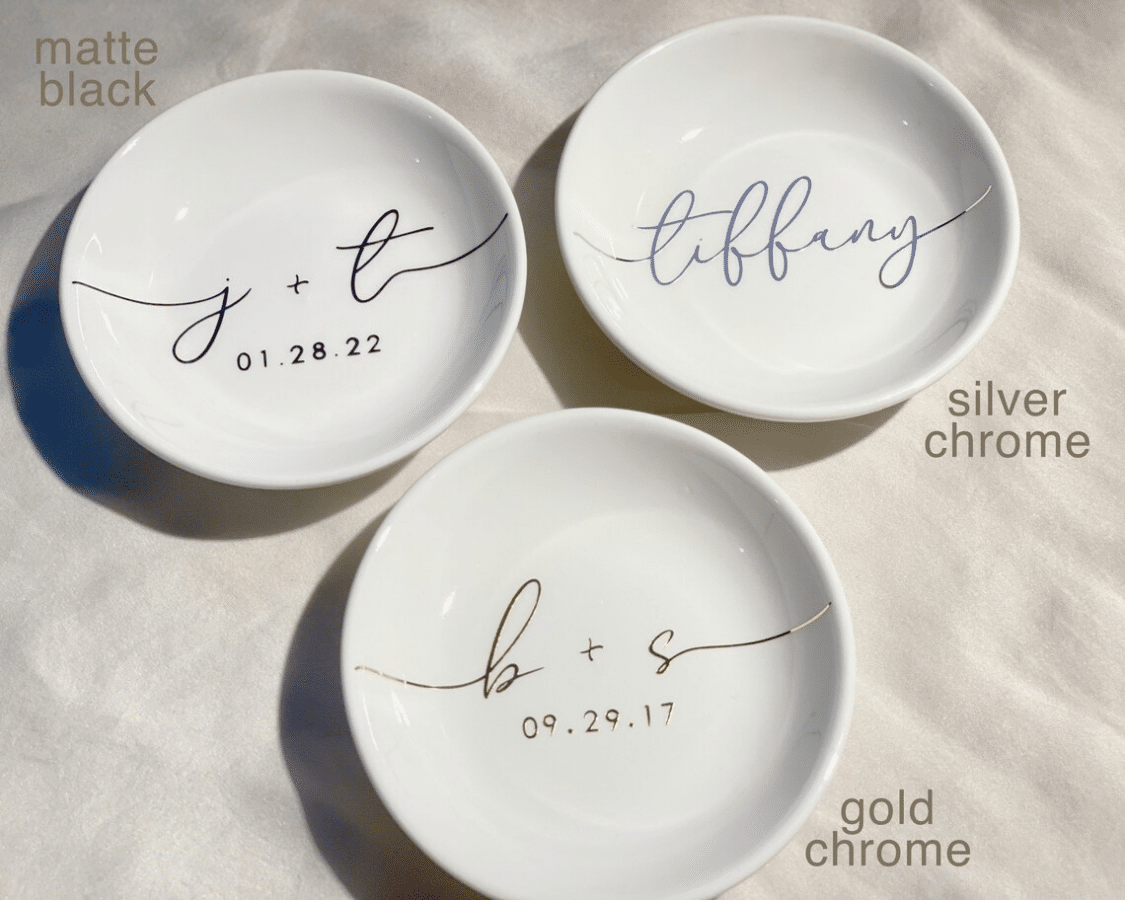 Delight your bridesmaids with an engraved trinket dish, a stylish and functional keepsake. These exquisite dishes can hold jewelry, small mementos, or daily essentials like keys or rings. The personalized engravings make each piece unique, showcasing your appreciation for their presence in your wedding and their ongoing friendship.
Custom-Made Scrapbook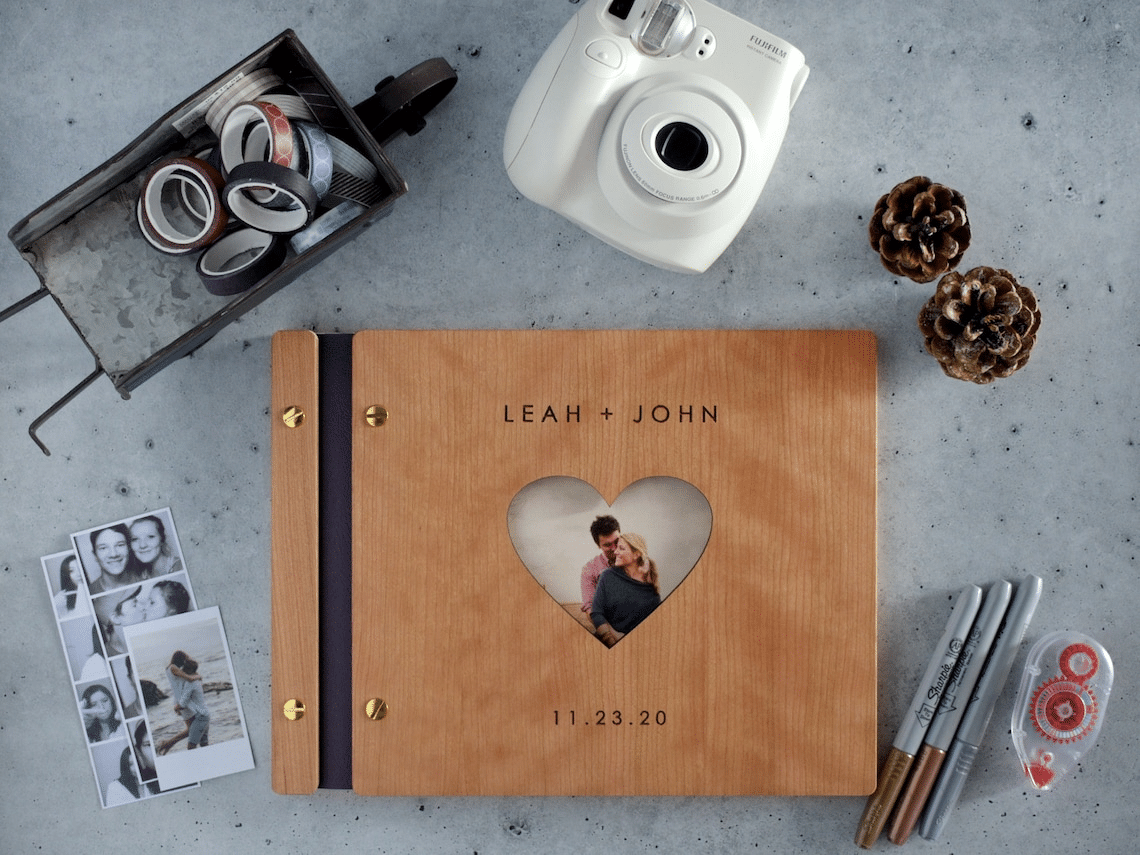 Create a custom-made scrapbook for personalized bridesmaid gifts filled with photos, handwritten notes, and mementos that highlight the special moments you've shared with each bridesmaid. This heartfelt gift allows you to reminisce about your journey together, capturing the laughter, tears, and joy that made your friendship so meaningful. It's a keepsake that they can treasure for years to come, reminding them of your bond and the love you have for one another.
Customized Wine or Champagne Boxes: Toast to Friendship
Raise a glass and toast to your friendship with customized wine or champagne boxes. Select their favorite bottle and present it in a beautifully personalized wooden box. You can engrave their names, the wedding date, or a heartfelt message on the box. This gift allows your bridesmaids to celebrate and reminisce on your special day whenever they choose to uncork the bottle.
Personalized Wine Crate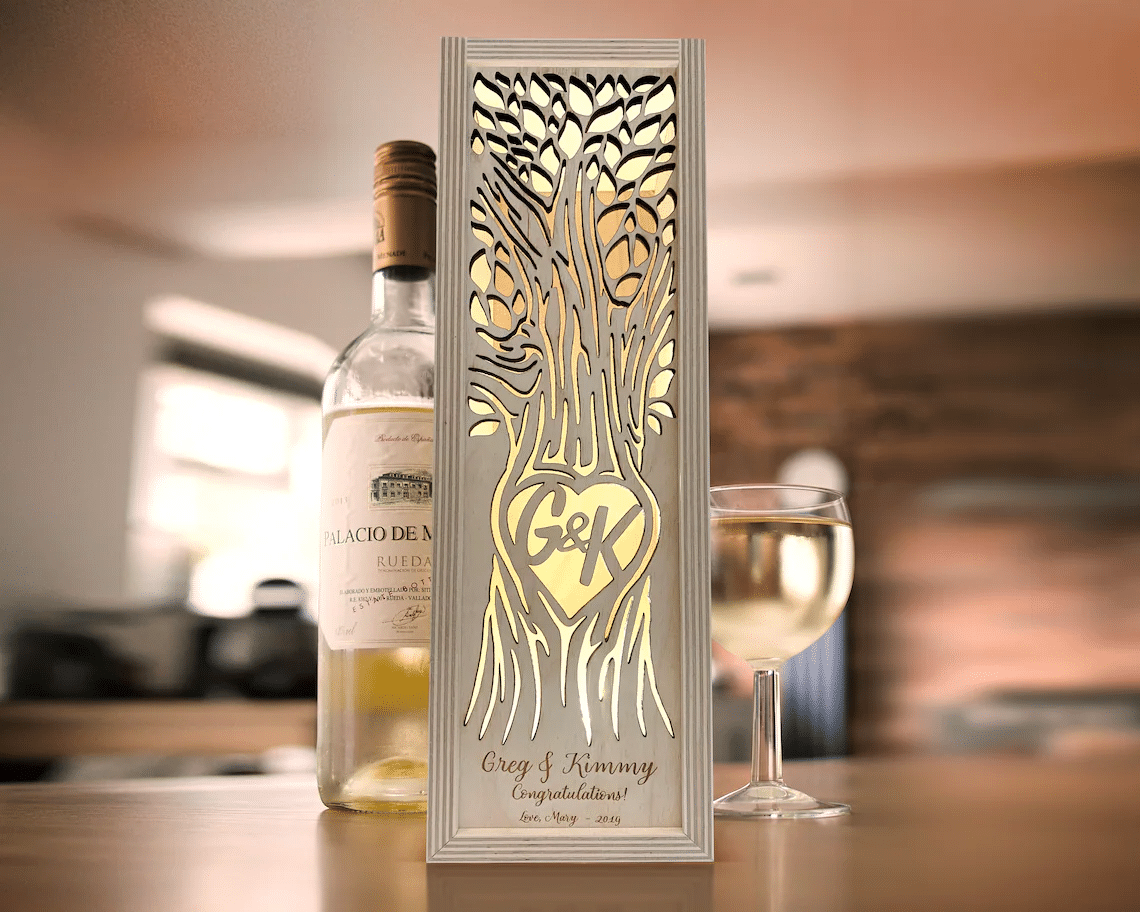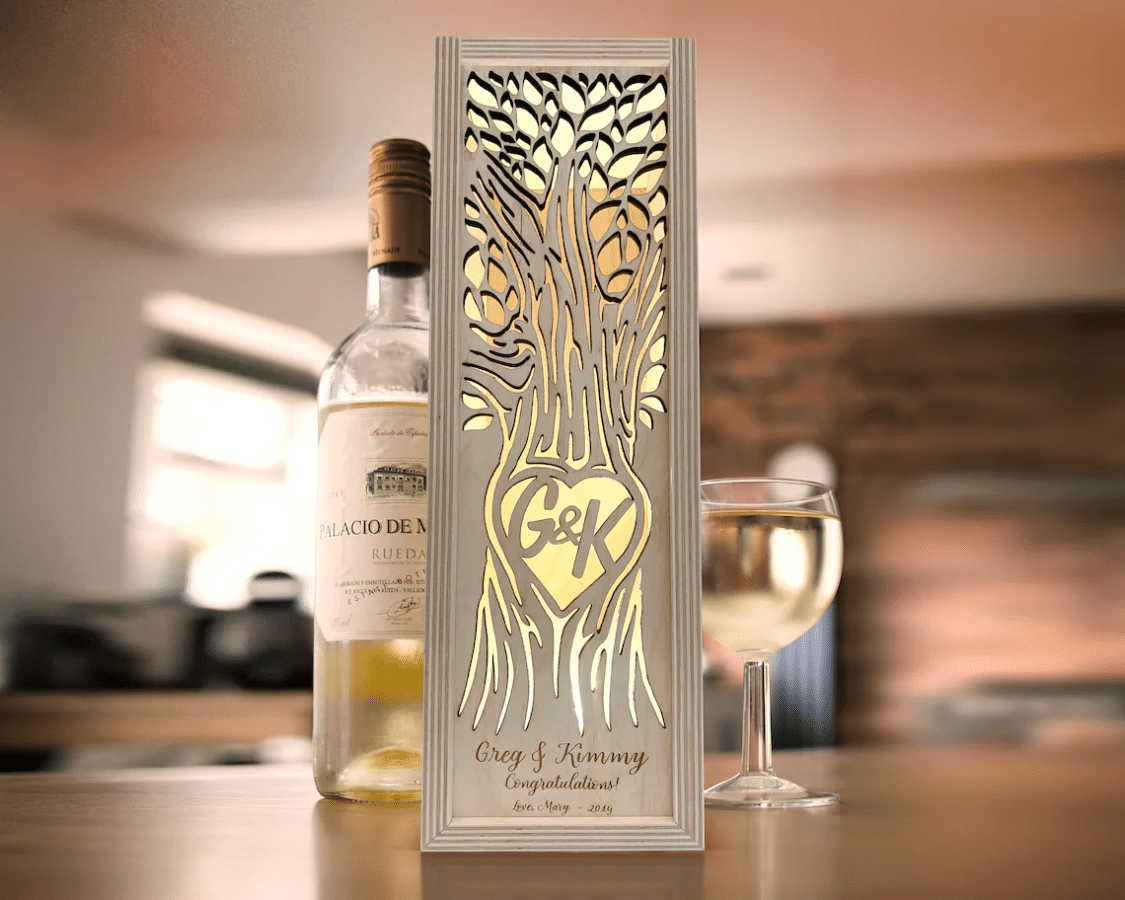 A wooden crate engraved with names or a special message to hold their favorite bottle of wine or champagne, creating a personalized and memorable gift.
Engraved Champagne Flutes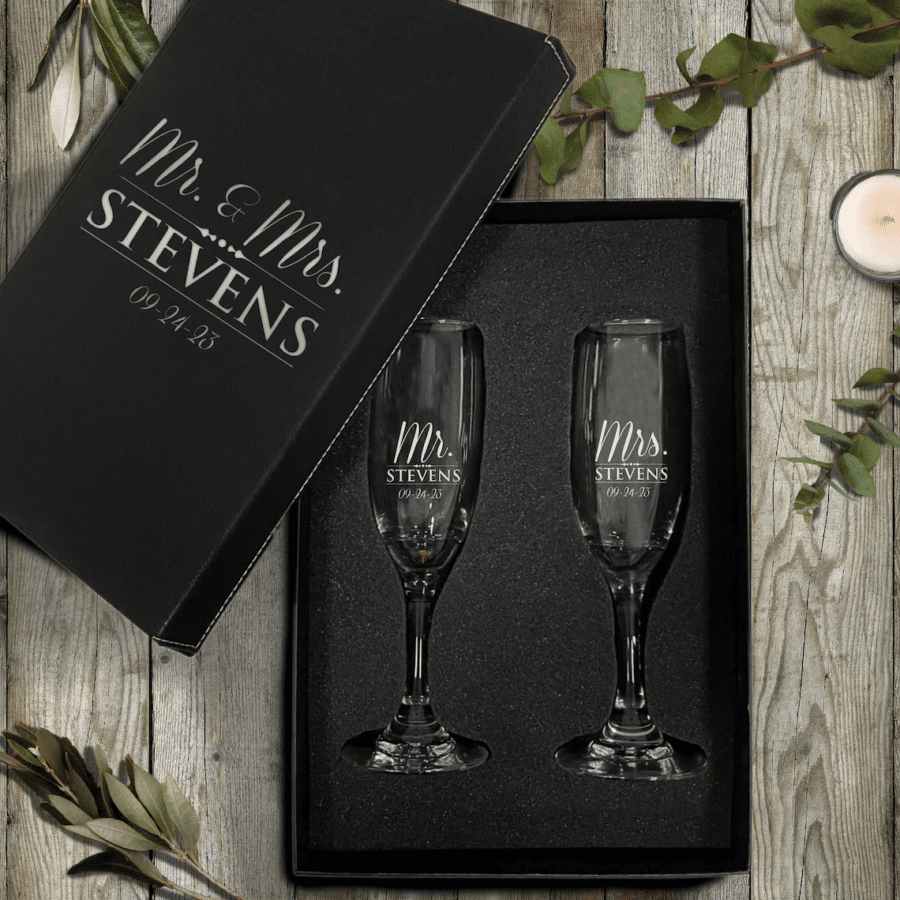 Exquisite champagne flutes with personalized engravings, adding elegance to special celebrations and serving as a reminder of cherished moments.
Custom Wine Labels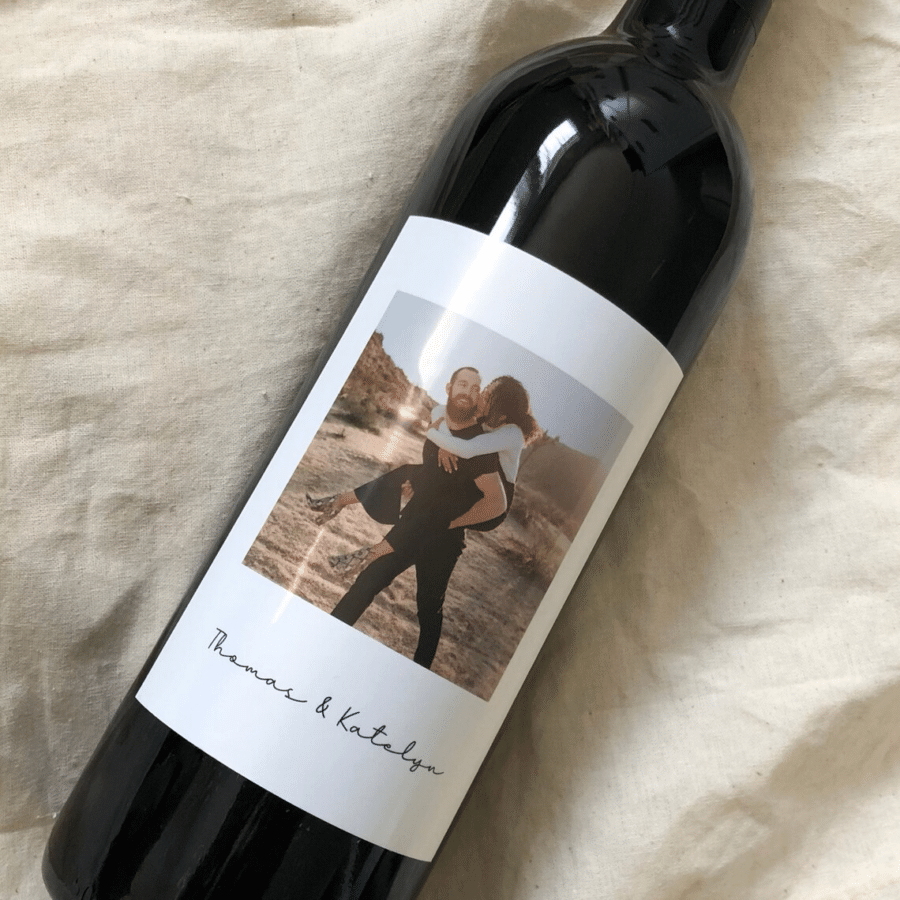 Personalized wine labels featuring names or heartfelt messages, enhancing the sentimental value of their favorite bottles of wine.
Self-Care and Wellness Kits: Nurture the Soul
Encourage self-care and wellness by gifting your bridesmaids curated self-care kits. These kits can include items such as essential oils, bath salts, journals, and relaxation teas. Show your bridesmaid a great gift idea and appreciation by prioritizing their well-being and providing them with the tools to relax, reflect, and recharge.
Relaxation Gift Box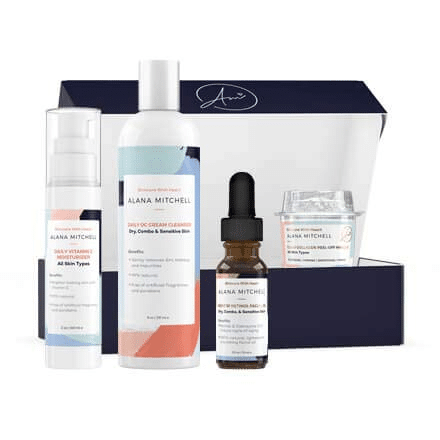 A curated box filled with scented candles, bath bombs, plush robes, and soothing face masks, providing a pampering and rejuvenating experience.
Wellness Essential Oils Set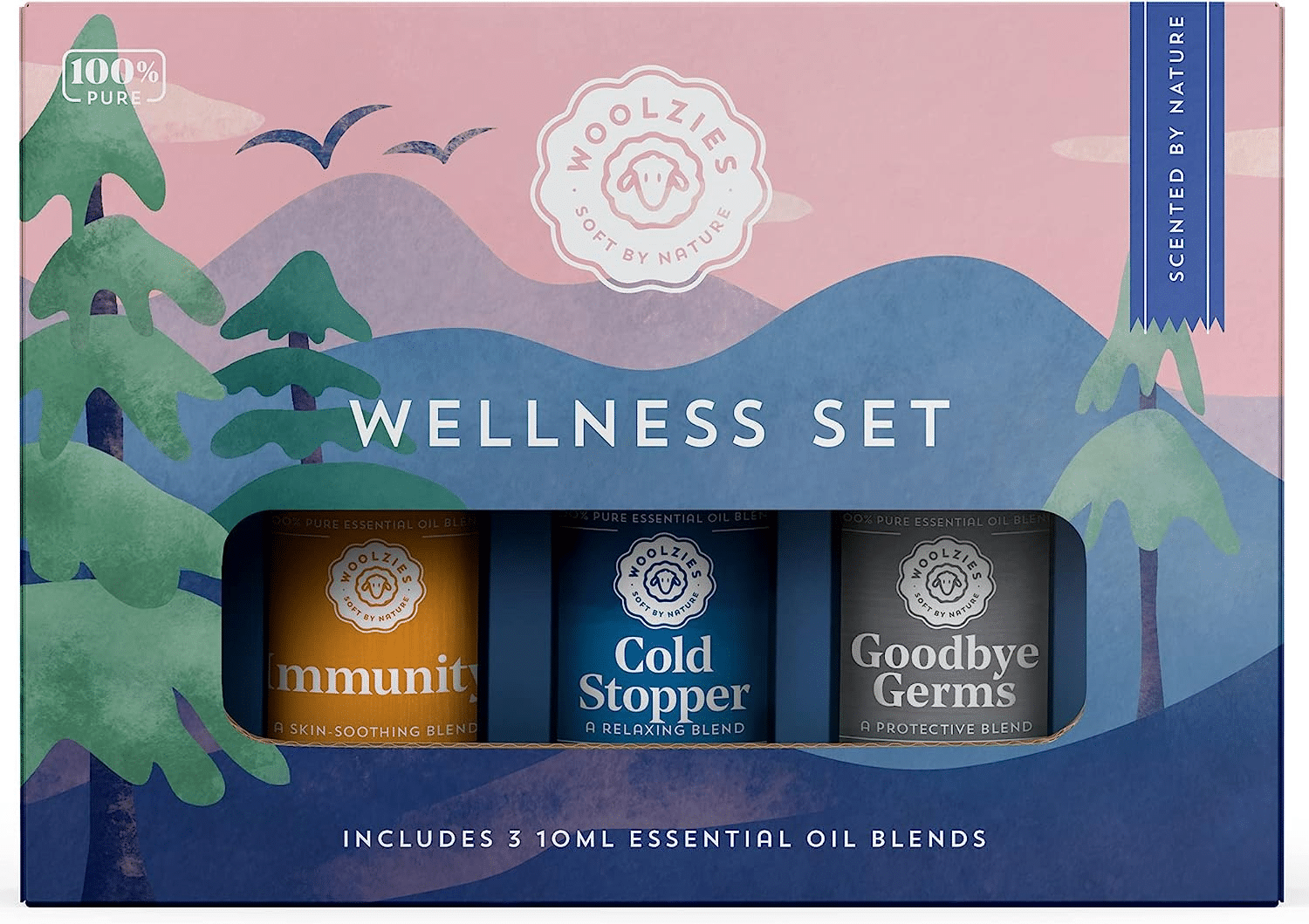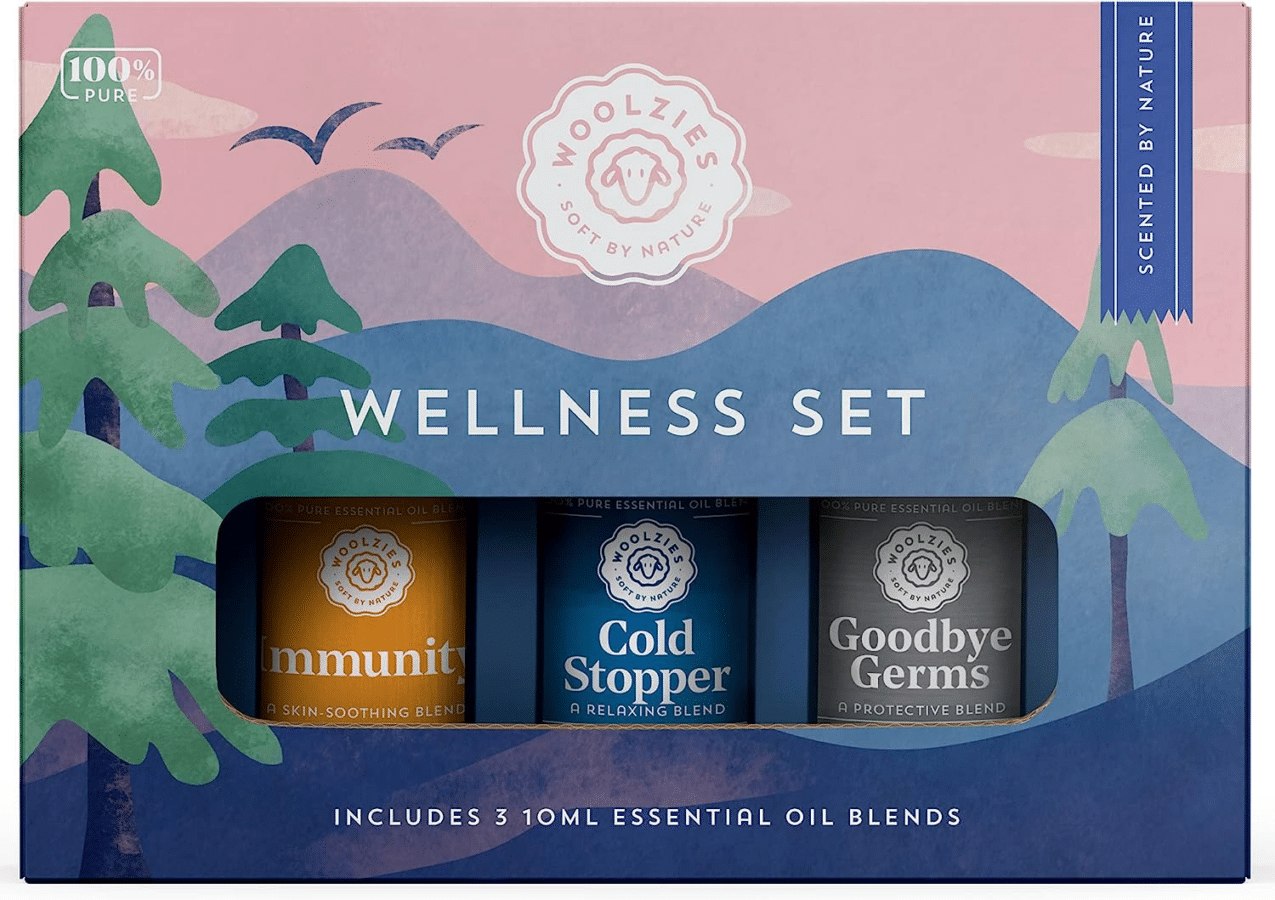 A combination of a wellness essential oils to encourage self-reflection, gratitude, and relaxation.
Meditation and Mindfulness Kit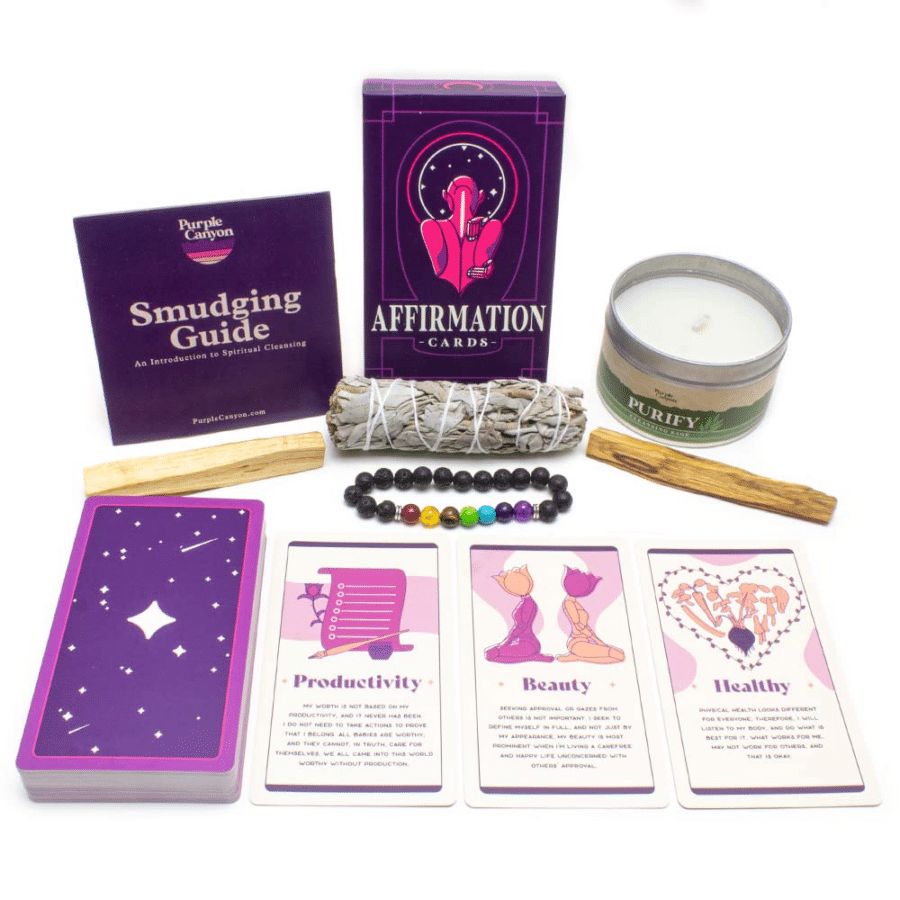 A kit including a meditation cushion, calming essential oil blend, guided meditation resources, and a mindfulness journal, promoting inner peace and well-being.
Practical and Most Useful Bridesmaid Gifts
Practical gifts can be both useful and stylish. Consider items like personalized tote bags, monogrammed travel accessories, or stylish cosmetic pouches. These gifts not only serve a purpose but also make a fashion statement. Your bridesmaids will appreciate the thoughtfulness and functionality of these gifts.
Personalized Tote Bag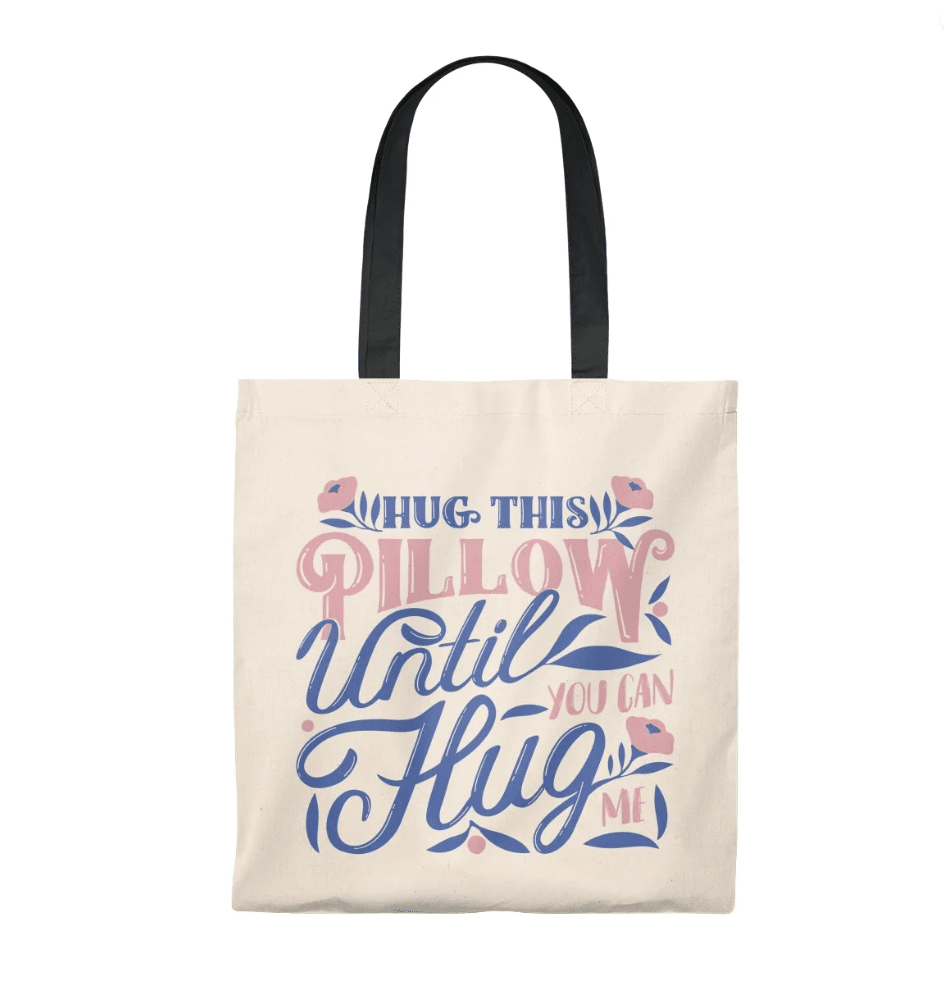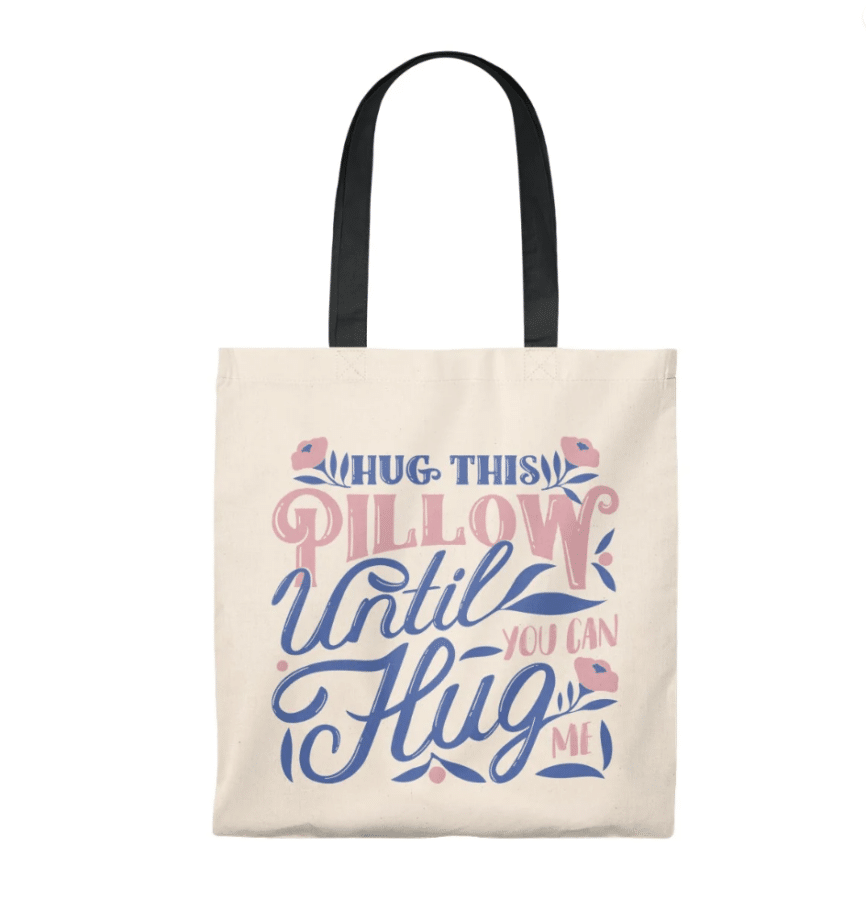 Stylish and functional tote bags personalized with names or initials, perfect for everyday use and carrying essentials.
Make up gifts Comb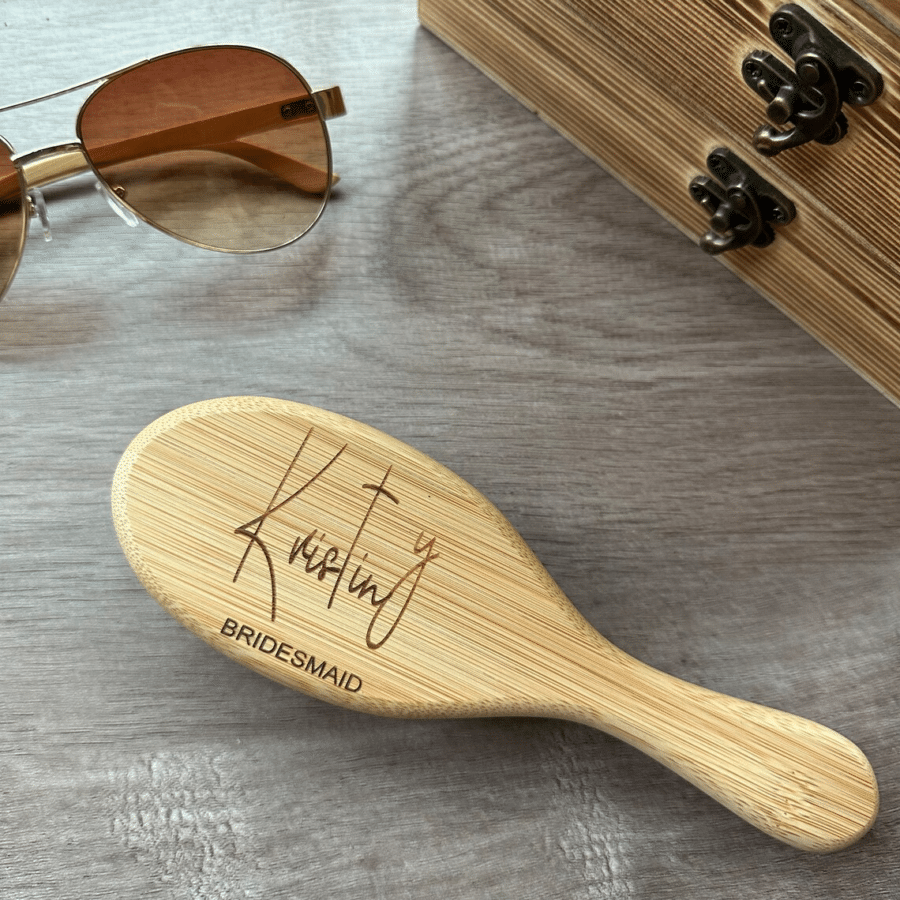 The Make-up Gifts Comb is a compact beauty tool that combines a comb and a mirror, ideal for quick touch-ups and styling on the go. Its portable design ensures you're always prepared to look your best, with smooth combing and a convenient mirror to check your appearance anywhere, anytime.
Parima Travel Jewelry Case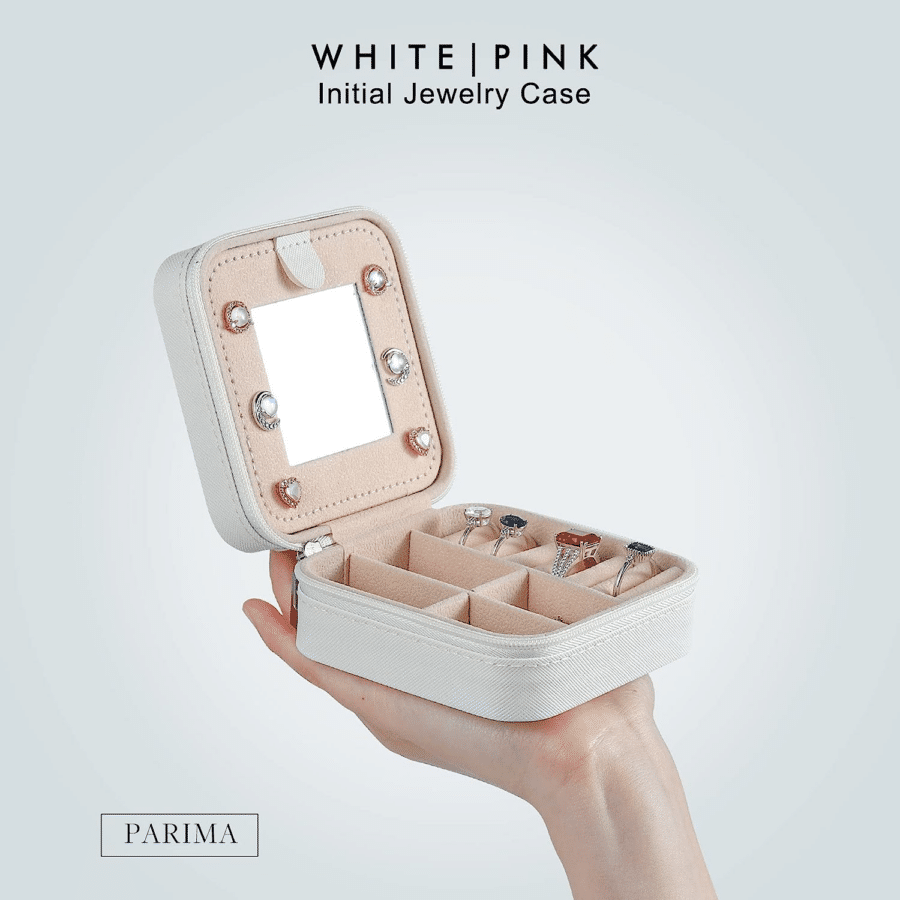 The jewelry boxes for women includes a sponge strip for rings, compartments with removable dividers, and an elastic pocket for necklaces. You can also keep small accessories such as lipsticks and watches.
Bridal Survival Kits: Be Prepared for the Big Day
Put together bridal survival kits for your bridesmaids to ensure they are well-prepared for the wedding day. Include items like stain removers, mini sewing kits, pain relievers, and snacks. These kits will come in handy during any unexpected mishaps and show your bridesmaids that you've thought of everything to make their day as stress-free as possible.
Emergency Stain Remover Pen: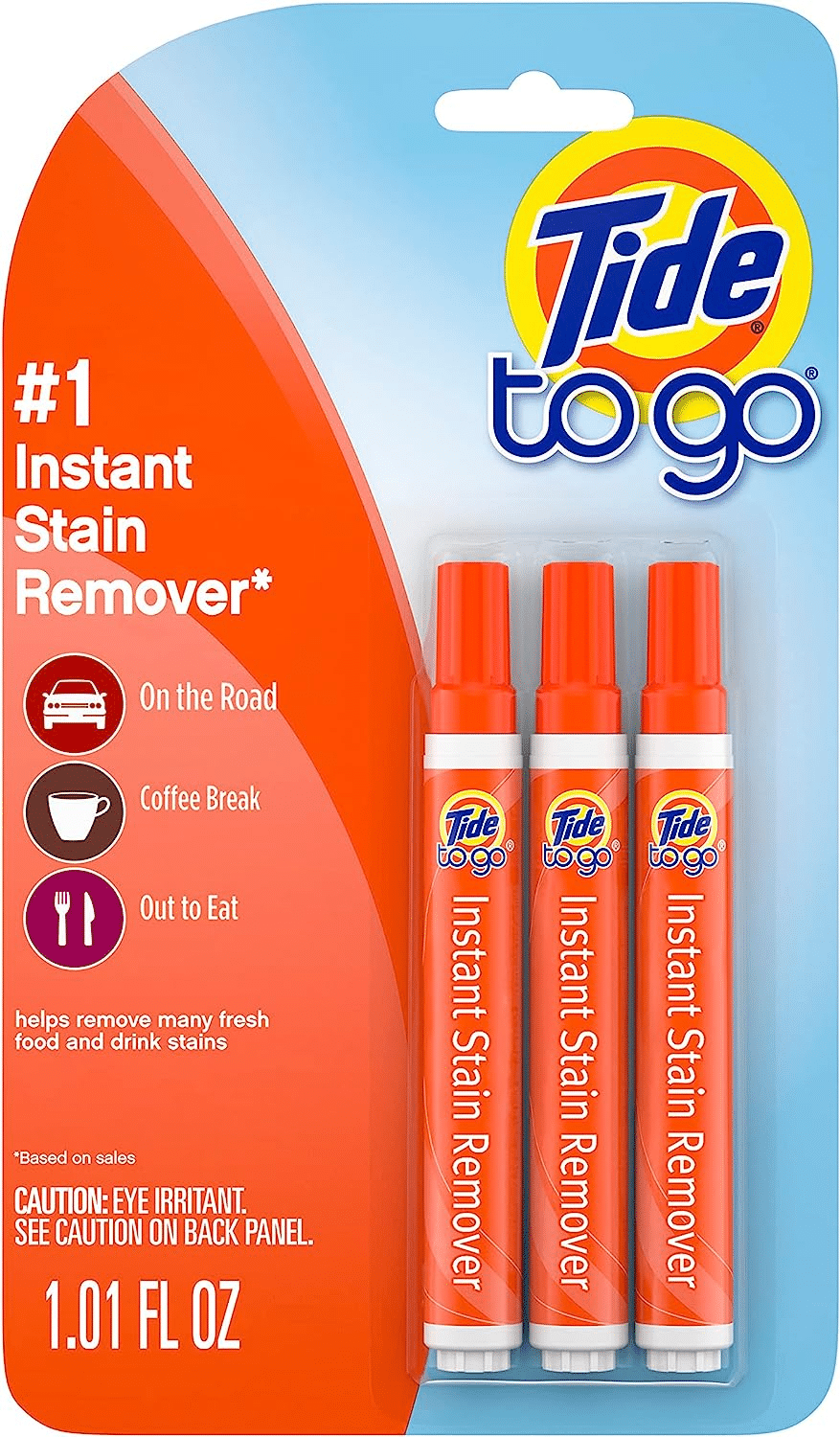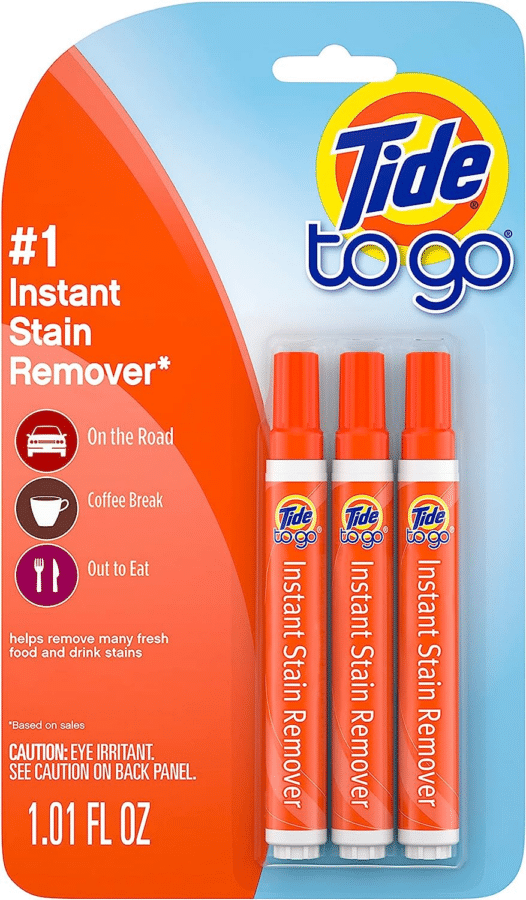 A compact and handy stain remover pen to tackle any accidental spills or stains, ensuring your bridesmaids' outfits stay pristine throughout the wedding day.
Mini Sewing Kit: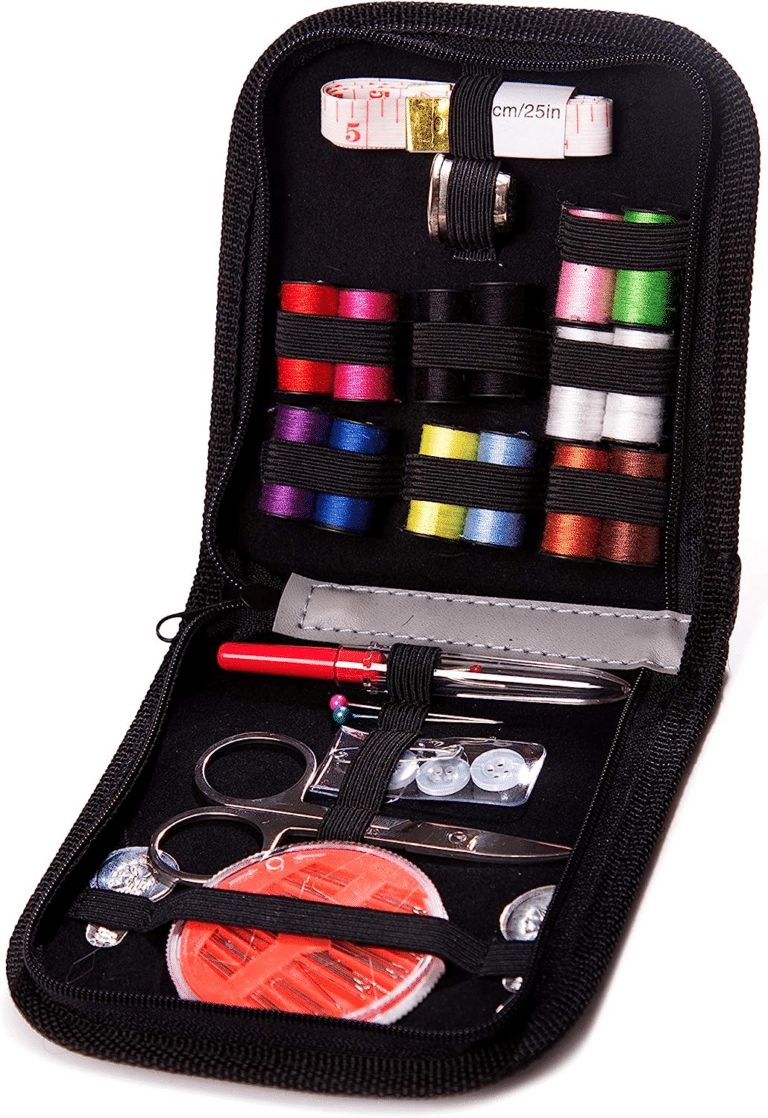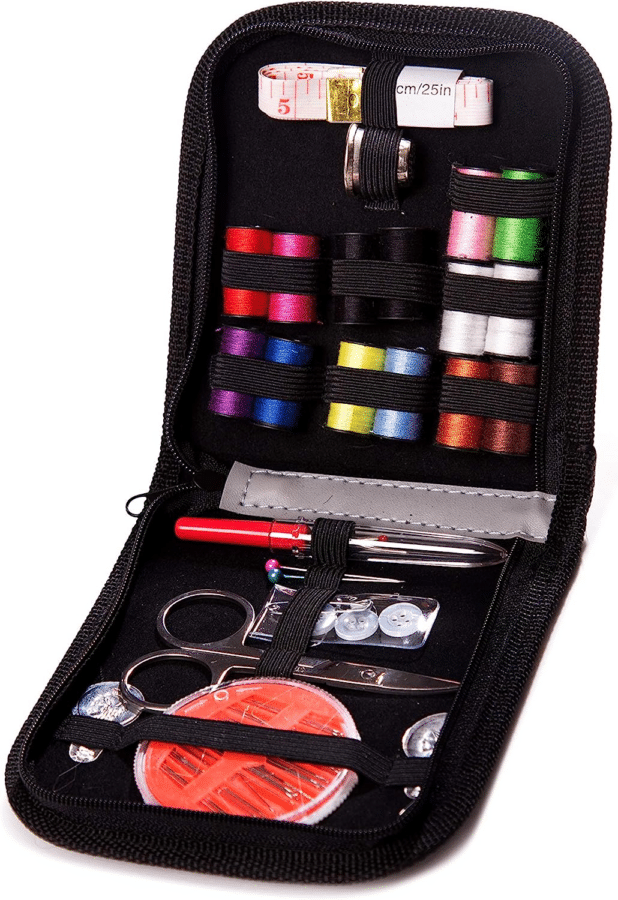 A portable sewing kit equipped with needles, threads, buttons, and safety pins, offering quick solutions for any wardrobe malfunctions or minor alterations.
Medical Survival Bag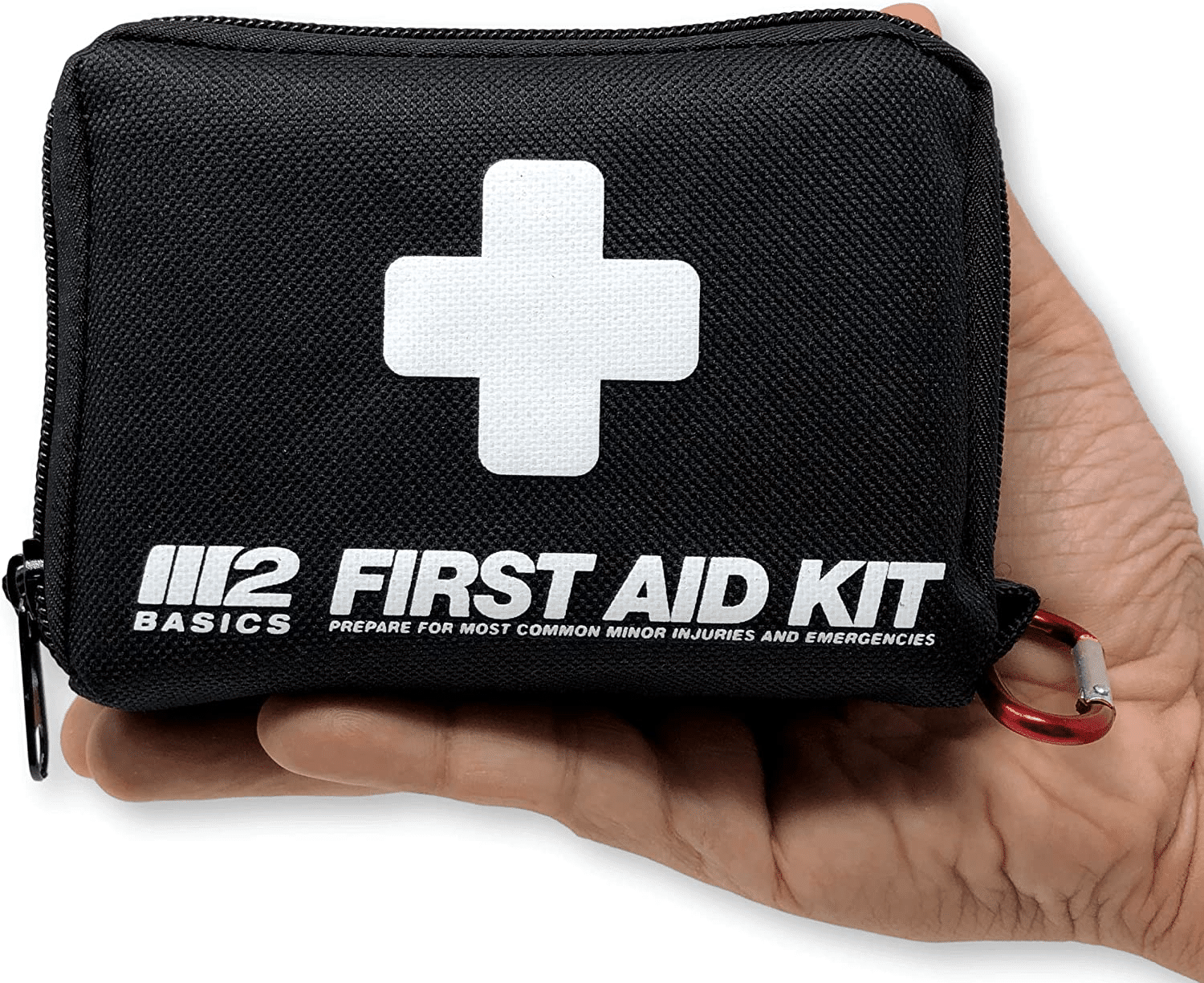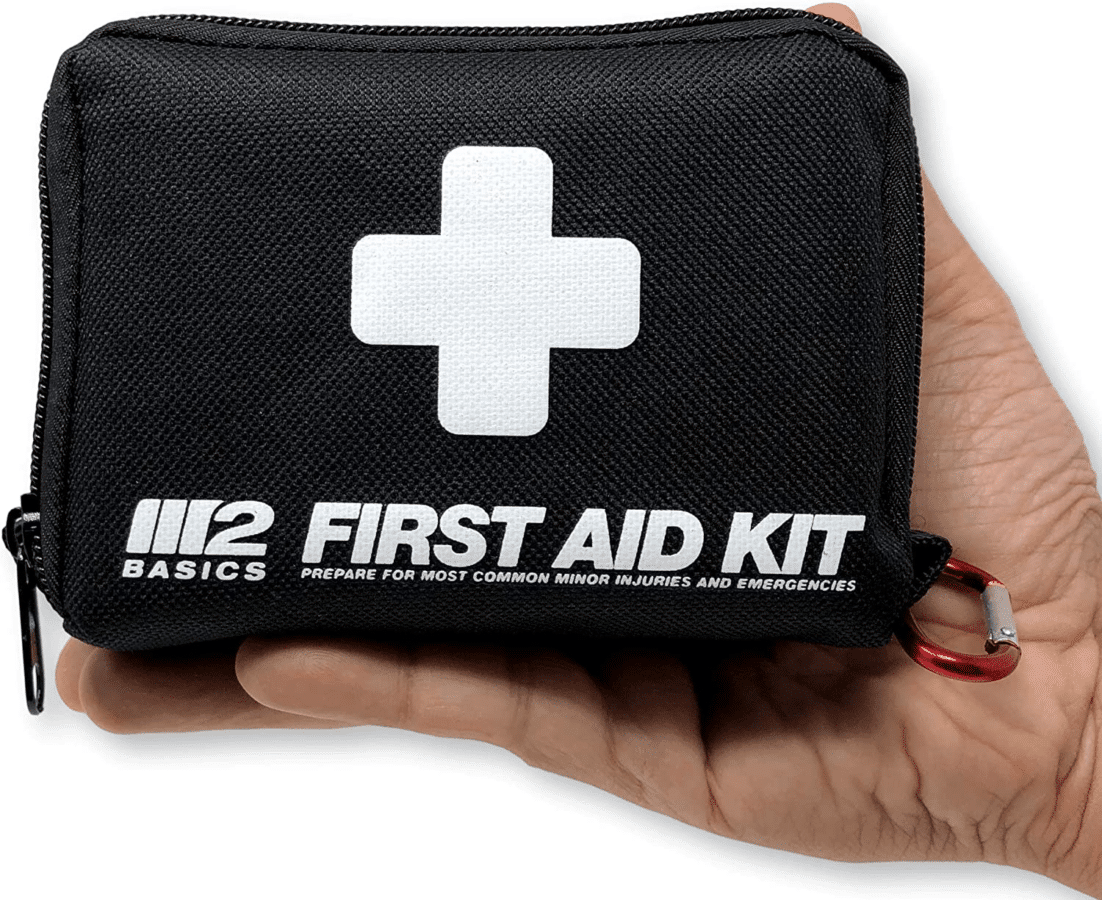 The Medical Survival Bag is a portable emergency kit filled with essential medical supplies to handle injuries and emergencies effectively. It includes bandages, antiseptic wipes, medications, and vital tools, ensuring you're prepared for unexpected medical situations and can provide immediate care.
DIY Bridesmaid Gift Ideas: Personal Touch and Creativity
Add a personal touch and unleash your creativity by crafting DIY bridesmaid gifts. Handmade items like custom scented candles, hand-painted mugs, or personalized jewelry holders are unique and heartfelt. Your bridesmaids will appreciate the time and effort you put into creating something special just for them.
Customized Glass Tumbler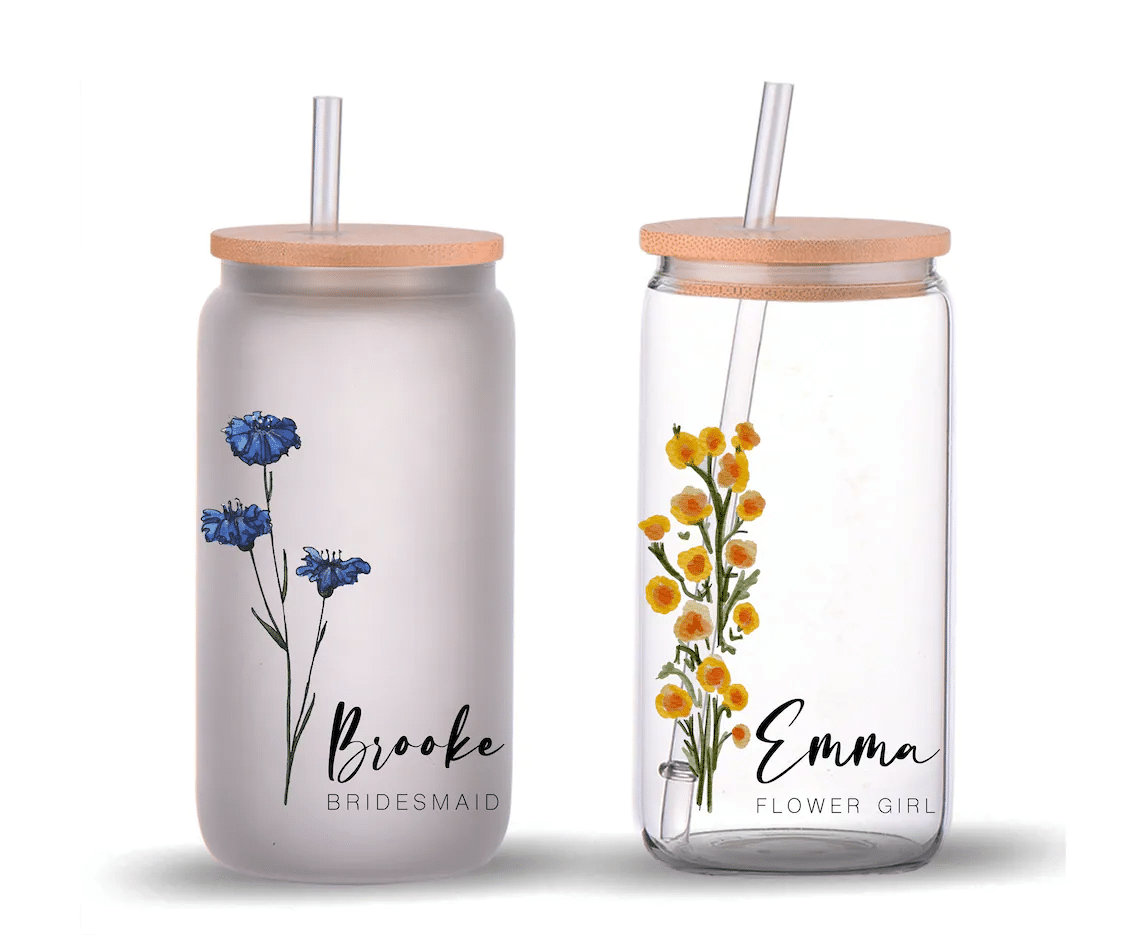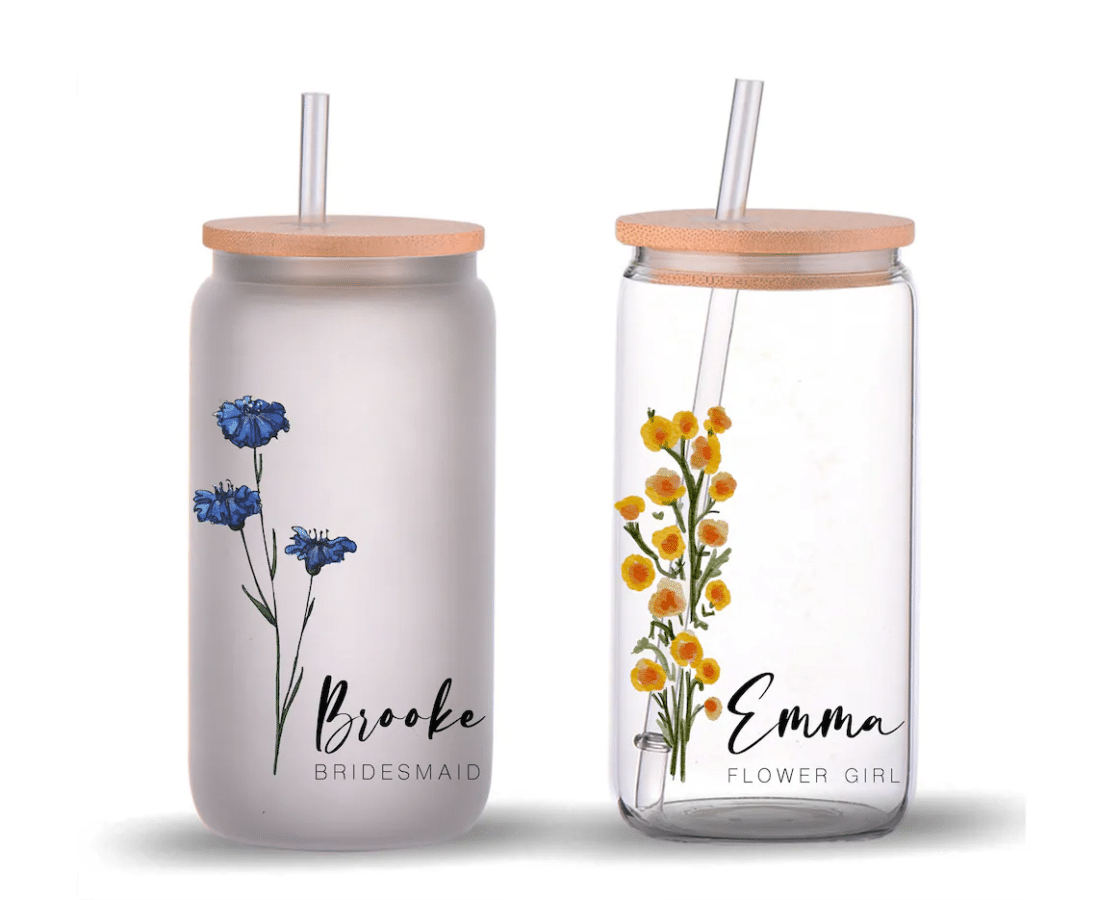 This sleek and personalized glass tumbler is an ideal gift for your bridesmaids. Add their names, initials, or a heartfelt message to make it truly special. With its durable construction and spill-proof lid, it's perfect for keeping their favorite beverages at hand, whether at home, work, or on the go.
Bridesmaid Satin Scrunchies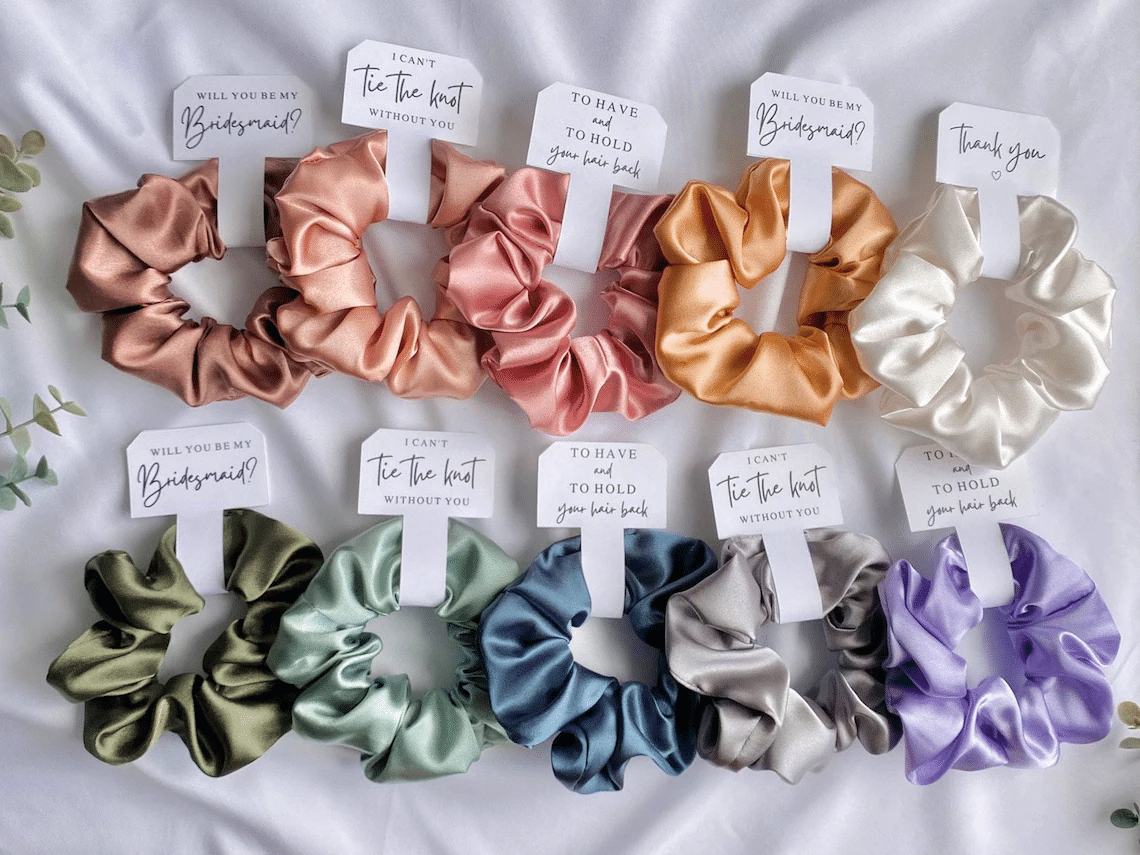 These elegant satin scrunchies are a fashionable and practical accessory for your bridal party. Made with smooth and gentle satin fabric, they offer a comfortable hold for any hairstyle without causing damage or leaving creases. Each scrunchie is designed to complement your bridesmaids' attire and can be a stylish keepsake from your special day.
Bridesmaid Clutch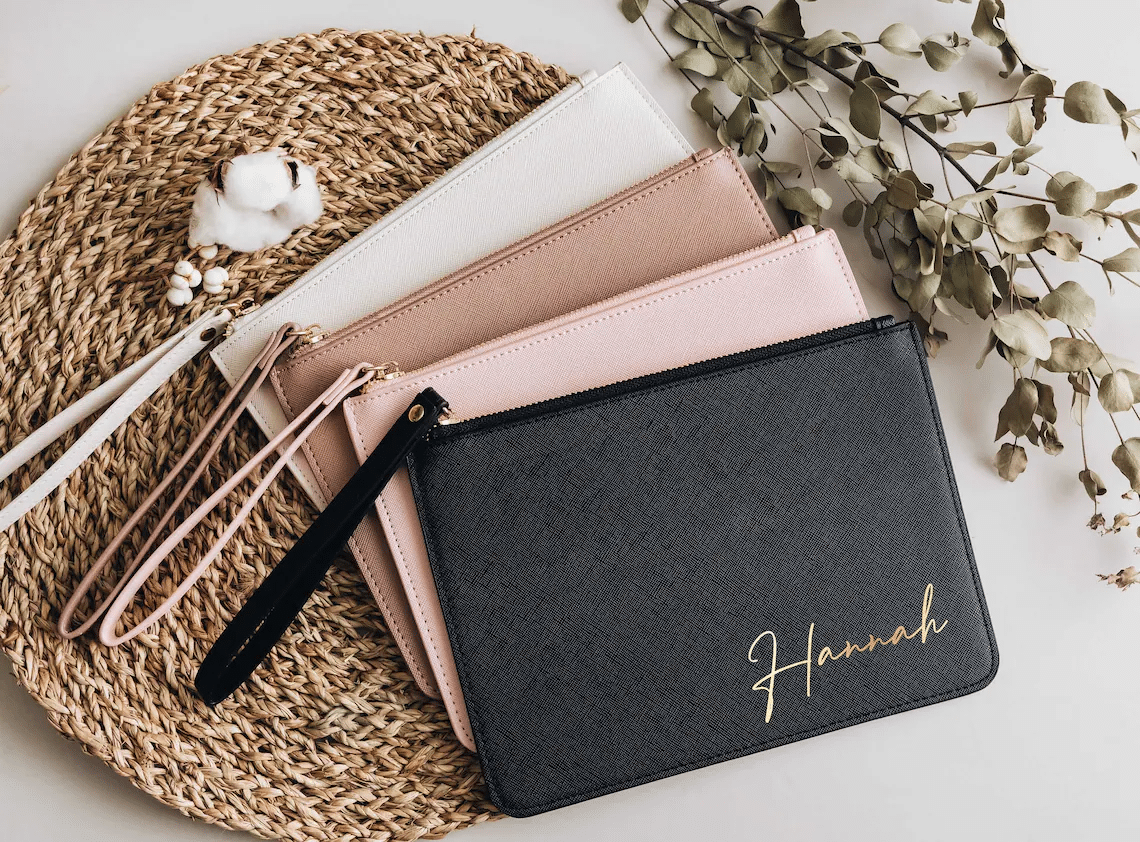 This chic and functional bridesmaid clutch is a stylish accessory that your bridal party will love. Designed to hold essentials like phones, keys, and makeup, it adds a touch of sophistication to any outfit. The clutch features a sleek design and comes in a variety of colors to match your wedding theme. Personalize each clutch with their names or initials for a thoughtful and practical gift they can use long after the celebrations.
Budget-Friendly Options: Show Your Love without Breaking the Bank
You don't have to spend a fortune to show your love and appreciation. There are plenty of budget-friendly options available. Consider personalized keychains, engraved compact mirrors, or monogrammed cosmetic bags. These small yet thoughtful gifts will make your bridesmaids feel valued and cherished.
Personalized Keychains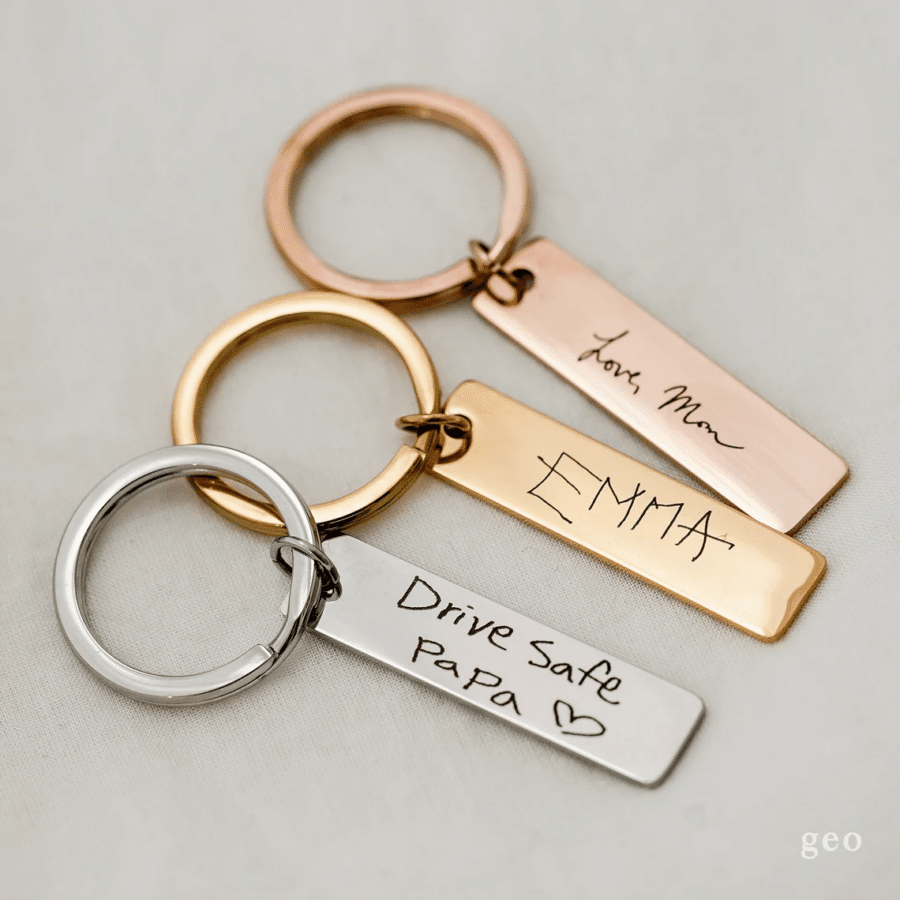 Customized keychains featuring their initials, symbols, or small charms, adding a personal touch to their everyday essentials.
Engraved Compact Mirrors: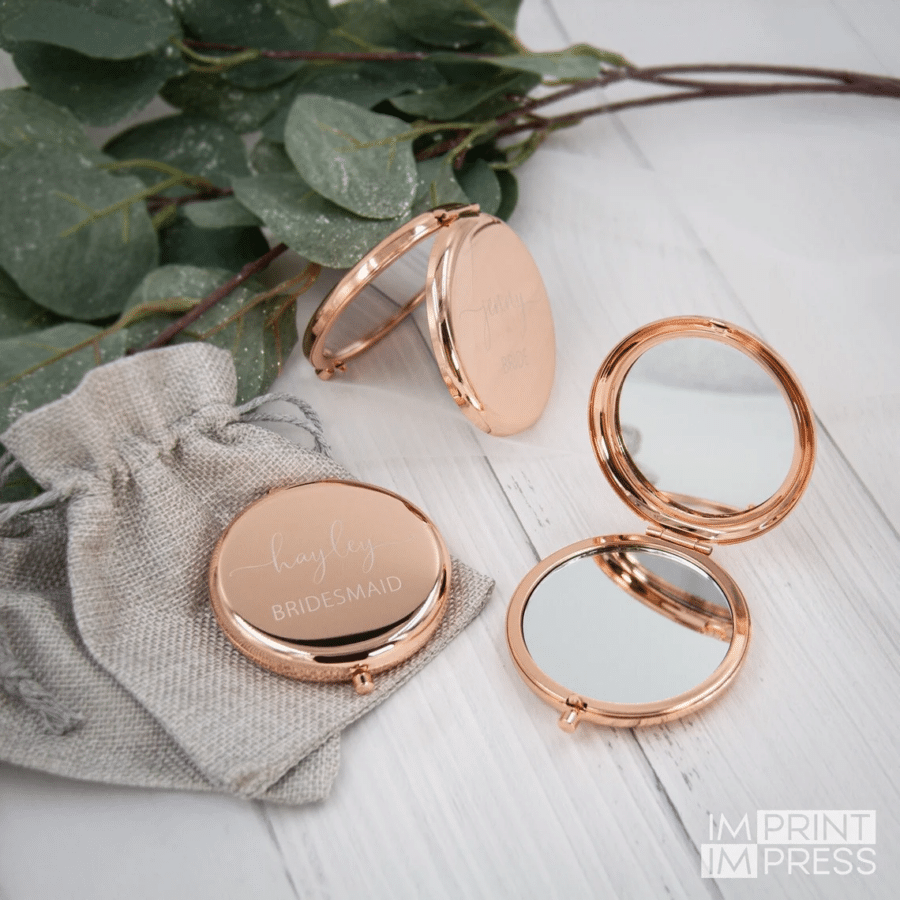 Compact mirrors engraved with their names or a heartfelt message, allowing them to check their reflections with style and sentiment.
Monogrammed Cosmetic Bags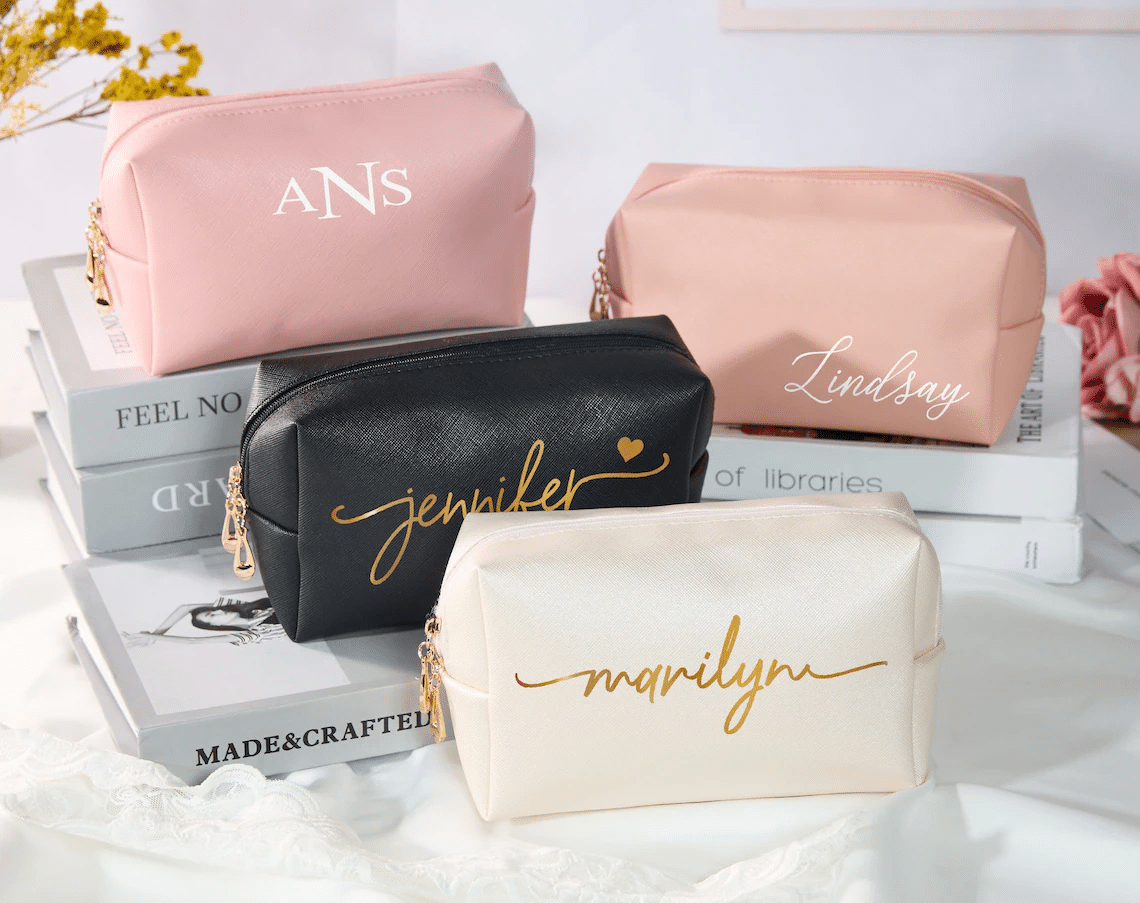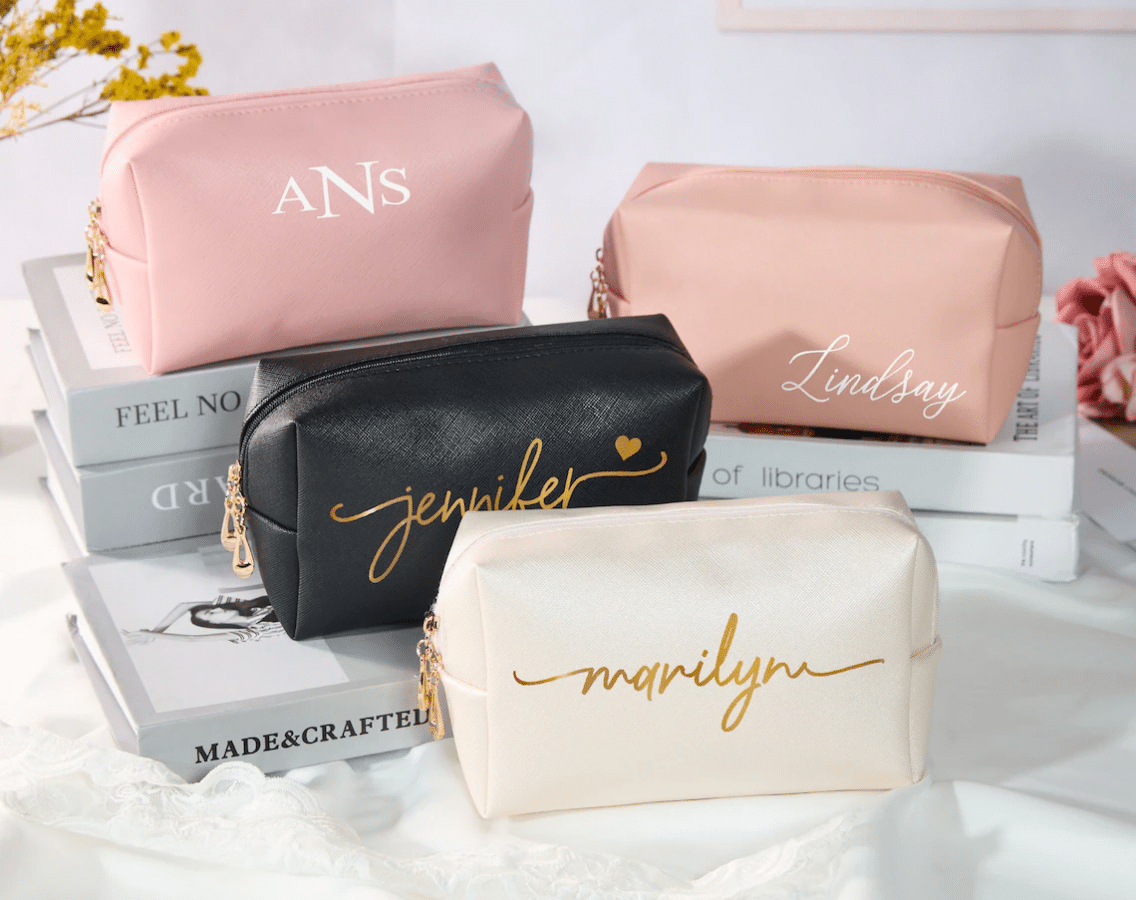 Stylish and practical cosmetic bags monogrammed with their initials, offering a fashionable and functional storage solution for their beauty essentials.
Unique and Unconventional Gifts: Think Outside the Box
If you're looking to surprise your bridesmaids with something unique and unconventional, think outside the box. Consider gifts like personalized star maps, custom-made puzzle sets, or even a charitable donation in their name. These unexpected gifts will leave a lasting impression and make your bridesmaids feel truly special.
Custom Scented Candles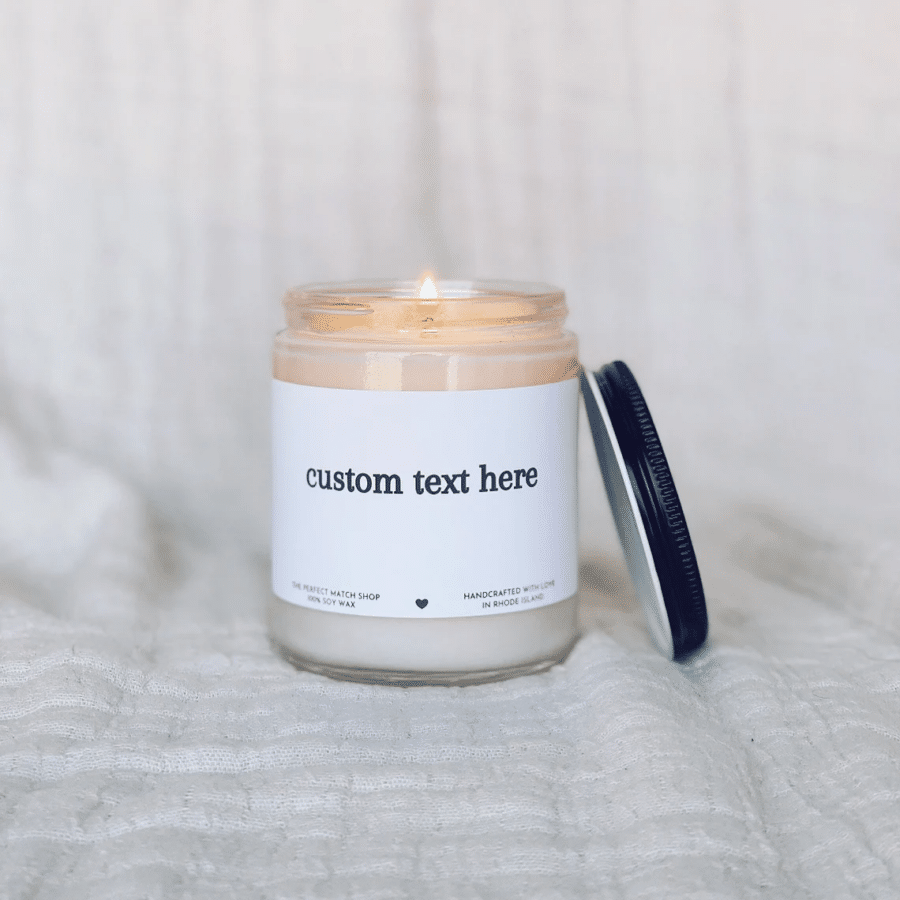 Handcrafted candles with personalized scents and decorative containers, allowing your bridesmaids to enjoy a cozy and fragrant ambiance in their homes.
Hand-Painted Mugs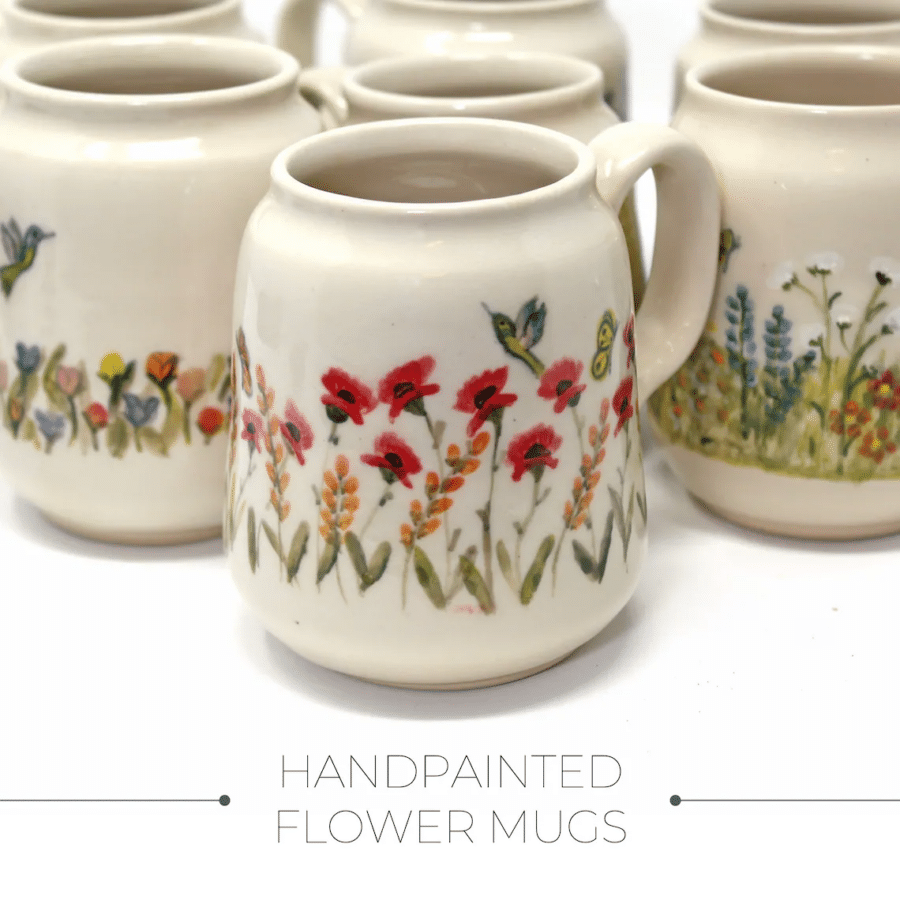 Personalized mugs adorned with hand-painted designs, quotes, or their initials, making every cup of coffee or tea a special and heartwarming experience.
Personalized Jewelry Holders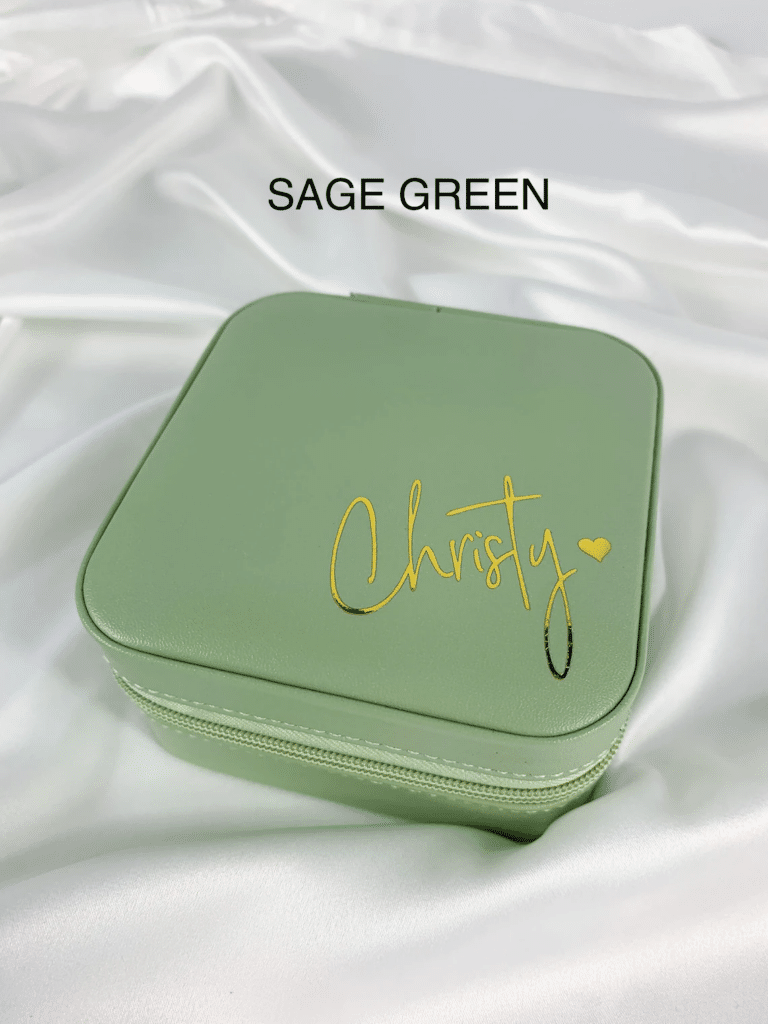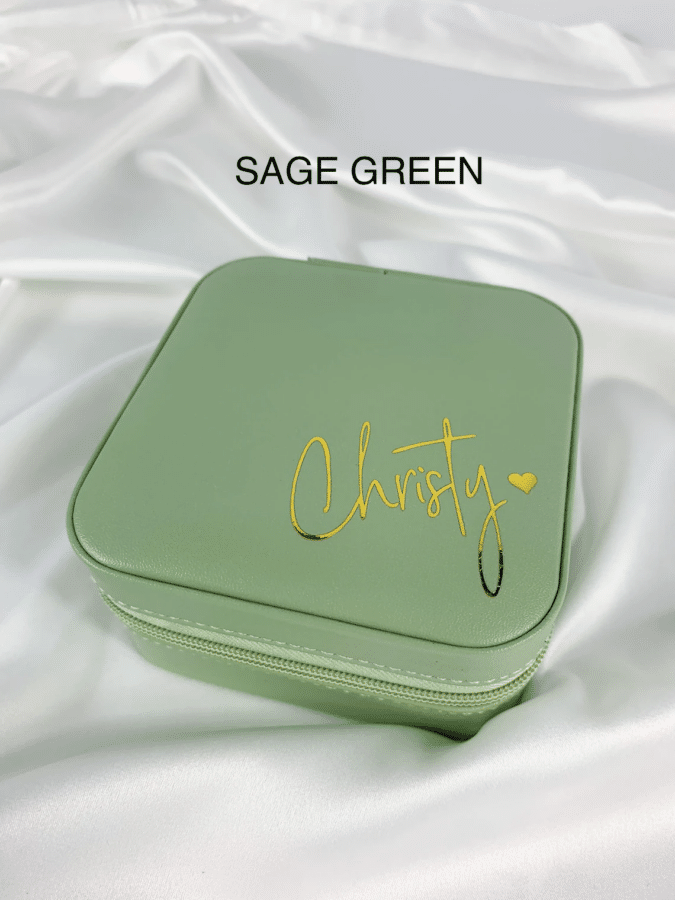 Unique and artistic jewelry holders customized with their names, providing a stylish and organized display for their precious accessories.
Packaging and Presentation: Making an Impact
The presentation of the bridesmaid gift boxes is as important as the contents themselves. Opt for elegant and visually appealing packaging that matches the overall theme of your wedding. Consider adding decorative elements such as ribbons, dried flowers, or personalized tags. The anticipation and excitement of opening a beautifully wrapped bridal party gift box will enhance the overall experience for your bridesmaids.
Lasting Memories: Bridesmaid Gift Boxes as Timeless Tokens
Bridesmaid gift boxes serve as timeless tokens that commemorate your special day and the bond you share with your bridesmaids. These thoughtful gifts will continue to evoke memories and emotions long after the wedding day. Your bridesmaids will cherish these boxes as cherished reminders of the love, laughter, and friendship that surrounded your wedding celebration.
Expressing Gratitude: Thank You Notes for Bridesmaids
Accompanying your bridesmaid gift boxes with handwritten thank you notes adds an extra layer of personalization and thoughtfulness. Express your heartfelt gratitude for their support, love, and friendship throughout your wedding journey. Thank you notes are a simple yet powerful way to let your bridesmaids know just how much they mean to you.
Conclusion
Unforgettable bridesmaid gift boxes are a wonderful way to express your gratitude and make lasting memories with your leading ladies. By personalizing each box, curating thoughtful items, and adding sentimental touches, you can create a truly remarkable experience for your bridesmaids. These personalized gift boxes symbolize the bond you share as best bridesmaid gifts and serve as a token of appreciation for their role in making your wedding day unforgettable.
FAQs
Q1: Where can I find affordable bridesmaid gifts and inexpensive bridesmaid gift idea and box ideas online?
You can find good bridesmaid gifts and gift box ideas on various websites and online marketplaces that specialize in wedding accessories and gifts. Additionally, social media platforms like Pinterest and Instagram are great sources of inspiration best bridesmaid gift ideas.
Q2: How much should I budget for bridesmaid gift boxes best bridal party gifts?
The budget for inexpensive bridesmaid gifts and gift boxes can vary depending on your financial situation and the number of bridesmaids. It is recommended to allocate a reasonable amount per each inexpensive bridesmaid gift each, considering the cost of personalized items, packaging, and any additional expenses.
Q3: Can I create DIY bridesmaid gift boxes?
Yes, you can create DIY bridesmaid gift boxes. DIY options allow you to personalize the bridal party gifts even further and add a touch of your own creativity. There are many online tutorials and resources available to guide you through the process.
Q4: Should I include the same items in each bridesmaid gift box?
While it is common to include similar items in each bridesmaid proposal gift box, you can also tailor the contents based on the individual preferences and tastes of your bridesmaids. Adding a personal touch to each gift box will make the gifts more meaningful and appreciated.
Q5: When should I present the best bridesmaid gift boxes?
Traditionally, bridesmaid gift boxes are presented to the bridesmaids either during the rehearsal dinner or on the morning of the wedding day. Choose a time that allows you to express your gratitude and share a special moment with the bridal party and your leading ladies.
Q6 Can I create my own personalized bridesmaid and gift boxes on a budget?
Yes, DIY bridesmaid gift boxes offer cost-effective options and allow for personalization and creativity.
Q7 Where can I find unique bridesmaid gift boxes online?
There are various online platforms that offer bridesmaid proposal and a wide range of unique bridesmaid gift boxes. Ensure to check reviews and credibility before making a purchase.
Q8 How can I make the unboxing experience special for my bridesmaids?
Add surprise elements, such as hidden messages or small surprises, to create an extra layer of joy during the unboxing.
Q9 Why are bridesmaid gift boxes considered timeless tokens?
Bridesmaid gift boxes serve as lasting reminders of your wedding day and the special bond you share with your bridesmaids. They evoke memories and emotions for years to come.